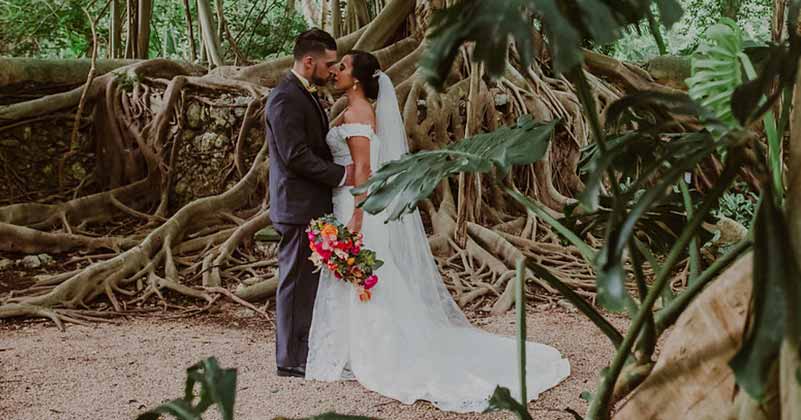 Love and Harmony at Hacienda San José Cholul 🌼 Vanessa & Jordan
Experience "Love and Harmony" at Hacienda San José Cholul with Vanessa & Jordan! A celebration where culture and unity intertwine, embracing the essence of peace, love, and harmony. Join us for a journey filled with unforgettable moments and beautiful wedding details!
Vanessa and Jordan chose Yucatan as their wedding location. Accompanied by their family and friends they traveled from different places in the United States to be able to live this unforgettable moment.
Love, Peace, and Harmony celebrated in an Amazing Hacienda
Hacienda San Jose Cholul has more than 10 rooms, that is why the couple along with their family decided to spend the whole weekend enjoying this beautiful hacienda. During their stay, they were able to enjoy the swimming pools, ride their bikes on the trails to see the flora and fauna and above all: enjoy their rooms since most of them had their own private jacuzzi.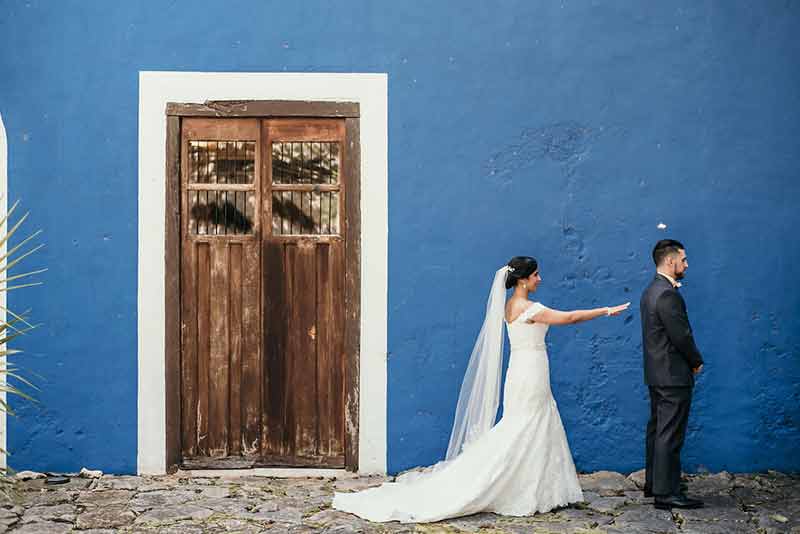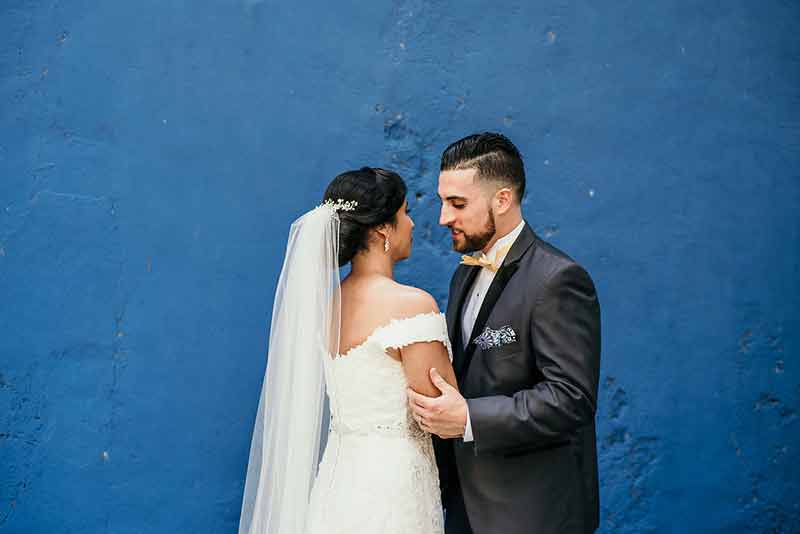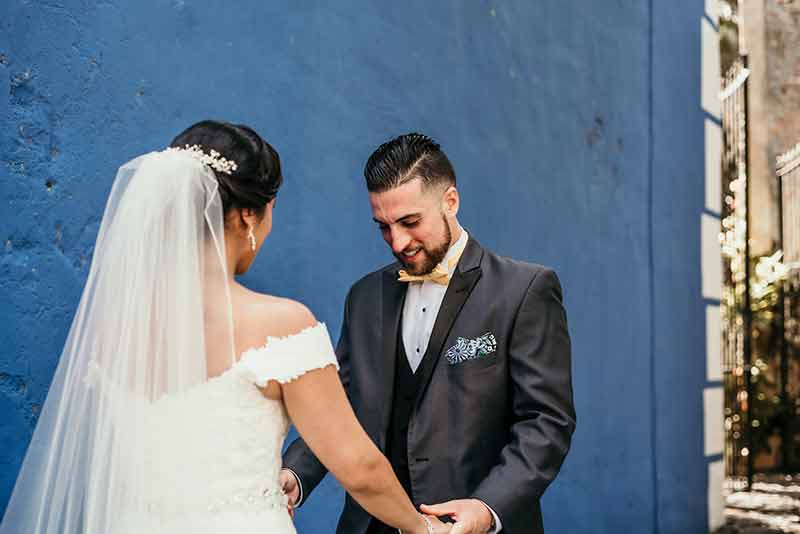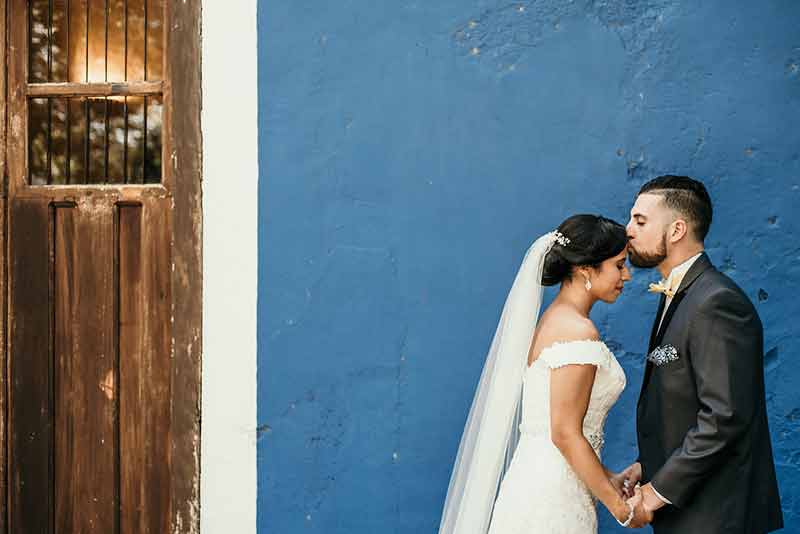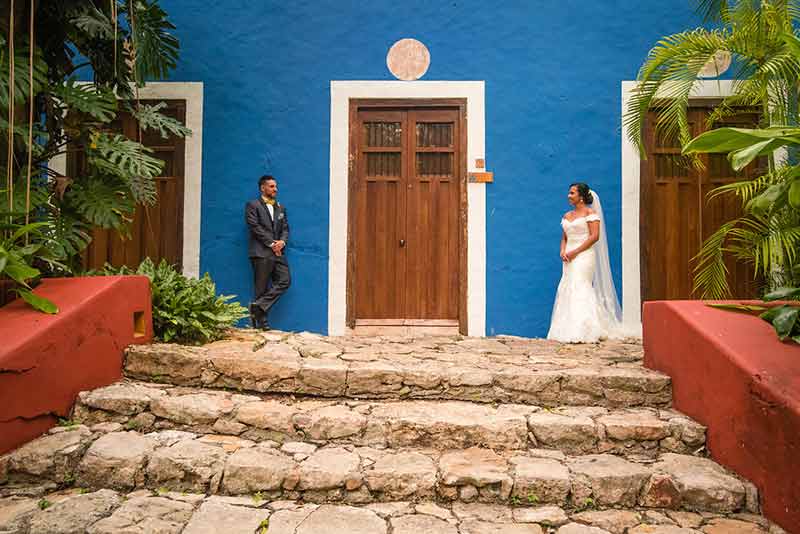 On the morning of the wedding, Vanessa and the important women in her life enjoyed their getting ready surrounded by peace, love, and harmony. Vanessa felt relaxed and left her nerves behind.
The first look was a fascinating moment because for the first time Vanessa and Jordan saw each other dressed for the occasion. Vanessa wore an A-line lace dress with shoulder straps, to complement her look she decided to have a waterfall bouquet with touches of orange, red, pink, and green. Jordan on the other side wore a gray suit with a yellow ribbon that gave that nice touch to his attire.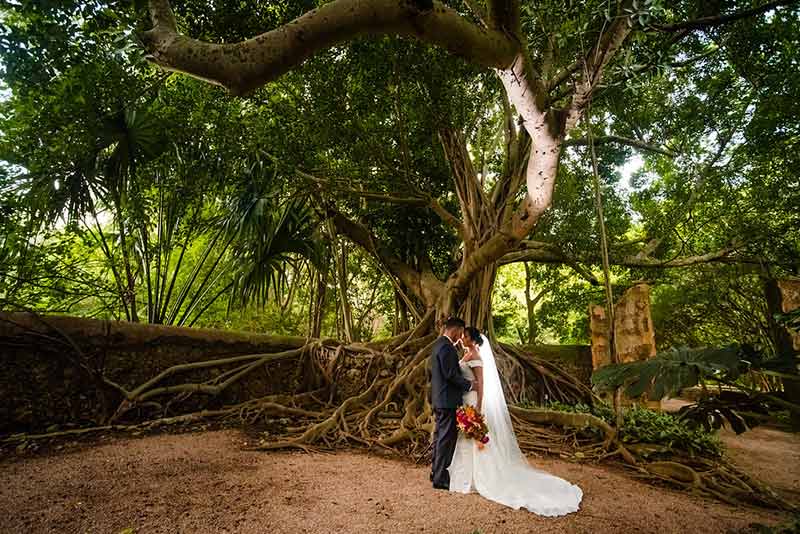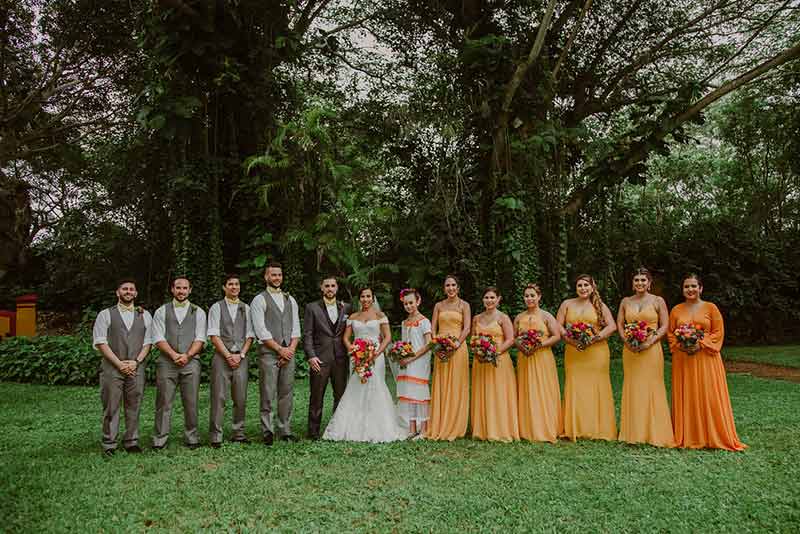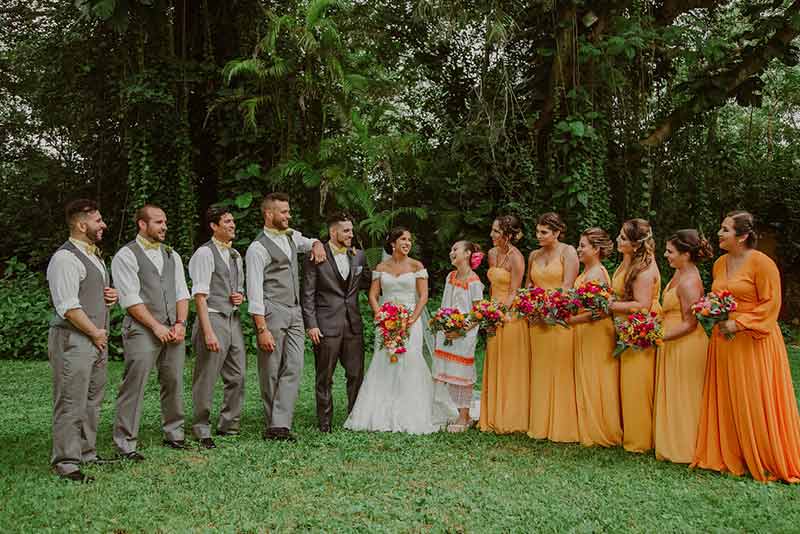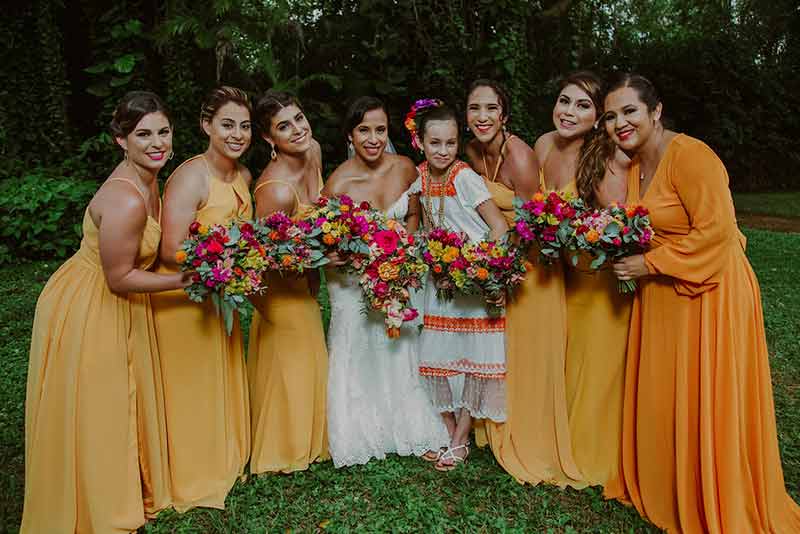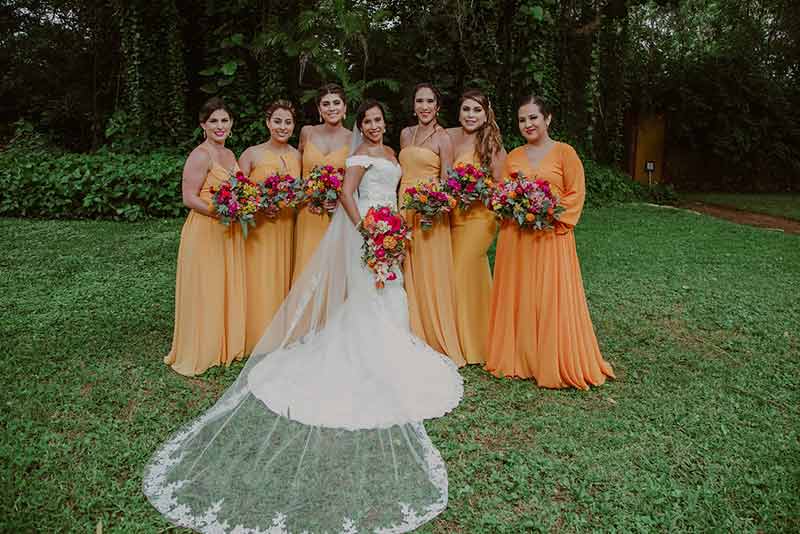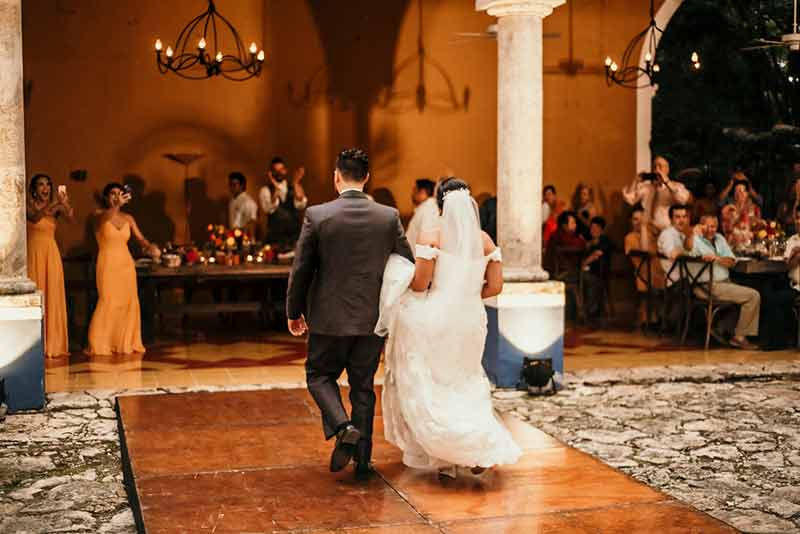 Floral arches in a romantic civil ceremony 
The ceremony took place at the doors of the Hacienda's chapel. As an eternal love symbol, they choose a beautiful floral arch filled with touches of red, yellow, and giant succulents, welcomed more than 50 guests who traveled for hours to be able to share this moment with the couple to celebrate human relationships. Those guests who didn't stay at the hacienda were able to enjoy a beautiful stay at a hotel in downtown Mérida, where they were given the opportunity to get to know the beautiful state capital.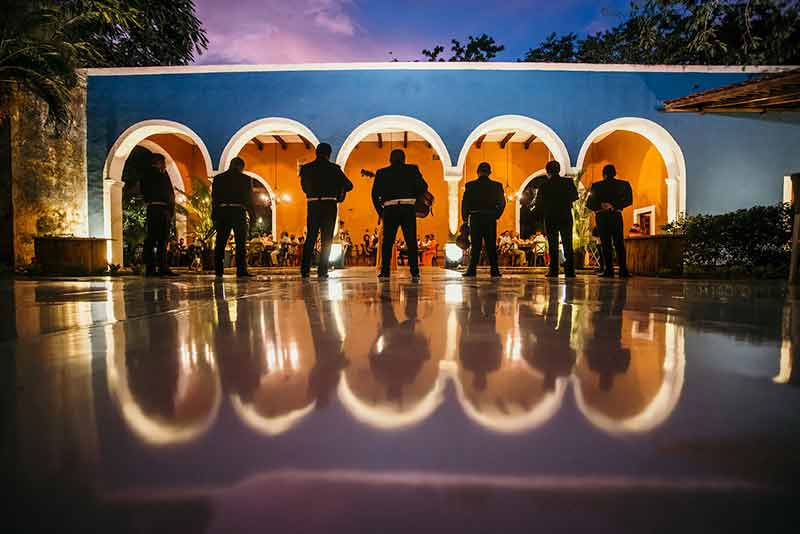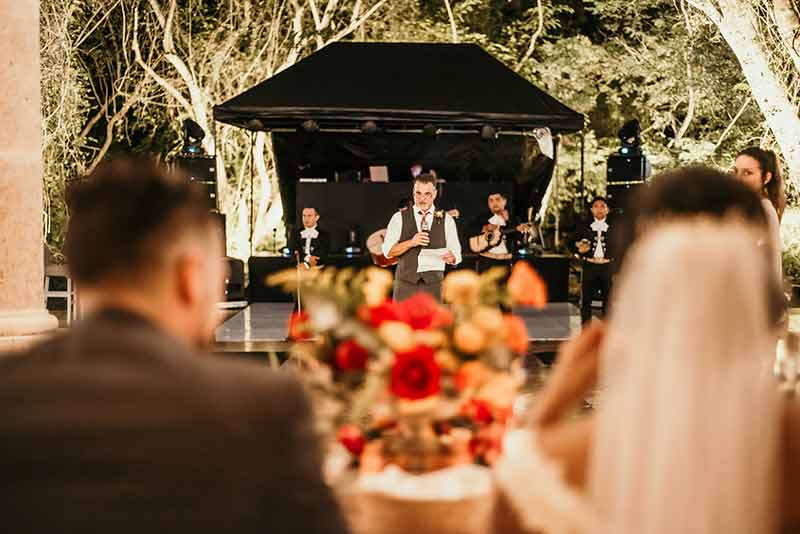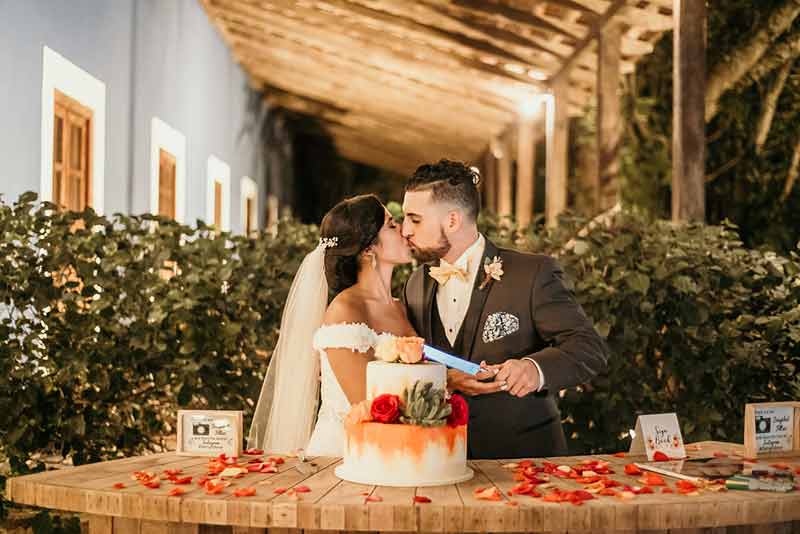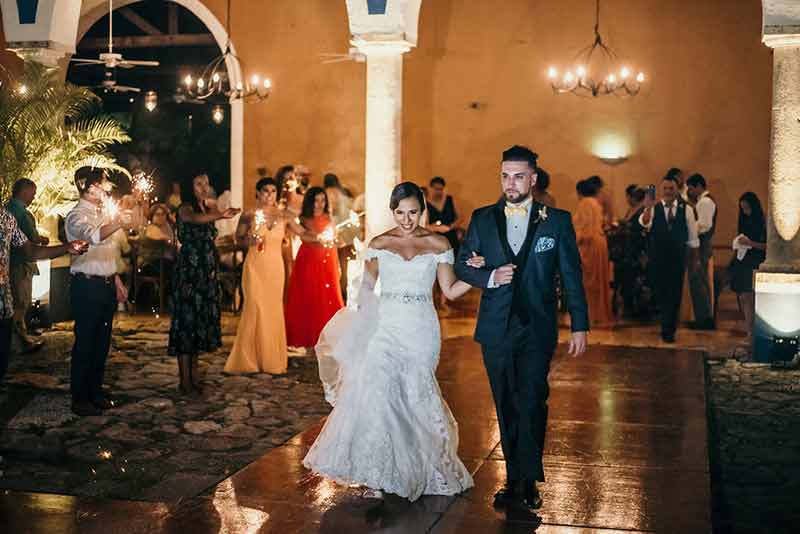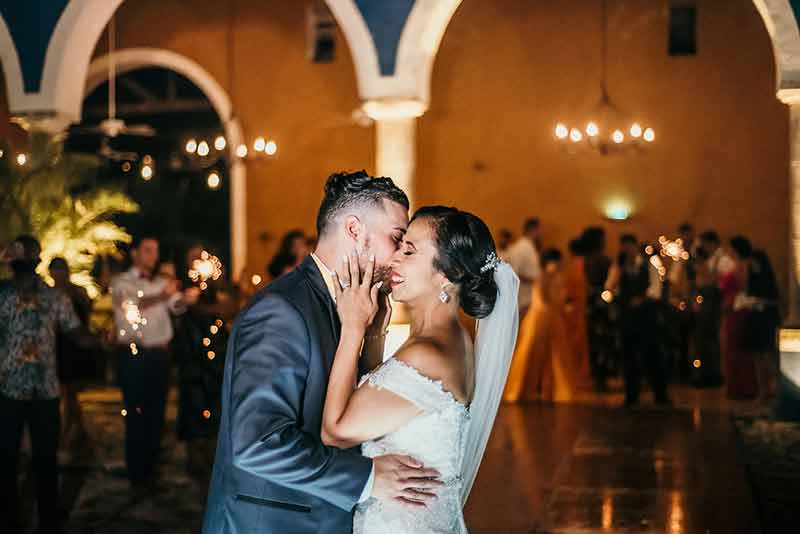 Jordan, on his mother's arm, was the first to appear through that beautiful arch that framed the entrance of the hacienda. The bridesmaids and best men escorted him to make way for Vanessa, together with her father, she walked down the aisle until arriving at the altar, where Jordan was anxiously waiting for her.
 The ceremony was a moment of joy where words full of wisdom were shared, the couple enjoyed every moment of this celebration and showed their happiness and love with a couple of tears.  
Mariachis, traditional food, a spectacular banquet to celebrate Harmony and Love!
The dinner was a surprise for several guests because for many of them it was the first time they had the opportunity to taste a regional menu.  There were also mariachis that delighted the romantic evening with their traditional music. After dinner, the party started with a very special moment: Vanessa and Jordan having their first dance as husband and wife.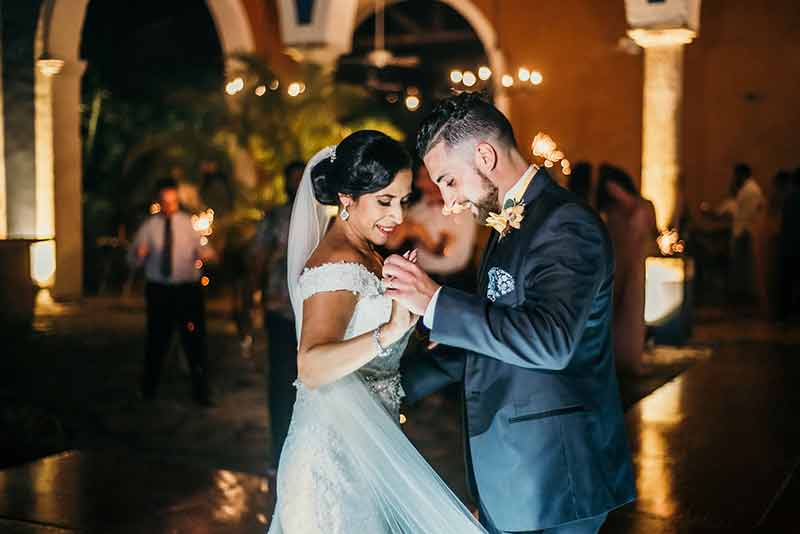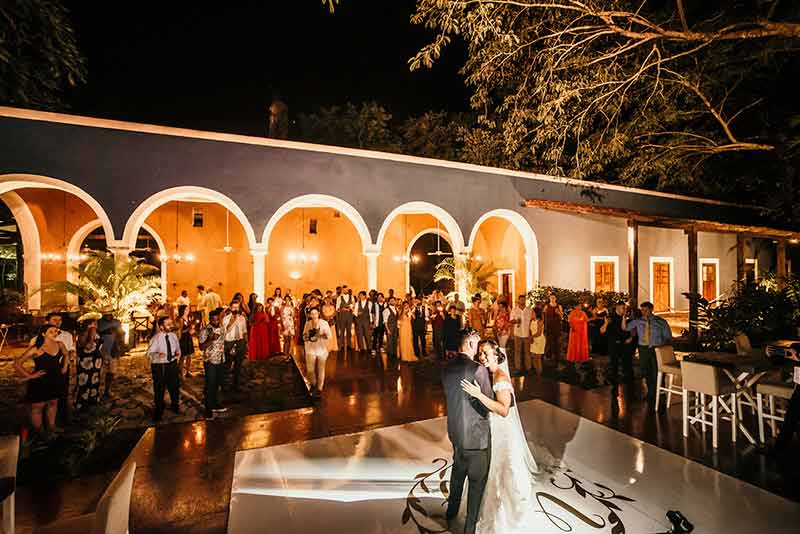 One of the most emotional wedding moments of the night was when Jordan's grandfather requested a microphone and as a surprise, he began to sing a beautiful melody in honor of the new couple. They along with some accompanists were thrilled to be part of this moment. 
 A very important detail of this ceremony is that Vanessa and Jordan selected as their wedding date the same day that Jordan's grandfather and father selected for their own wedding, June 30th. Which made them the third generation in getting married on this special date.
Photo credits: @cuartoazulwedding
Do you want to know more about TIPS for your wedding in Yucatan? We are YUCATANLOVE, Wedding Planners in Mérida, ask us.