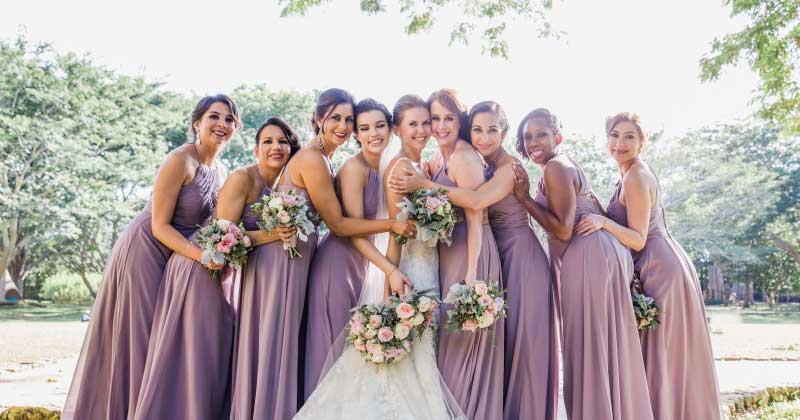 Bridal experience at Chablé Resort 👰🏼
What's a wedding really like in Yucatan? Meet the bridal experience of a beautiful bride who made her marriage in the beautiful and mystical lands of Yucatan.
Maria tells us in her own words about her experience in Chable Yucatan Mexico.
Bridal experience in Yucatan by Maria

"I came across Merida, Yucatan by serendipitous discovery. I knew that I wanted a destination wedding in México but that the typical beach setting was not my style. This began the quest for a quaint, charming and history-filled town. Enter the almighty and lifesaving, Google. So, away I went in my pajamas, wedding book planner and tea in hand as I typed into the search box: "historic, hacienda-style wedding venues in Mexico." To my surprise there were hundreds of them! Each one more beautiful than the other… making this decision would not be easy at all. After many hours of digging through pictures, following links, jumping from one place to another and getting lost in the process I came across some amazing pictures which captured the energy, light, and essence I wanted for my wedding in Yucatan. These pictures were taken by none other than… drumroll please… Elizabeth Medina!"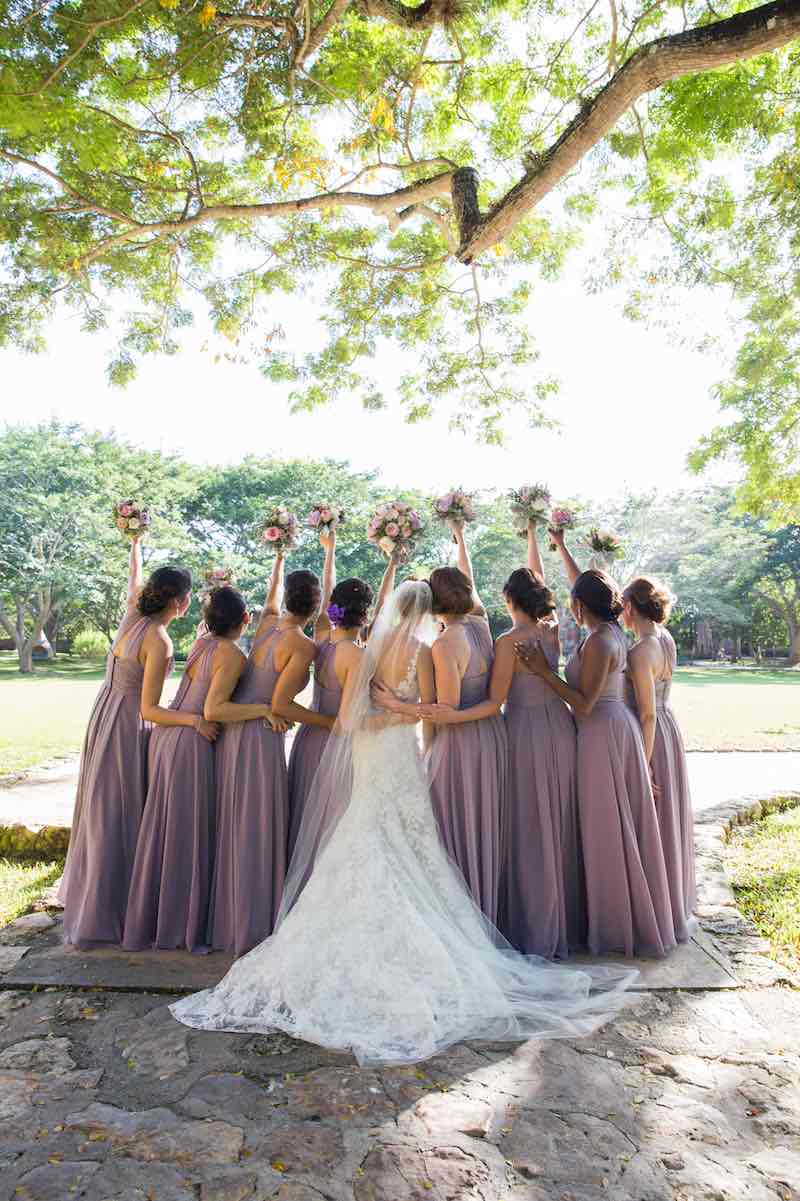 The bridal experience:

my confessions:

I fell in love with and came to Merida because of Elizabeth's pictures on Instagram and website.
In the most backwards way, I knew the photographer I wanted before anything else was decided. Could you blame me?
So now that the city and photographer was decided (mentally at least) we needed a wedding planner. Luckily, Merida is a short and direct flight from Miami so we would get the chance to meet the planners in person and get to have a more hands-on approach to our destination wedding. I contacted three wedding planners in the area, letting them know of our plans. Although all three were very friendly, one of them stood out above the rest: YucatanLove.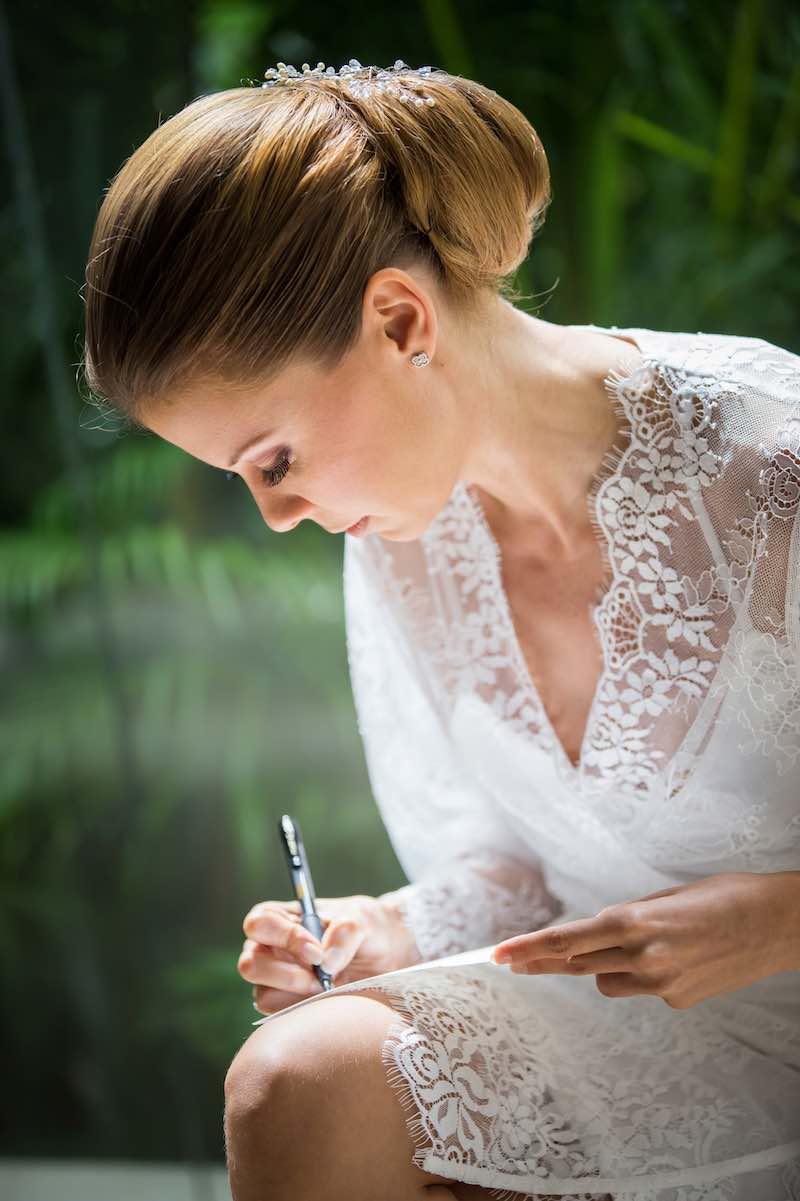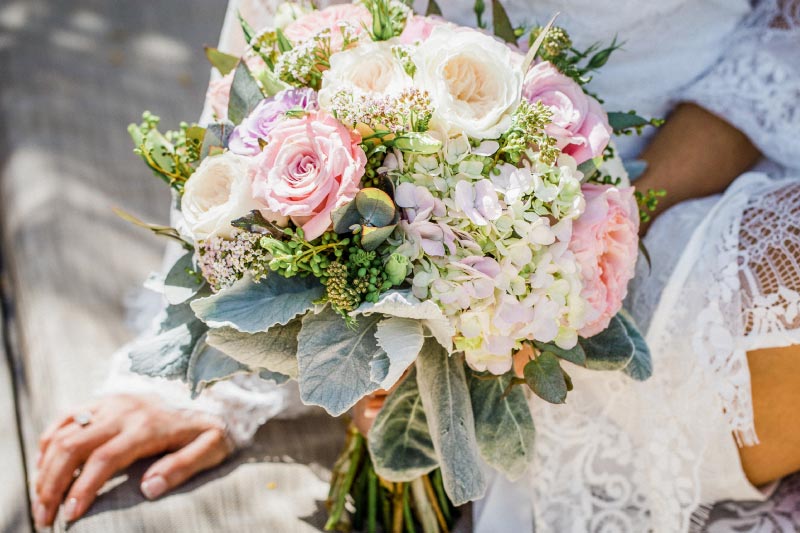 I subconsciously choose my wedding planners prior to meeting them.
How is this even possible? Because they went above and beyond before we even set foot in Merida to make us feel important and valued. We sent them an email, and they responded within hours, quickly and effectively, ready for the challenge. This was done by Anaid, the office representative who set up a meet and greet to go over a presentation of the services offered. Upon our arrival into Merida, she sent us a text to greet us and welcome us to the city. She made sure to provide directions and any assistance we needed… all before even meeting her or the team. This to me, was so key in setting the foundation for a great relationship! After meeting her and the planners, Luis and Laura, we knew this was a good match and we fell in love. They understood our tastes and our vision, easily and flawlessly.
We chose our venue, Chable Resort and Spa, by chance.
On our first visit to Merida, we had a list of haciendas/hotels we had researched online and wanted to visit. However, the weekend of our trip, they were all sold out, except Chable. It was a brand new resort, a bit out of the way, relatively unknown but with beautiful pictures so we thought we would give it a try. We could not have been more surprised or delighted when we arrived. The dirt and rocky route to the resort threw us off, we were even worried we had gotten lost. Once the big wooden entrance doors opened and we entered the hacienda, we were in heaven. The list of other venues was out the window, this was where we were getting married!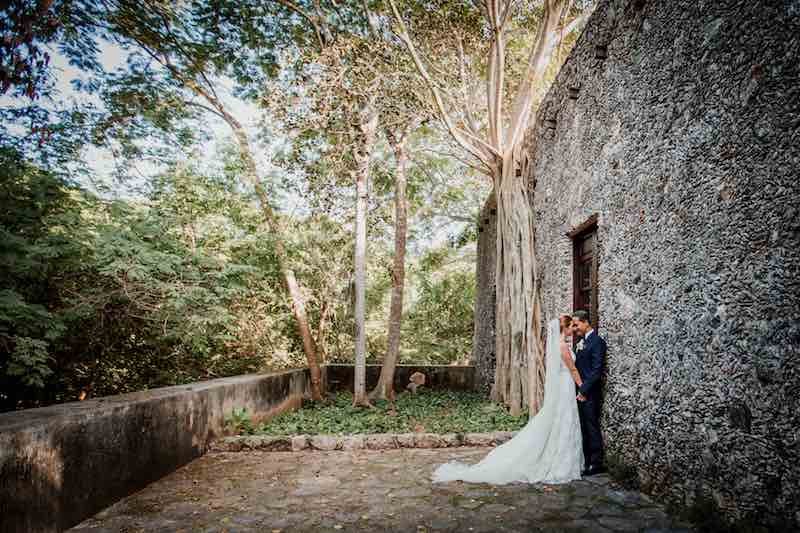 The resort and Chable team is one of a kind. They were competent, helpful, attentive, kind, and provided all the assistance needed. Mariana, Rocco and the countless other individuals who made our day so magical will never be forgotten. Rocco, the manager, even drove some family members who missed the shuttle to the church, in his own car! We will return to Chable time and time again, not only because we got married there, but because the resort and the people make it one of our favorite places in the world! After hiring YucatanLove and deciding the venue, the process became quite easy (for us at least, maybe not for the planners, haha).
Luis and Laura, were extremely organized through the use of Google Drive, creating a structured process for the presentation and selection of venues and vendors. They created a Whatsapp group chat where we could write/call with any questions, ideas, thoughts, anything. They always responded quickly, with much care and understanding. We coordinated frequent Skype conversations where we could discuss more specific details such as the feel and mood we wanted to create, decorations, flowers, payments, etc. They always remained on task and on time with the timelines agreed upon.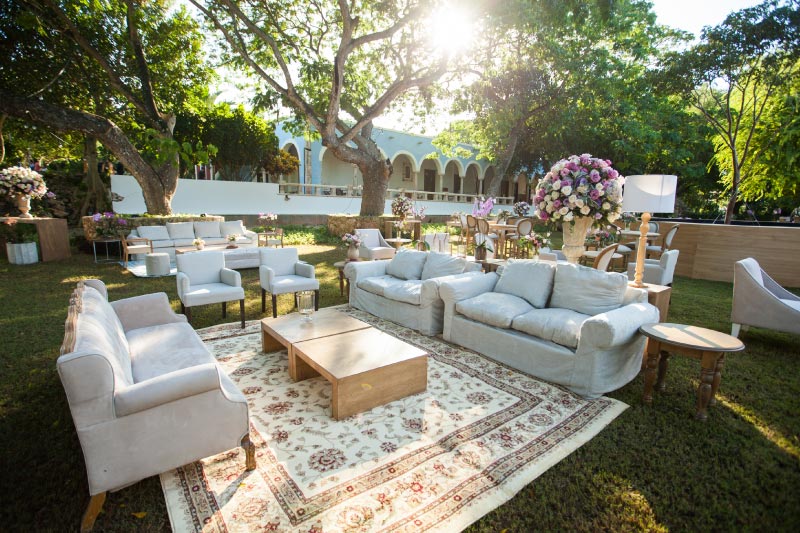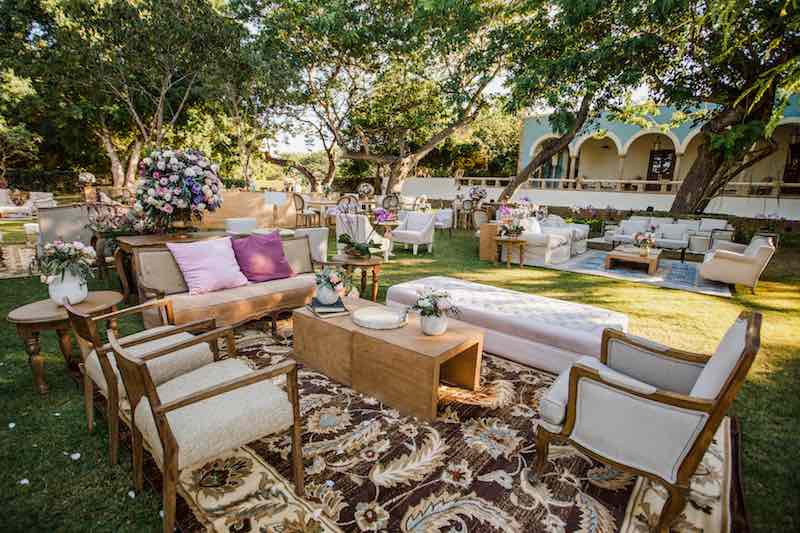 On three occasions, Laura and Luis welcomed us to Merida, taking the whole weekend to show us around. They would pick us up from our hotel so we could check out venues for the rehearsal dinner, meet the caterers, hair stylist, the priest who would be officiating our wedding…you name it, every single detail was attended to. The best part is the relationship we built with them. We are proud to say that months after our wedding we are still in contact with them. We decided many things with their help as they provided a wonderful list of individuals they had worked with in the past. Great quality companies and individuals who deserve some recognition!

The most delicious food in Mérida can be found at Oliva.
Which is why, without a doubt, they were our top choice for caterers. Mind you, Stefano (the owner and chef) had never done a wedding before… we were their Guinea pigs and it was a risk, but one worth taking! They delivered and created beautifully plated and exquisite dishes, on time and with no interruptions. Our guests and families are still talking about the filet mignon they've ever had.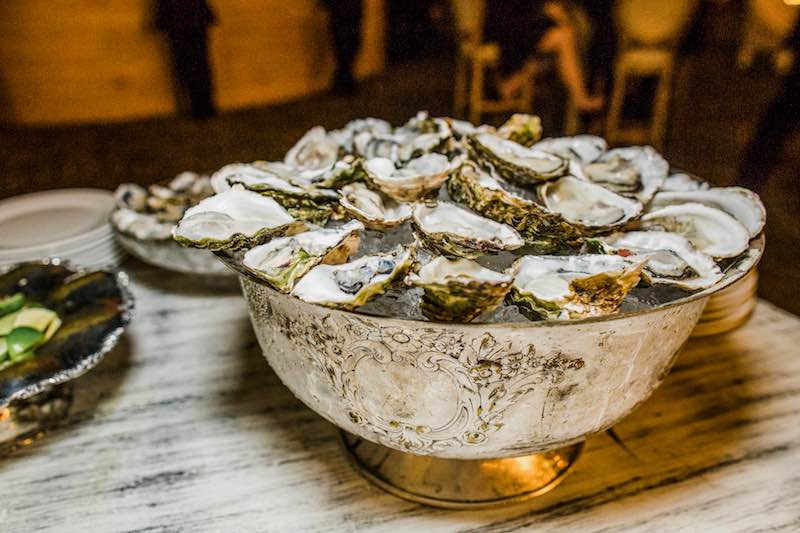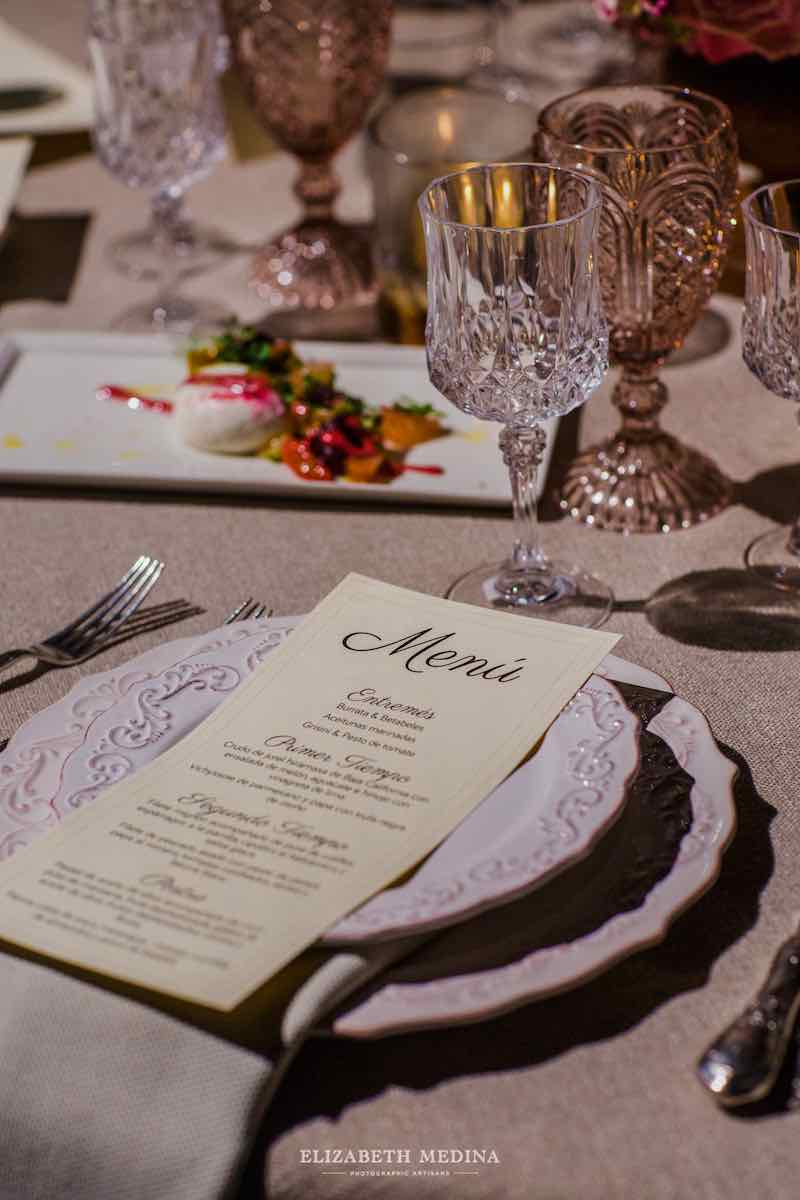 The furniture pieces and large decorations were tailored to our needs by Minimal Muebles.
We were able to coordinate the colors of the wood, bars, sofas, textiles, etc. They even created some new pieces just for this occasion. Anything we asked for, they delivered. They were able to bring our vision of an enchanted forest to life, just as we had pictured, through intimate and cozy living-room style arrangements.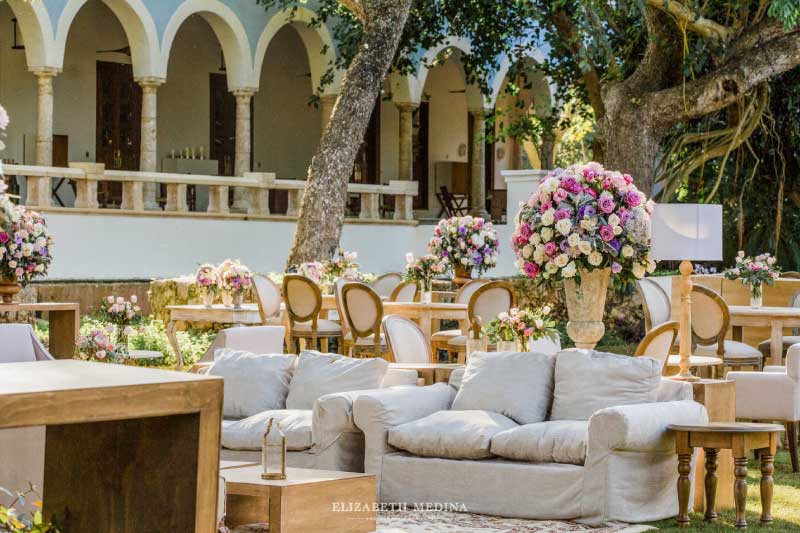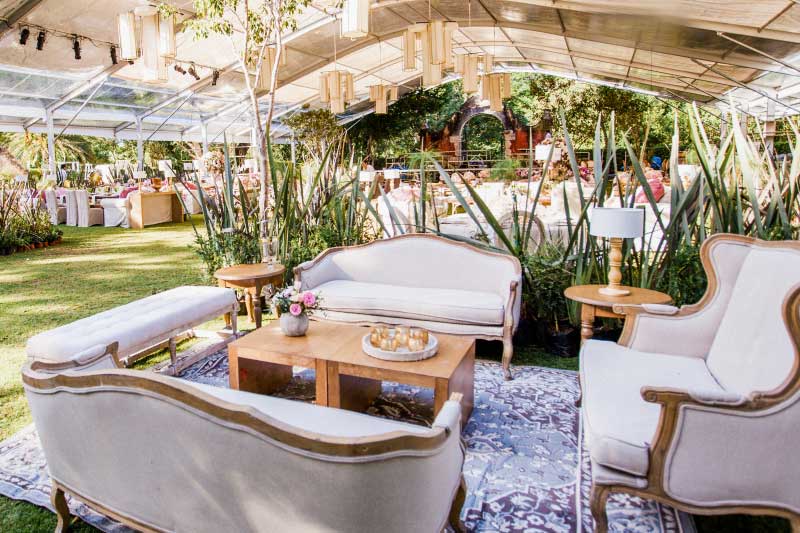 Flower arrangements for the church and reception, along with small decorations were created by Raw Studio Floral.
They brought in trees, greenery and shrubs to keep in line with the enchanted forest wedding theme. They were responsible for the over the top, larger than life, beautifully curated floral designs created with imported products. They understood us, our ideas, and worked so well with the other vendors.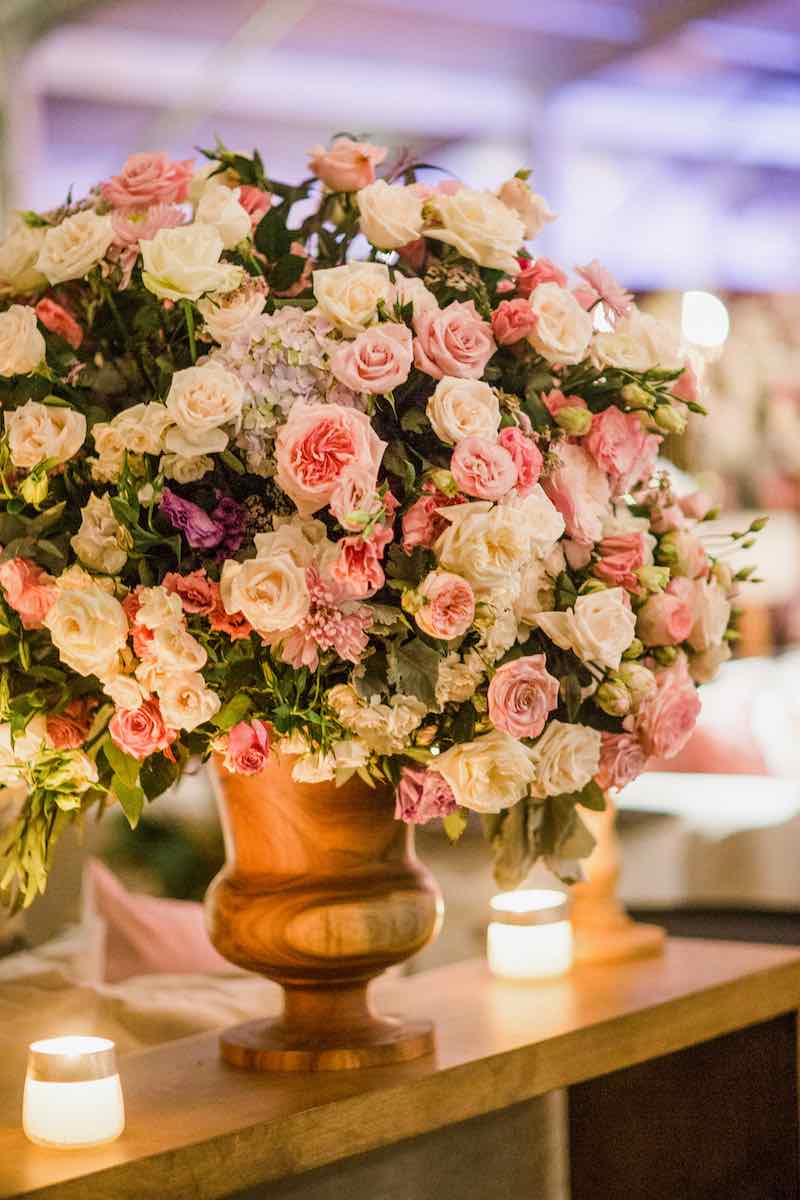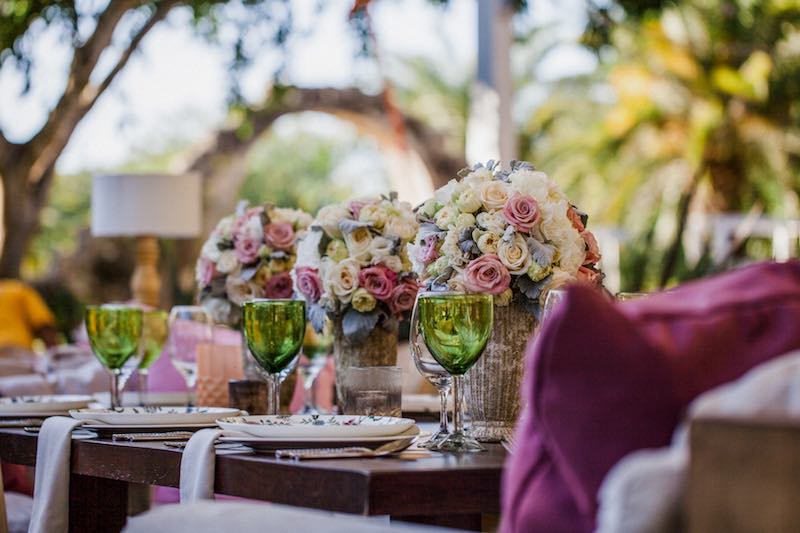 Bridal beauty experience: my hair and makeup team was none other than Rafa Velasco.
If you want to not only look like a princess but feel like one too, Rafa and Gerardo are your guys! Supernatural and classic, just like I wanted, no fuss, no stress, just love.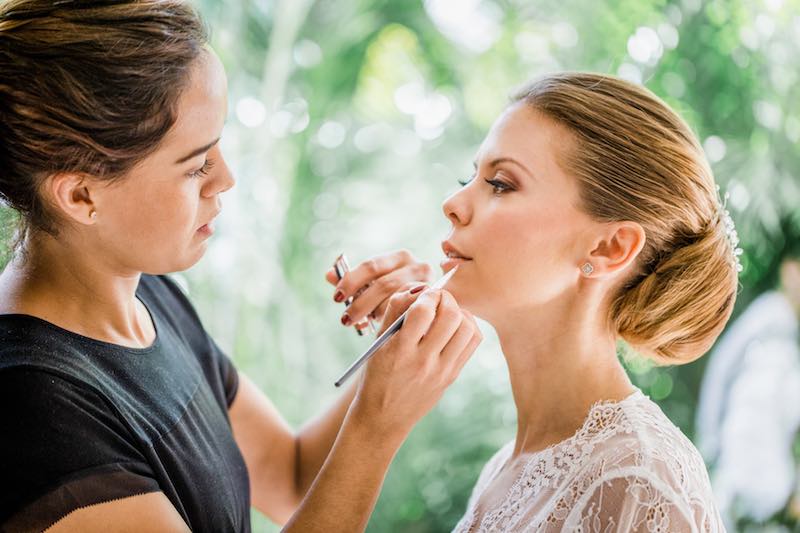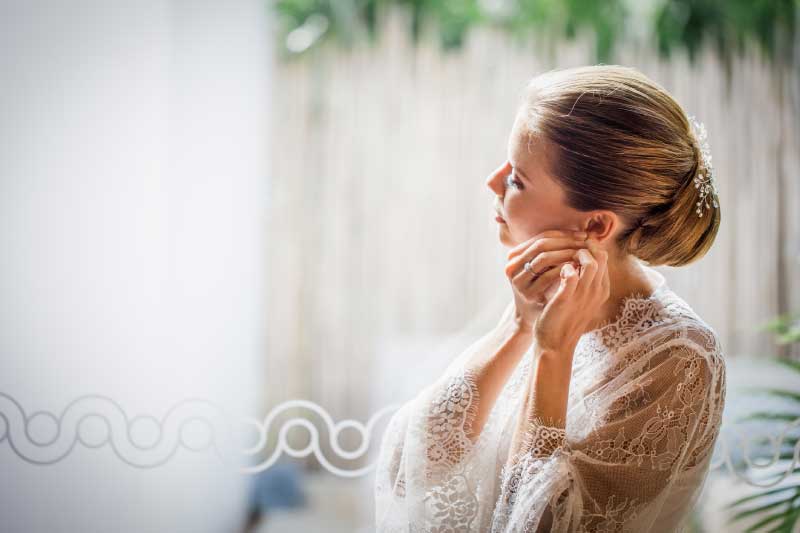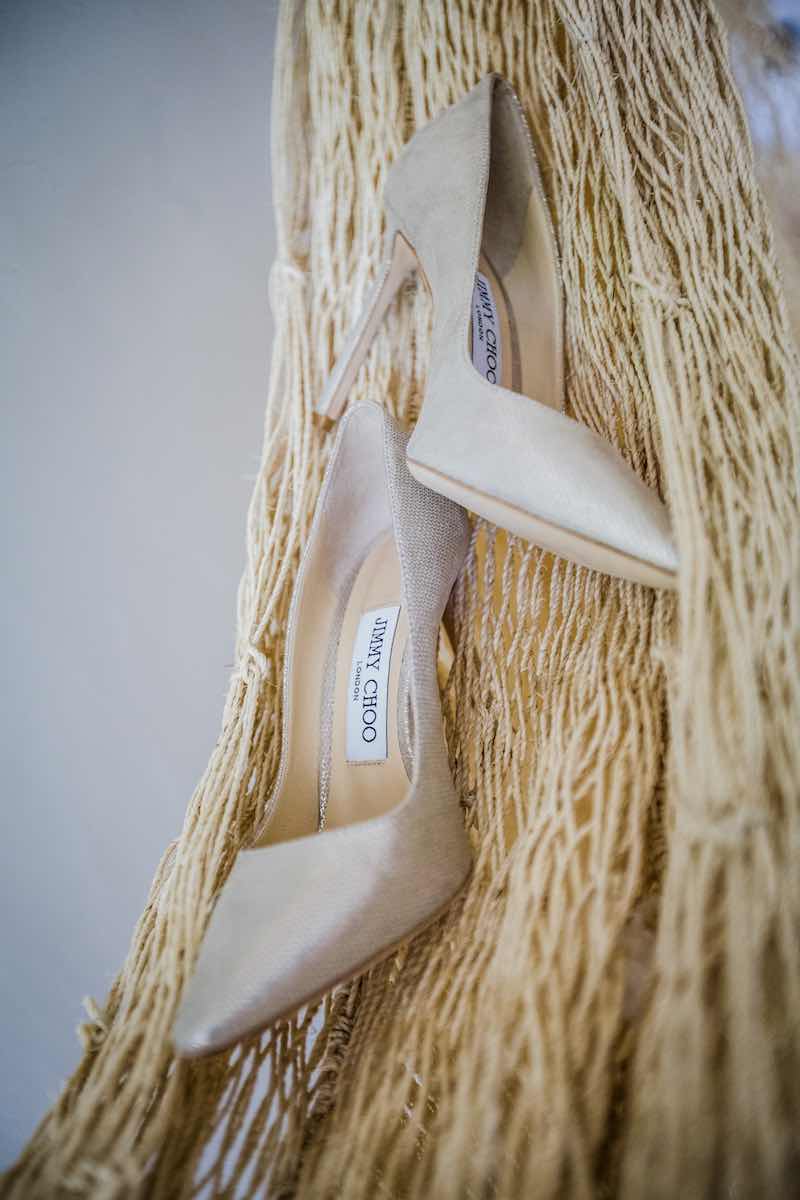 Rigel Gonzales Banquetes provided us with wonderful support and service.
The waiters, bartenders, and the rest of the staff were the epitome of the kind of attention we always receive in Mexico, genuine and kindhearted.
There is no doubt that the work of each member of this wonderful team helped us in an invaluable way. Their effort and commitment became evident throughout the celebration, which I lived in the most peaceful and happy way.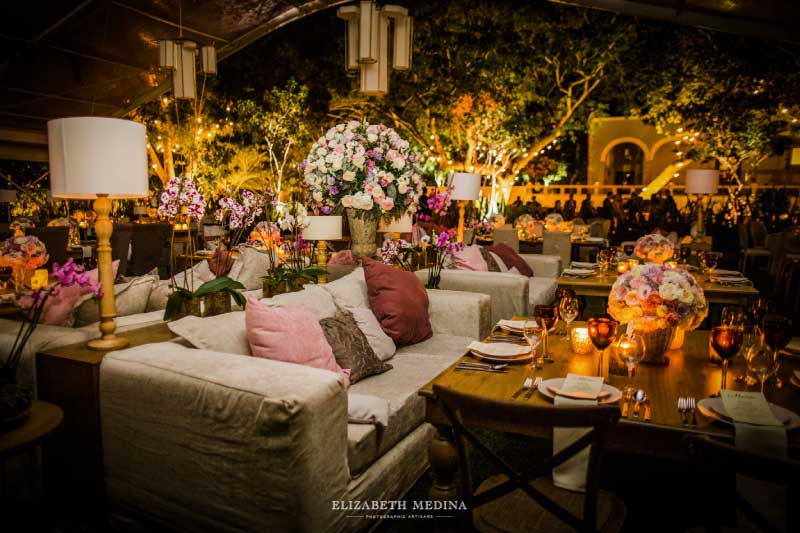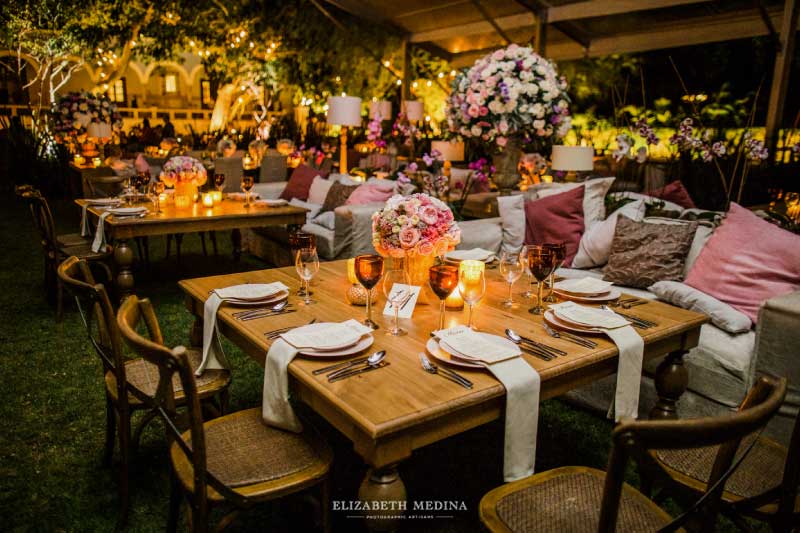 Party, dancing and Music all night long by Muziek.
The atmosphere was unique and unforgettable; the joy was spread among all our guests, who overflowed enthusiasm on the dancefloor and in every corner of the place. All this, thanks to the excellent work of the bast live band in Mérida. There was no room for boredom all night long!
Haha, they never stopped playing, not once, enough said.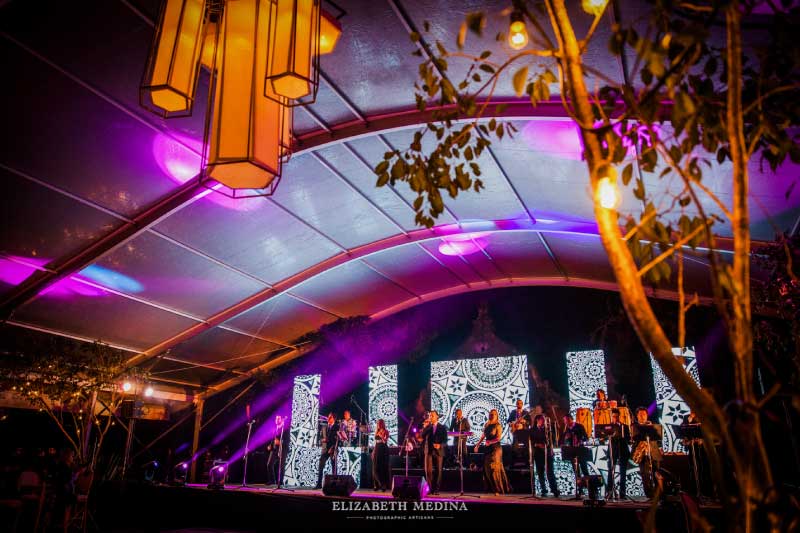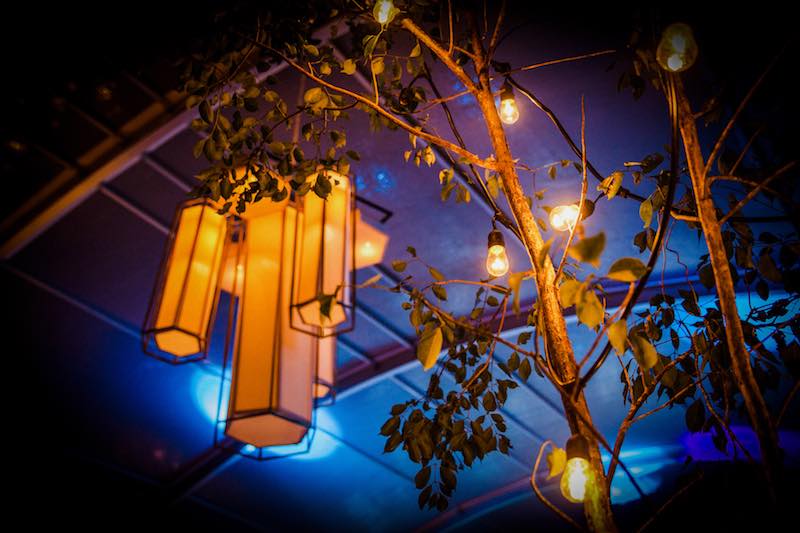 Encuadre Digital was with us the whole day.
Filming every little detail and moment, from the funniest and happiest moments, to the most romantic and unique wedding details. Everything was captured! I am sure that through the work of the great team, our most beautiful memories will always be remembered. We can not wait to see the final product.
Now, back to Elizabeth Medina…
I only told you how she came to be our photographer, but not about the joy of meeting her, getting to have her there for our rehearsal dinner and wedding or about the day we got our pictures, on Christmas eve. Elizabeth and her daughter, Lauren, are an amazing duo.
Besides having a remarkable eye and taking the most stunning pictures, they are such kind and beautiful souls. They captured the images you are seeing in the blog and our most private and special moments, without being intrusive. We had pictures of all our guests and family, our decorations, flowers, lighting, our first kiss as a married couple, our first dance, all was documented exquisitely. Our picture gallery was done in less than two months, beautifully edited and wrapped with a bow for Christmas, best present ever.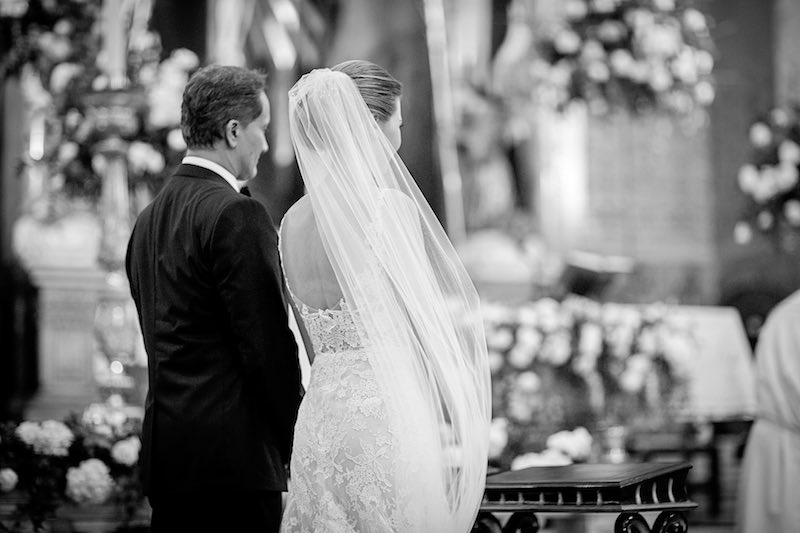 Everything you need for your wedding is probably already there.
Unless it's an invaluable family heirloom, you can find it in Mexico, I promise! In our attempt to "save some money" and rather than listening to our wedding planners, we decided to send some decorative rugs from Miami to Merida via FedEx. The rugs were cheaper to buy here than rent so it seemed like a great idea, except it wasn't. The shipping, plus the custom fees, plus the transport, plus the fact that they didn't arrive until the day of the wedding was not the most financially sound decision. So save yourself the time, trouble and headache, we wish we would have.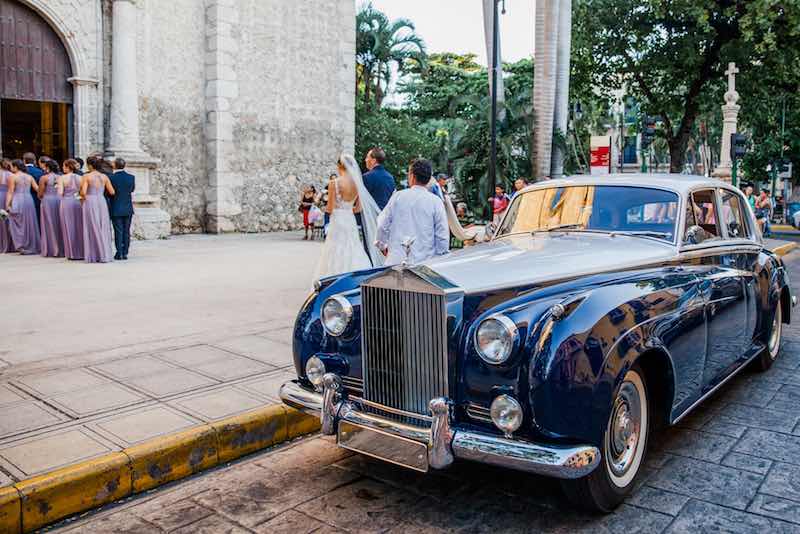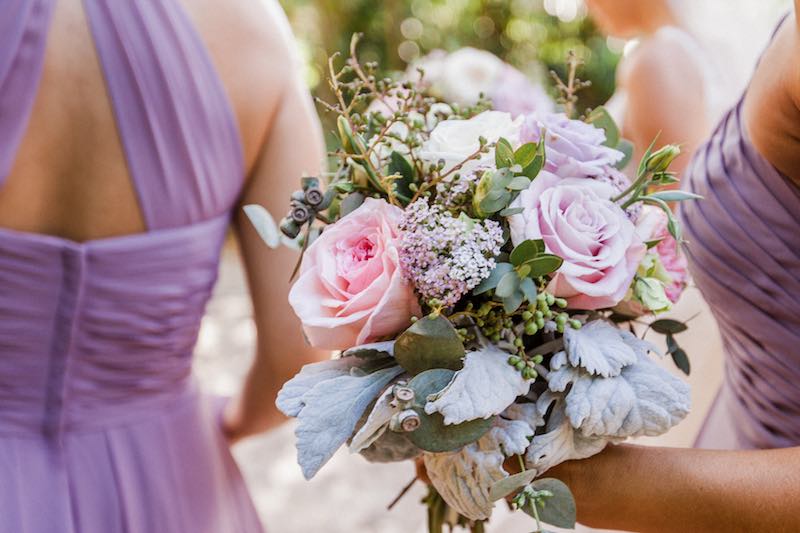 There are many more individuals and vendors which are responsible for creating all the magic we experienced on our wedding day, thank you, thank you, no words to express all our gratitude! I am so sorry I can't remember them all…but contact Laura and Luis at YucatanLove, tell them Maria sent you, they'll help you out and put you in touch with all the right people.
Xoxo,
M.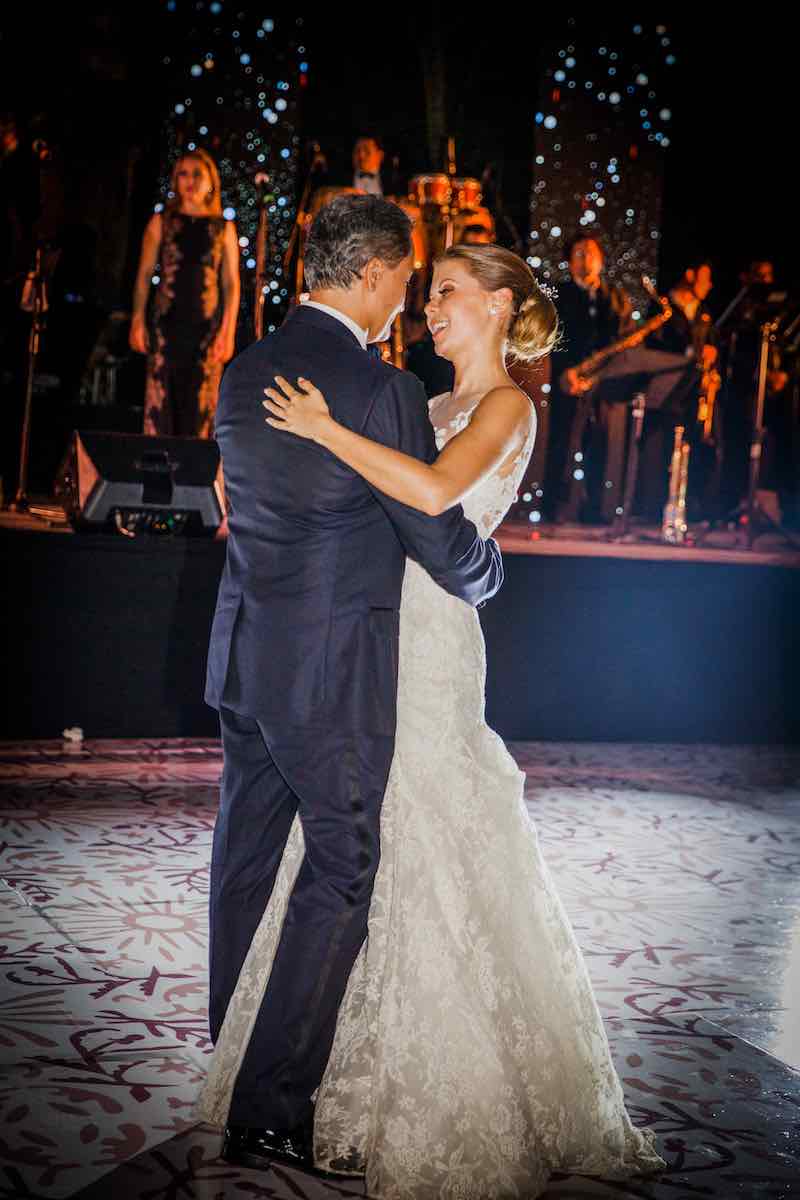 Do you want to know more about TIPS for your wedding in Yucatan? We are YUCATANLOVE, Wedding Planners in Mérida, ask us.