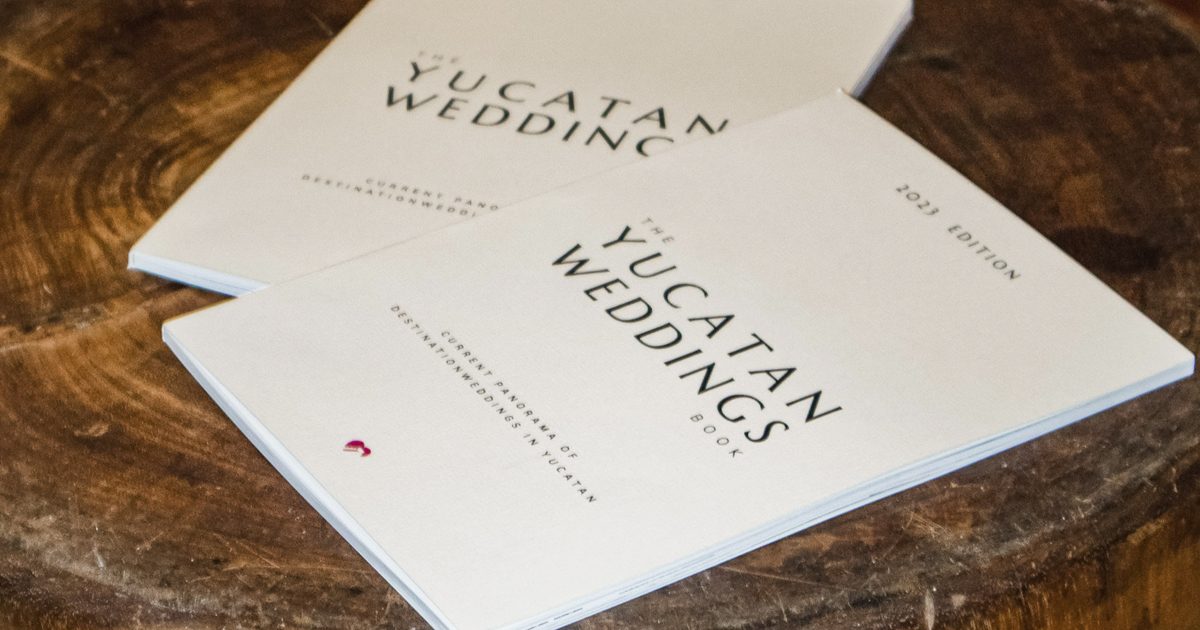 The Yucatan Weddings Book: Current panorama of destination weddings in Yucatán
The Yucatan Weddings Book is a report of a comprehensive research that explores in depth the Romance Tourism industry in Yucatán. This first 2023 Edition presented a current and detailed overview of destination weddings in the state, based on data collected from around 10% of the destination weddings held during 2022.
The study was conducted by the YucatanLove Research Team, which had two clear objectives:
To provide informative resources for couples around the world to make the best decisions for planning and coordinating their weddings in Yucatan.
To provide a specialized source of information for the more than 600 companies in the wedding industry in the state that need to use it for their development and growth.
The report highlighted the importance of the Romance Tourism industry in Yucatan, which is more active than ever, as it is estimated that nearly 25% of the more than 10,000 marriages celebrated in 2022 were destination weddings.
Through the ebook, couples can learn what celebrations in the region look like two years after the COVID-19 pandemic, the different seasons and demands for services, preferred wedding venues, average budgets, types of ceremonies and current trends.
The Yucatan Weddings Book is now available for free download.
Official launch of The Yucatan Weddings Book
The official presentation of The Yucatan Weddings Book was led by Luis Ángel Canul y Guerra, founder and Director of Impulsora Turismo De Romance (IMTUR) the home of YucatánLove.
The event was attended by professionals from the wedding industry, whose work contributed to the research. Local media and national and international correspondents were also present and contributed to the dissemination of the project.
Special thanks to the wedding industry professionals for their dedication and commitment to creating unforgettable experiences for couples who choose Yucatán as their wedding destination:
YucatánLove Team, Hacienda Sac Chich, Hacienda Yaxcopoil, Hacienda Chichi Suarez, Hacienda Dzibikak, Private Haciendas, El Gran Chaparral, X Batún, Hacienda Santa Lucia Kantoyna, The Luxury Collection, Pocholos, Bravo Catering, Camino Banquetes, Marquesitas Dudu, La Madrid, Margarita Zoreda, Molokos, Vinos Diso, Dilgos, Altaporta, Poch Merengue, Churrería 11, Casa Leyendas vinos, Tahiti Mixology, Ian Cocos, Apoala Mx Cuisine, Sueño rosa, La europea, Taquitos pm, Minimal, Ileana Jacobo, April Studio, Doble Elle, RAW Estudio Floral, Harmonia, Hope Taller, Maranjao, Mondana Banquetes, Pasteleria Doña Anita, Aurora CO, Mood, Pony land, Reclinarte, Juul kin, Tulaka alebrijes, Photo booth MB, Secosur, Carpas roma, LM Transortadora, Total Show, Sonus, Muziek, 2Dj's, Capital djs, Alicia Pavia, Music Vibes, Arpisu, Akustica, Believe Your Beauty, Trio Zamná, MT Carpas, Dj Ku, Adagio Producciones, Carpas Cabañas, Lavalles Eventos, Pirotecnia ANC, Alma Mexicana, Maxieventos, Padre José, Real de mi tierra, Dj Chap, Roberth, Isma, Chucho, Mayan Heritage, Ledesma, Orpheus, Octavio Ezequiel Carpas, Quovadis, iPro Eventos, Ki miel, Artesanias xaán, Cuarto Azul, Recorramos Planetas, La tripulación, Meraki Weddings, Memory Box, Gaby Gonzalez, Carlos Manzano, Cinema HD, Rollo Digital, Fine Art Studio Wedding, Gus Cortés, Aniela Fotografia, Kape Photography, AMPER Fotografia, Francesca Carpinelli, Fabrizio Simoneen, Fer Juaristi, Kayla Fisher, Encuadre digital, Ana Scaparone, Rusell Arkoo, White loop studio, Elizabeth Medina, Tamara Uribe, Gina Osorno, Marekerikas, Salony, Luminous Makeup, Cósmica Beauty, Salon cafe, Rafa Velasco.
Do you want to know more about TIPS for your wedding in Yucatan? 
We are YUCATANLOVE, Wedding Planners in Mérida, ask us.