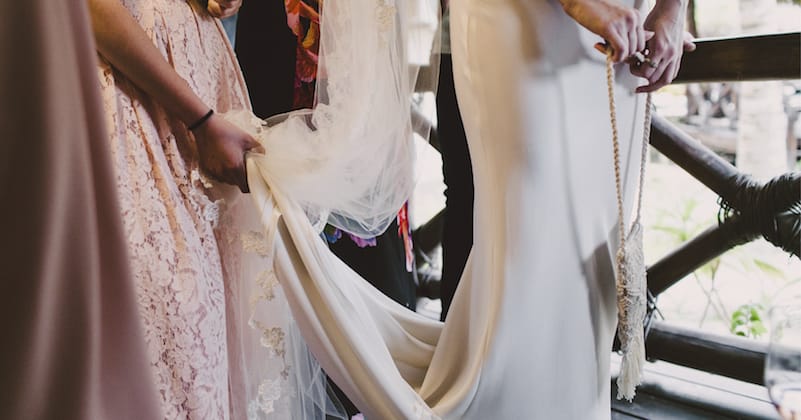 How to choose a wedding dress in Yucatan 👰
Has it ever happened to you that you have the perfect wedding dress in mind, but you don't know how to describe it in the boutique? This is something very common since not all of us are born experts in wedding dress design.
Know all the styles of Wedding Dresses
But don't worry, we prepared for you a glossary with the most common terms in terms of cut, design, style, and fabrics so you can find the best wedding dress and describe it to the designers without any problem.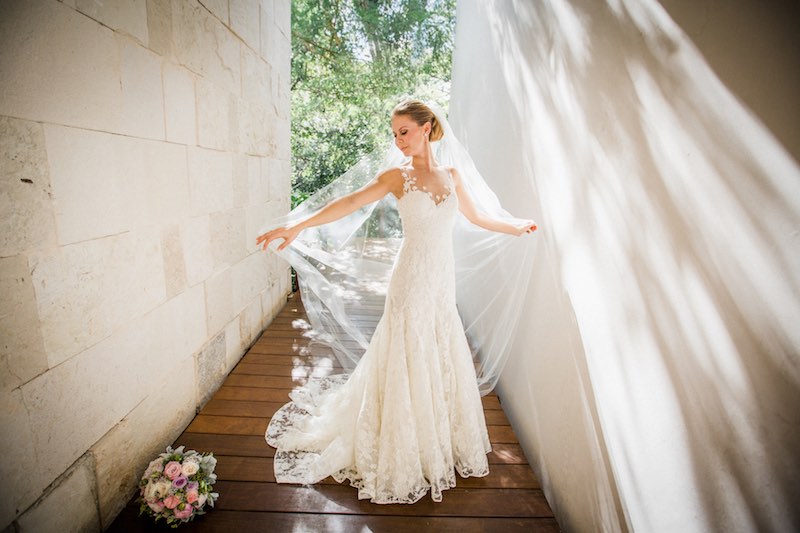 – Cut, design, and style of Beautiful Wedding Dresses
Boho chic 
This term mixes the bohemian (boho) with the refined (chic, in French). It refers to a style that combines the hippie, the natural, and the gypsy, with the sophisticated and vintage. For brides who connect with nature.
Evasè or A-line
This cut is characterized by being tight at the top, but wide from the waist or hip. This will be perfect to look elegant.
Halter
It refers specifically to the neckline part of the dress, which is fastened at the neck, thus exposing the shoulders, arms, and part of the back. Meghan Markle caused a stir by wearing a second wedding dress with this cut, worthy of royalty.
Empire
Dresses with this cut are characterized by being very tight in the chest, having a ribbon or some detail just below, and are very loose at the bottom.
Midi
This term refers to the height of the dress. The midi-length leaves a space between the ankles and the knees, but without reaching them. Rockabilly style dresses from the fifties are a good example. Ideal if you are a retro bride, very refined.
Minimal
Refers to minimalist, which is characterized by being simple and austere, but very elegant and sophisticated.
Paillettes:
Literally means scales, but alludes to the sequins that are hand-sewn on dresses. You'll have some spectacular sparkle on your big day.
Princess
This cut is distinguished by being tight at the waist, where there is usually a ribbon or other detail, and having a lot of volume at the bottom.
Rustic
It aims at rustic, that is, simple, romantic, and fresh. Dresses with this style usually have lace and details that resemble flowers.
Mermaid
This term refers to the cut of the dress that is fitted from the top to the middle of the leg, where it flares out.
Strapless
Refers to the type of neckline in which the dress is fitted to the chest and the shoulders and arms are left bare.
– Fabrics for your perfect wedding dress
Brocade
Thick silk fabric interwoven with gold or silver threads. Geometric patterns or figures of animals and flowers are formed in its design.
Charmeuse
This fabric has a shiny, lustrous finish on one side and a matte finish on the other. It is usually made of silk or polyester thread.
Illusion
This fabric is a type of tulle used to give the impression that the skin is bare.
Silk Mikado
It is made from thick natural silk and granulated texture. It gives a lot of volume and great fall to the dresses.
Organza
It is a cotton muslin with a soft, delicate, and very fresh feel. It is used to create flowing dresses with a soft drape.
Shantung
Silk fabric that uses two thicknesses of thread. It is much stronger than other types of silk.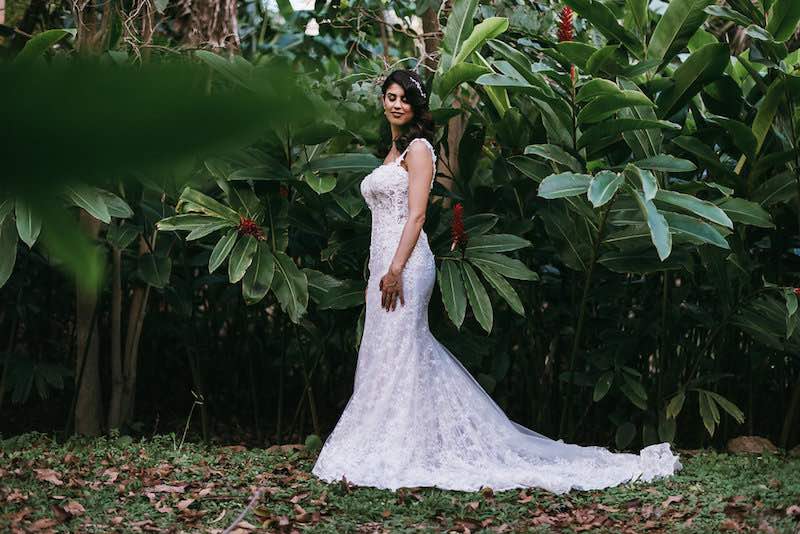 Do you want to know more about TIPS for your wedding in Yucatan?

We are YUCATANLOVE, Wedding Planners in Mérida

, ask us.
Photocredits: @anielafotografia · @elizabethmedinaphotography · @tamarauribephotography