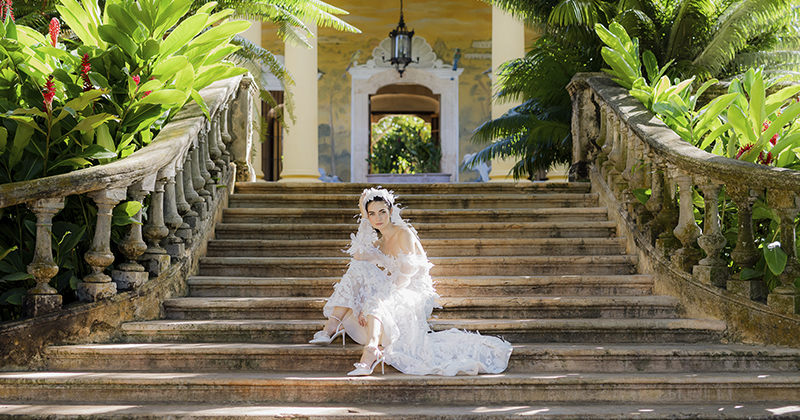 Bella Belle Shoes: Behind the scenes of the photoshoot in México
We are proud to share with you about the incredible project headed by Bella Belle Shoes, which we were part of in our amazing state of Yucatan.
Bella Belle is renowned for exquisite details and beloved for comfort. And this collection was inspired by the stages of love, that's why they have called it El Amor.
"Love is complex — it's obsession and lust, it's longing and passion, it's terrifying and yet, intoxicating. Through this collection, we hope it inspires you to love and to be loved." — Bella Belle.
Stage Zero: Conceptualizing the stages of love
They started this collection process very early on! The process usually takes many months because it involves so many people, processes and stages.
In the photographs and videos, they want to convey to people the journey of being in love:
Part 1 – Te Amo / I Love You
A chronicle of the exhilarating feelings of falling in love. Your heart flutters, your pulse races and you can't shake that feeling. Suddenly, your whole world is turned upside down, and all you feel are the exuberant feelings of love.
Part 2 – Te Adoro / I Adore You
Adoration embodies that love which almost overwhelms you. As you enter the world of exploration, you begin peeling away layers of mysteries. Filled with adventures and surprises, you celebrate your love fearlessly, full of adoration.
Part 3 – Te Deseo / I Want You
We delve into that uncontrollable and oftentimes, explosive emotion of desire. To love is to have, but to desire is to want. That passion is insatiable and undeniable.
Stage One: Behind the scenes at Hacienda Tekik de Regil
On the first day of production, very early in the morning we went to Hacienda Tekik de Regil, where we were welcomed to set up the production and work tools.
What Bella Belle love about Tekik de Regil was its vast variation in backdrops. They love the age-old walls delicately hand painted with murals of local flowers and fauna, which offer them beautiful art to reflect the craftsmanship of their latest handmade collection. They also love the hospitality of the hacienda staff!
Time was managed for a look at each selected spot within the venue. As they walked through the place they worked alongside the beauty of the spots, from the Main House to the Chapel to the large gardens.
To match Tekik's romantic vibe, they matched the venue with romantic and ethereal shoes like Remi, Eloise, Kennedy, Mirabelle, Faye. To go with the shoes, they looked for designers who are interesting and are non traditional to select the dresses. Even when choosing more traditional lace gowns, they have elements of surprise such as lace up corseted waist, Victorian-inspired tights over short lace skirt, etc.
The collection of wedding shoes combined with the dresses stood out in perfect harmony, while each person did their job effectively, both those who produced the visual content, as well as all those who coordinated.
The shooting was completed before sunset. It was a very productive and amazing day.
Stage Two: Behind the scenes at Merida City
As for the second day of production, the colorful city of Merida was the location for the campaign shoot. The streets of the "Centro Historico" were the lucky ones to welcome Bella Belle and her production.
"Downtown Merida screams fun and party!" — Bella Belle
For this part of the shoot, they used flirty heels that are bedazzled with crystals to match the mood. 
Fun fun fun! All the dresses chosen for this day of the shoot are flirty and fun to match the mood of the location. 
Inspiration and beauty overflowed in every spot, Antonina Vasylchenko played an excellent role in modeling. Chris from Zen Film Works and Claire Morris Photography did an impeccable job in terms of visual delight.
Joy Proctor Design, really professional and organized and Liliya Mufazalova talented and professional. Not to mention the dresses by Justin Warshaw, Viktor&Rolf Mariage and other designers, absolutely wonderful.
Definitely, none of this would have been possible without the creative and dedicated leadership of Erina and Veronyca, and the entire Bella Belle team.
"This experience has been so exhilarating. From planning it, executing it, meeting our team in Mexico, to seeing the results, it has been such a dream!" — Bella Belle
We really appreciate the opportunity to collaborate in this shooting, we really enjoyed this wonderful process. We wish the best of success to the people who were part of it and hope to see you all soon.
Do you want to know more about TIPS for your wedding in Yucatan? 
We are YUCATANLOVE, Wedding Planners in Mérida, ask us.