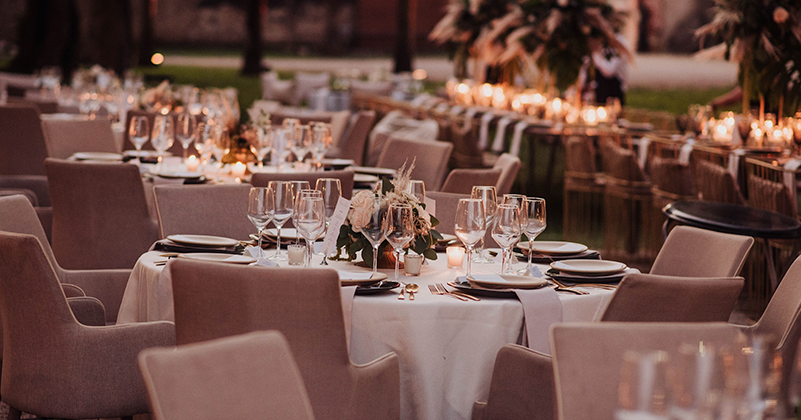 Details at Hacienda Chichi Suarez 💘 Ale & Luke
This couple came from Tulum to celebrate the bond of their love in a unique and beautiful setting, they decided to celebrate their love in one of the most beautiful haciendas in Yucatan, Hacienda Chichi Suarez. This hacienda has been remodeled but continues to have a special touch of tradition and an eclectic architectural style influenced by various trends, mainly neoclassical. 
While the couple had their civil wedding in an intimate ceremony, guests were arriving at the hacienda to be greeted with a welcome cocktail at the foot of the imposing building. Everyone chatted and enjoyed the beautiful sunset, followed by a photo session with the family and bridesmaids.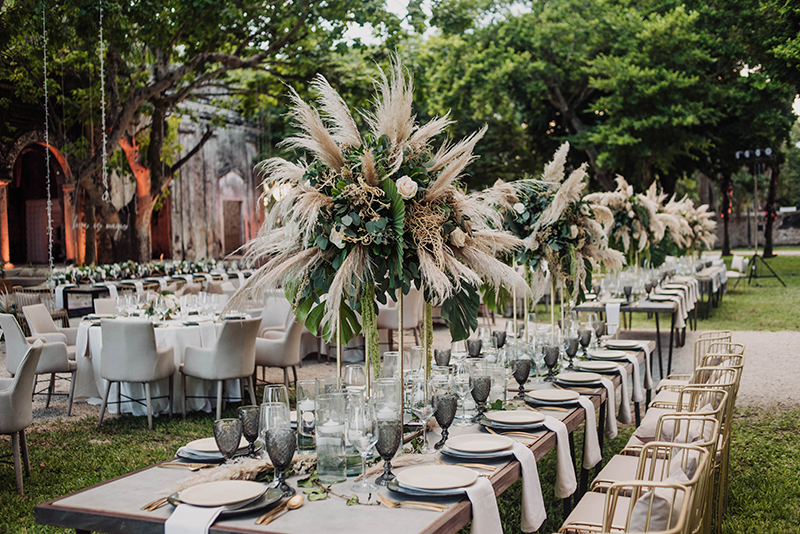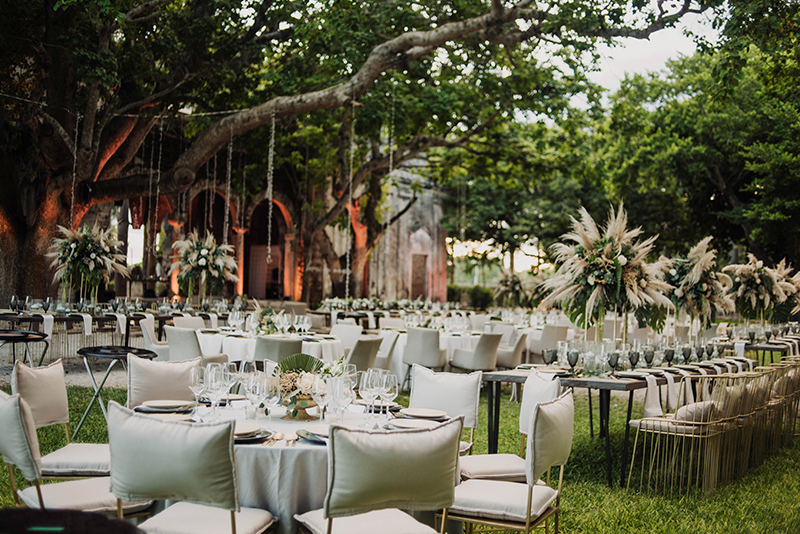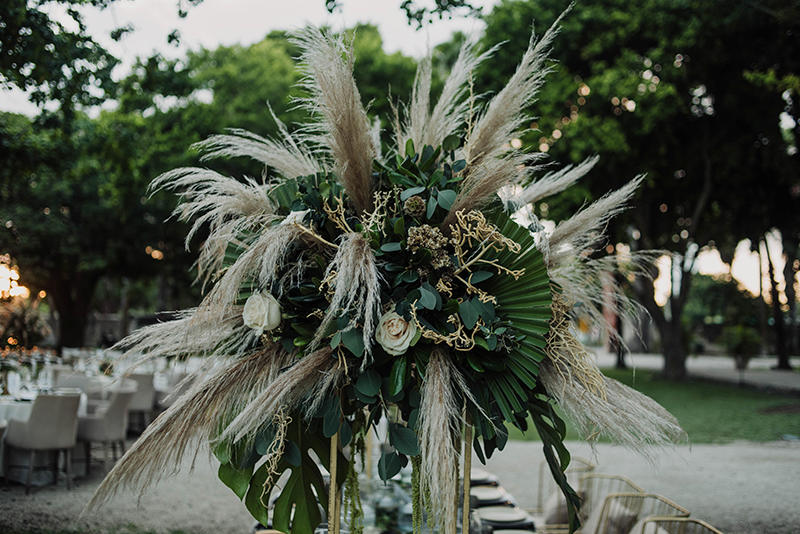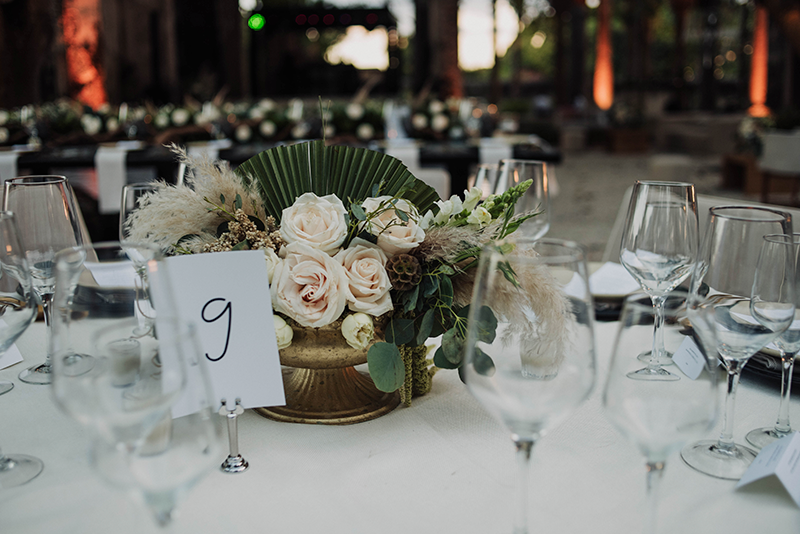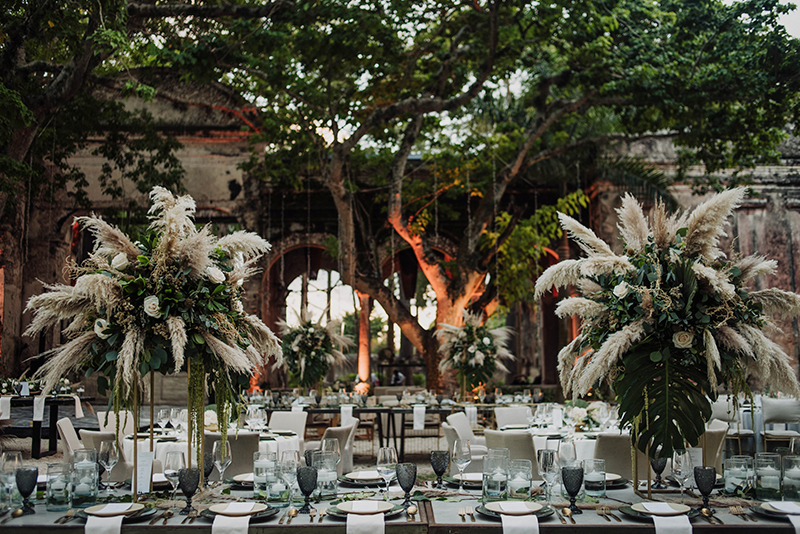 Details that make the difference
In the area of the hacienda "Casa de máquinas" the setup was ready. Ale took care of every detail of her wedding, being a designer herself, she gave a beautiful touch to each space. Gray cement tables and round tables with tablecloths were distributed throughout the place with beautiful floral arrangements in shades of green, white and to crown all this atmosphere, the unique touch of the pampas grass shone through the whole set up. 
Light bulbs falling from the trees and candles illuminating the tables gave a warm, fairytale atmosphere. One of the trees had a neon that was later taken as a backdrop for countless beautiful photographs.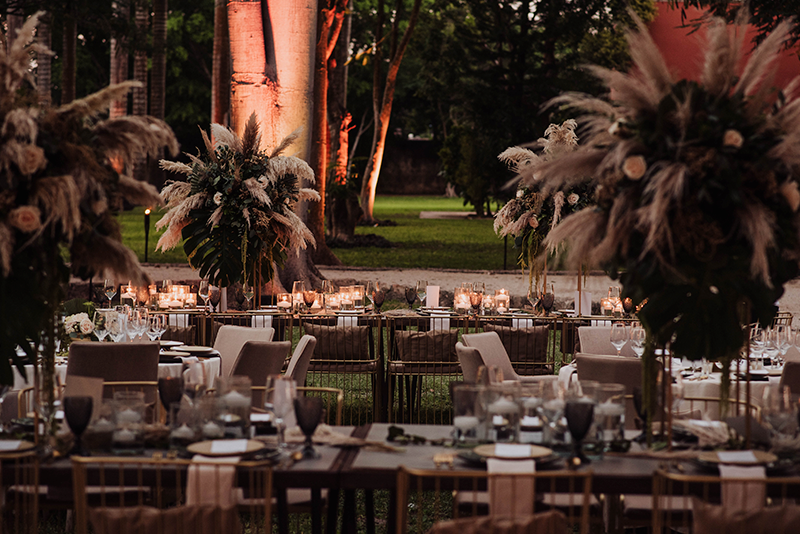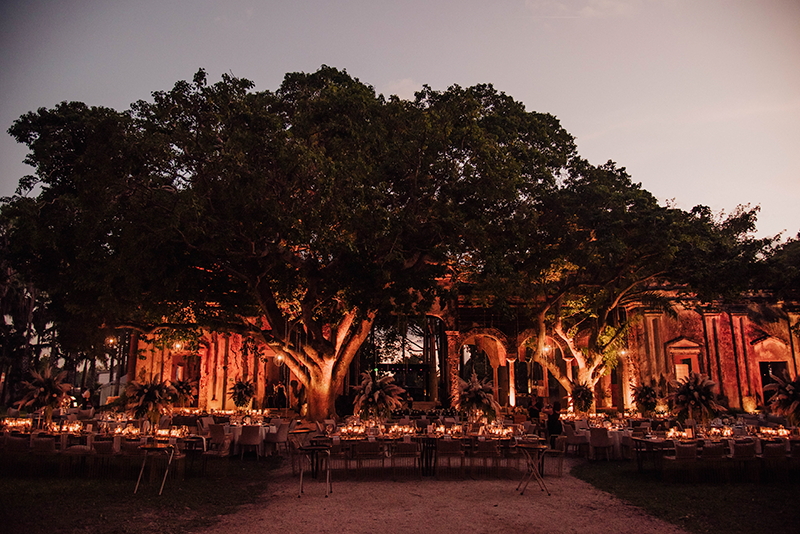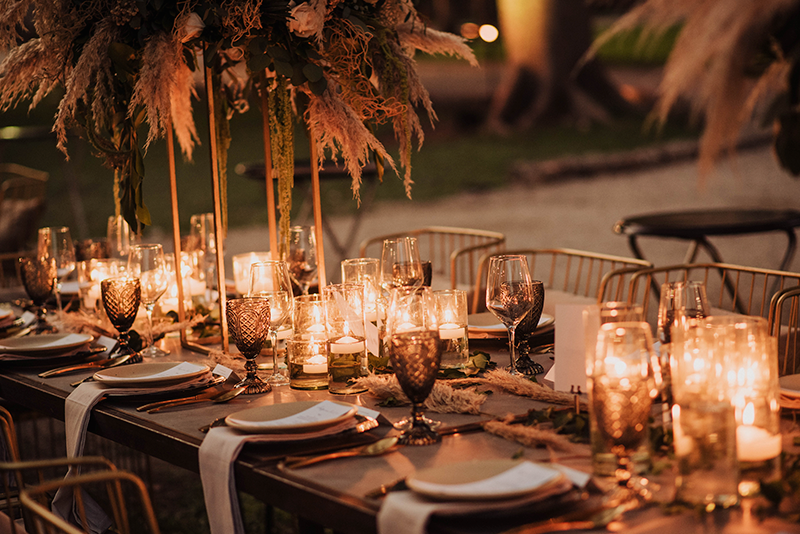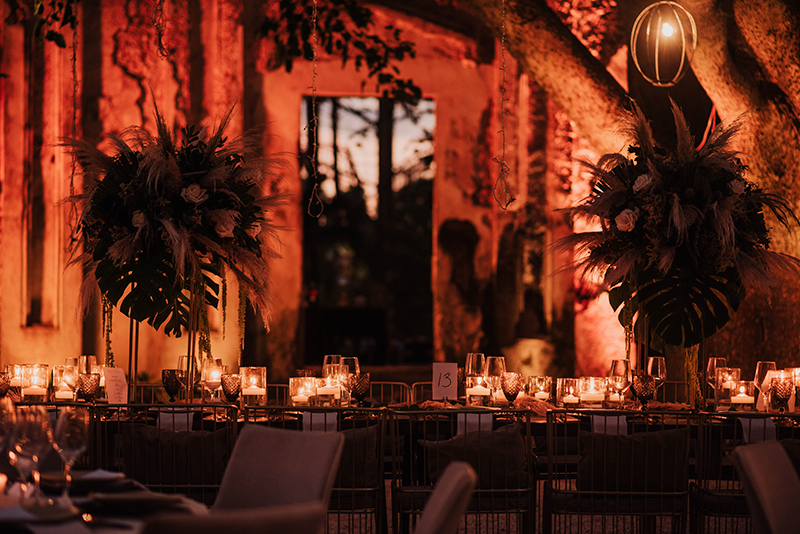 Romantic and relaxed atmosphere
When the cocktail ended, the guests moved to the reception and were seated at their respective tables. The melody of the sax began to play and with that the dinner began, canapés, the first appetizer, and the main course were what the guests could enjoy during the night. 
After dinner, the couple went to the dance floor and all the guests watched attentively and excitedly what would be the first dance as spouses of Ale and Luke, the couple danced in the center of the dance floor and enjoyed their moment exchanging glances full of love and complicity.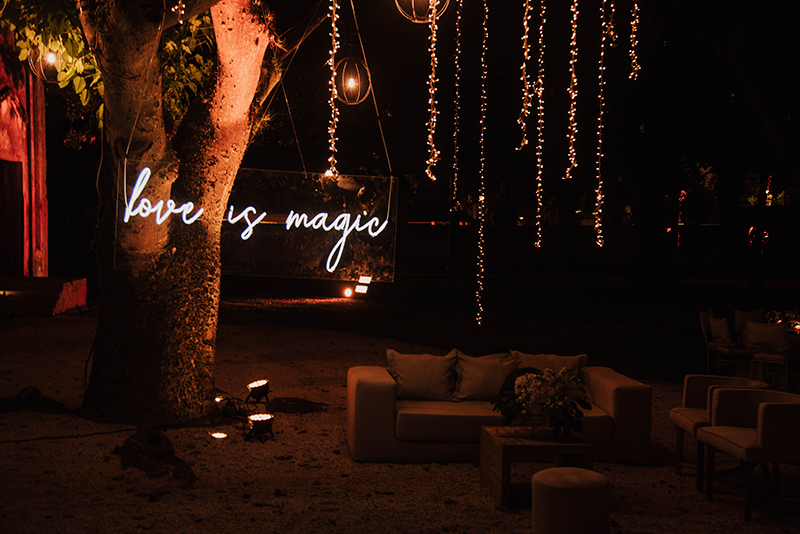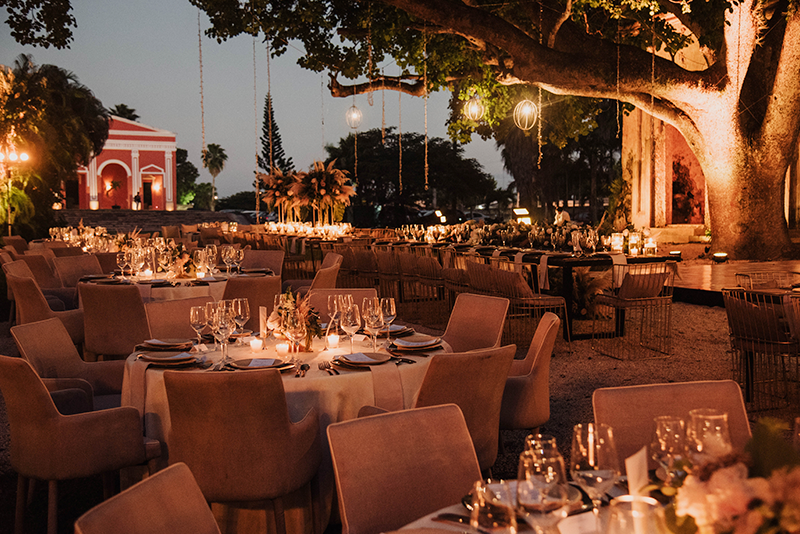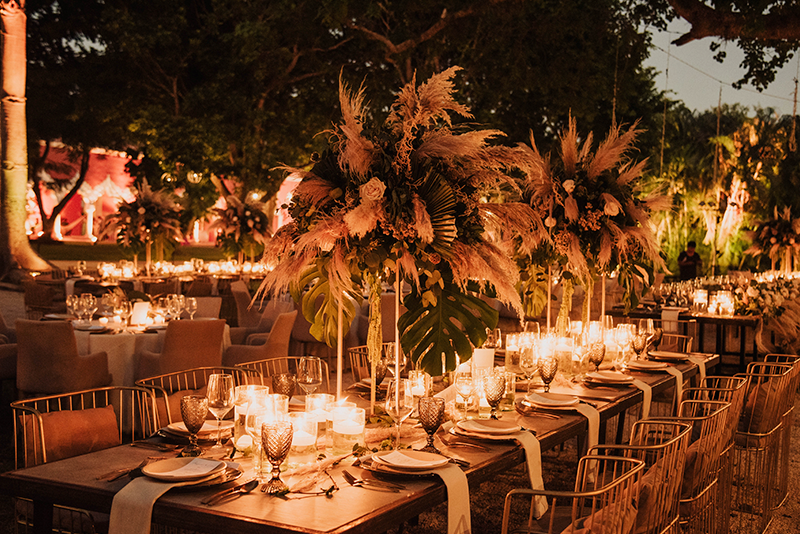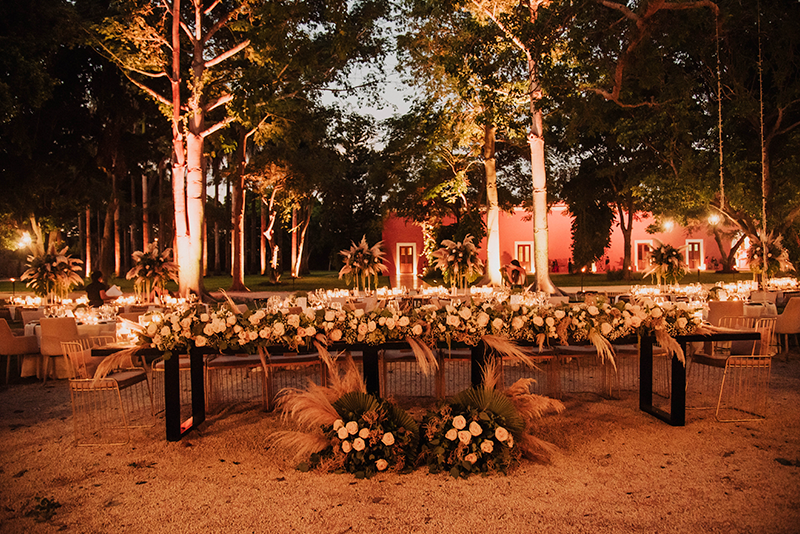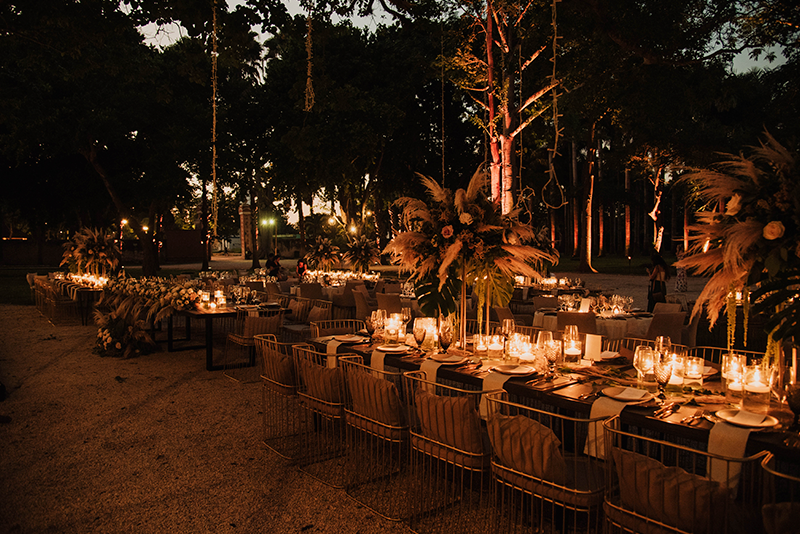 After the first dance of the spouses, followed by the dance with the parents, Ale danced with his dad and Luke with his mom, giving all the attendees a very emotional moment. 
The party began and the photo booth and the candy table were opened, all the guests enjoyed the atmosphere, the desserts, and the good music. Definitively, the love that was in the air. 
Do you want to know more about TIPS for your wedding in Yucatan?

We are YUCATANLOVE, Wedding Planners in Mérida

, ask us.
Photo credits: @kapephotography