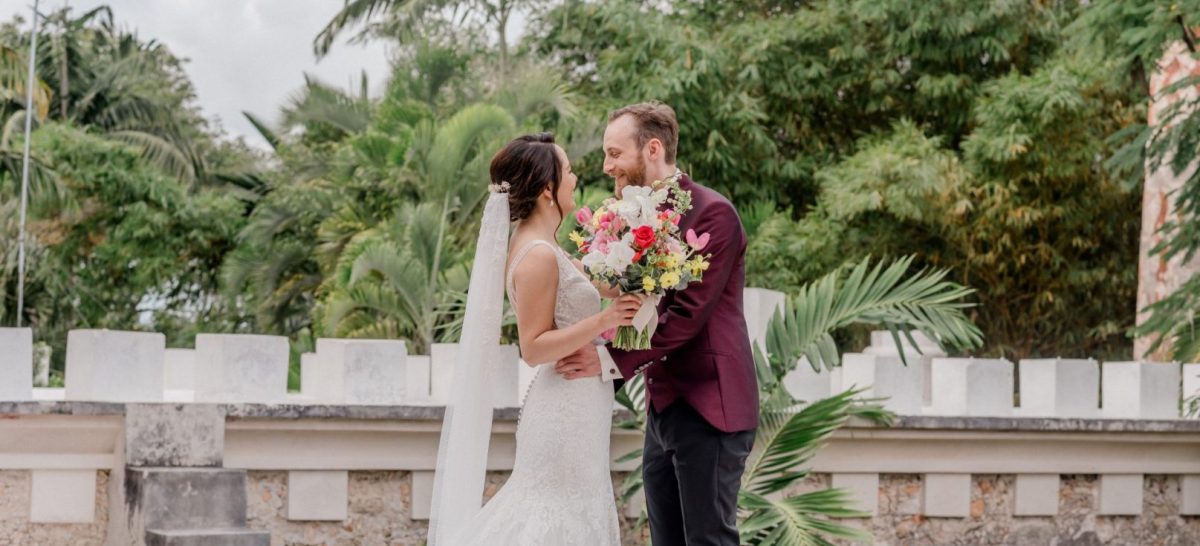 Romantic Wedding at Hacienda Sac Chich: Jimena & Julius 💖
Hacienda Sac Chich Wedding witnessed the love of Jimena & Julius, an adorable couple who traveled from Germany to Yucatan, México, to unite their lives in a romantic wedding. They chose a Kinship wedding style, where warm colors contrast perfectly with the cool tones.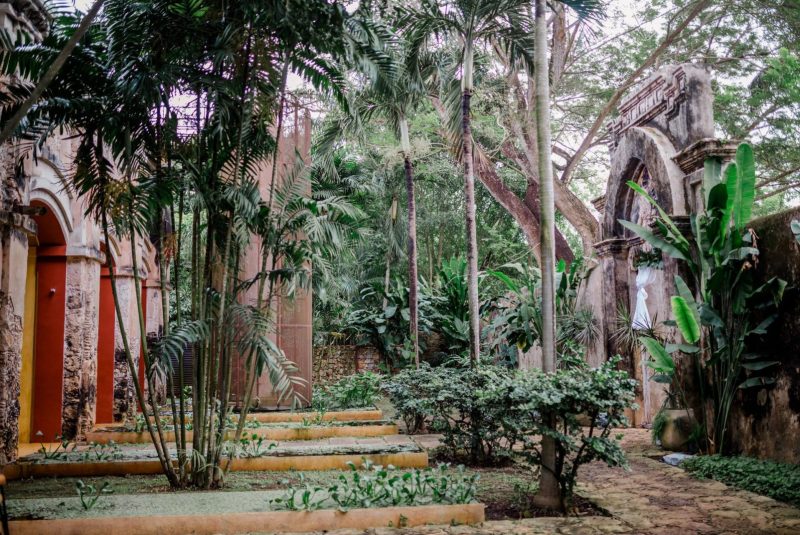 Romantic wedding on standby
The sophisticated accommodations of the Hacienda welcomed the bride and groom and their closest people in an atmosphere of tranquility and romantic vibes. Jimena enjoyed a special moment in the company of her bridesmaids, laughter and good wishes were present, and then she prepared for the meeting with her future husband.
The lovely bride wore a sleeveless lace dress with a beautiful neckline. She chose to wear her hair up and a long veil, beautiful pearl earrings and a bouquet of warm colors.
Meanwhile, in another room, Julius was getting ready with the help of his groomsmen. He chose to wear an elegant suit, with a white shirt, vest, tie and wine jacket and black pants. He then made his way to the intimate garden where he would meet the bride.
When I saw you…
The couple met in the garden, Jimena walked over to Julius who had his back turned and touched his arm. When he turned around, tears began to flow and their love and admiration for each other was evident. It was a memorable First Look, full of happiness and joy.
They had a romantic photo shoot in the gardens of the Hacienda, where there was no shortage of hugs, kisses and caresses.
Forever
Jimena & Julius had a special symbolic ceremony in the lavish garden, in the presence of their guests, the most important people to them.  The groom waited for the bride as she walked towards him hand in hand with her mother. When they arrived, they gave each other an emotional embrace.
The bride and groom exchanged words, had their ribbon placed, exchanged rings, said "Yes, I do" and sealed their love with a kiss.  As they made their exit, Julius carried the bride and all present celebrated their union with applause, shouts and laughter.








Let's celebrate our love
The reception and party took place in the large main garden of Hacienda Sac Chich, where a tent, a starry sky and a dance floor were set up.
Rectangular and circular wooden tables were set with floral decorations in warm colors in perfect harmony with the cool tones. For each guest, small wooden alebrijes were placed as a detail for their presence.
The festive atmosphere was not long in coming, the bride and groom danced their first dance as husband and wife in an atmosphere of peace and romance. Their friends and family followed and amidst laughter and dance moves, everyone had a great time.
We are happy for Jimena & Julius for this important step in their lives and wish them much happiness and prosperity. Without a doubt, it was an unforgettable day!
Photo credits: @fabriziosimoneen, @cuartoazulwedding.
Do you want to know more about TIPS for your wedding in Yucatan?
We are YUCATANLOVE, Wedding Planners in Mérida, ask us.