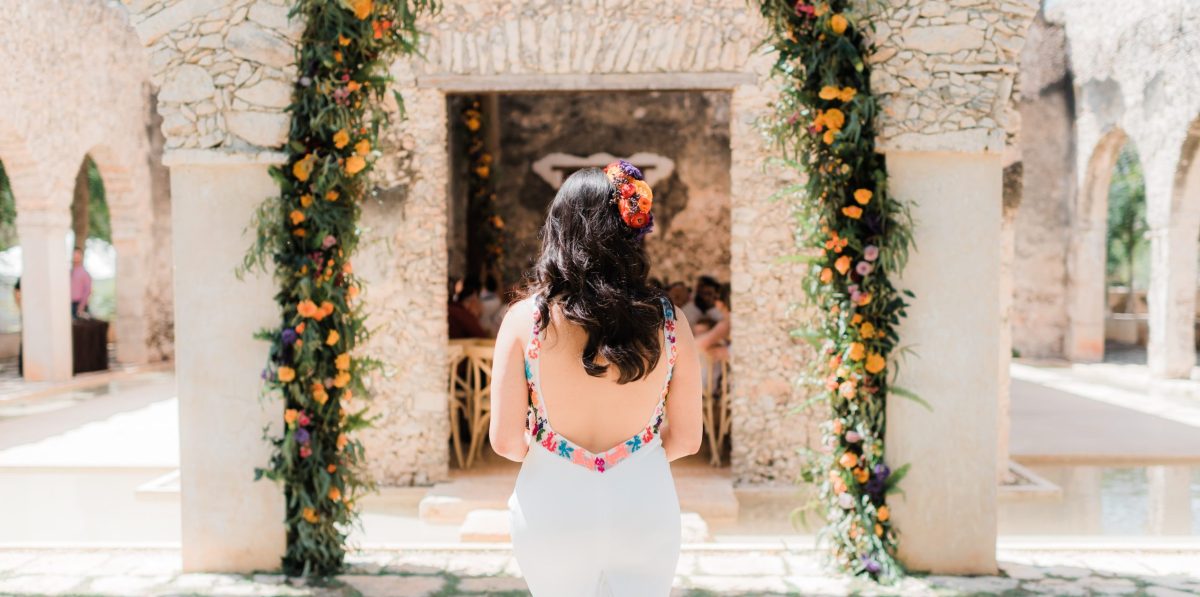 Mexican Wedding Ceremony at Hacienda Tamchen 💍🌷 Alejandra & Felix
Alejandra & Felix celebrated a Merida, Mexico wedding ceremony at Hacienda Tamchen Yucatan. The Yucatan Peninsula offers you best destination wedding venues, the couple rented three nearby haciendas: Tamchen, Tixnuc, and Cuzama, so that all their loved ones could be together and enjoy an unforgettable weekend. 
For some couples, a civil wedding is just the first step before celebrating a traditional religious wedding. This time, Alejandra and Felix decided to get married the day before their religious ceremony and celebrate in an intimate gathering with their family and friends.
Mexican Wedding Ceremony, an elegant look
One of the most important moments of a wedding day is when the bride and groom begin to dress up to look more beautiful on their special day. For her civil ceremony, Alejandra got dressed up with her mother and wore a white dress with Mexican embroidery in many colors that gave her a touch of elegance and freshness.
Her beautiful dress matched perfectly with her blue shoes. For this occasion, she chose heavy makeup, smokey eyes, and red lips.
Her hair was adorned with the same flowers as her bouquet in purple and yellow shades.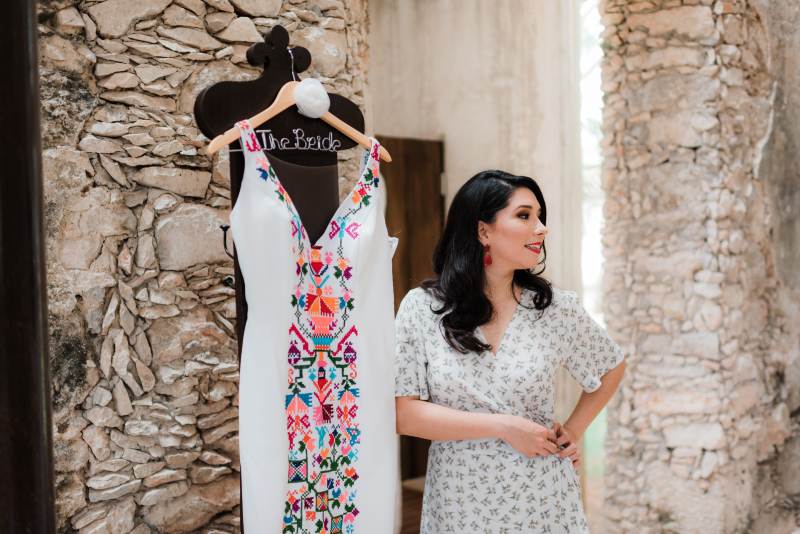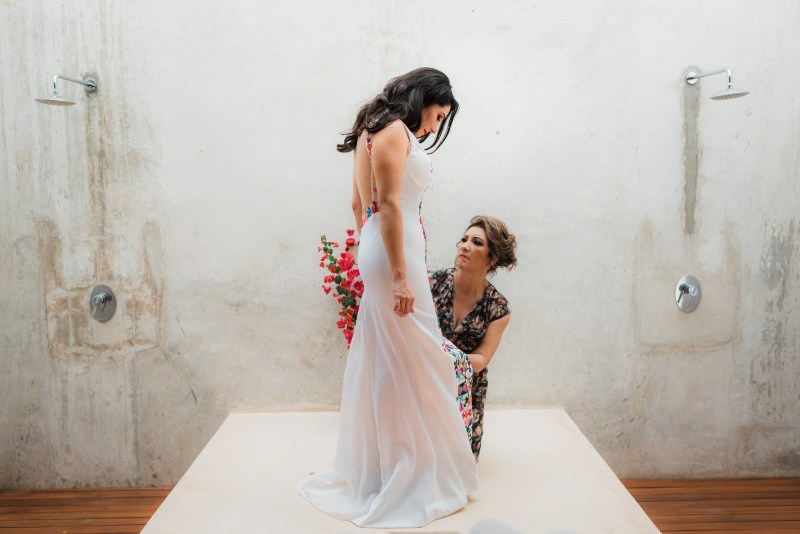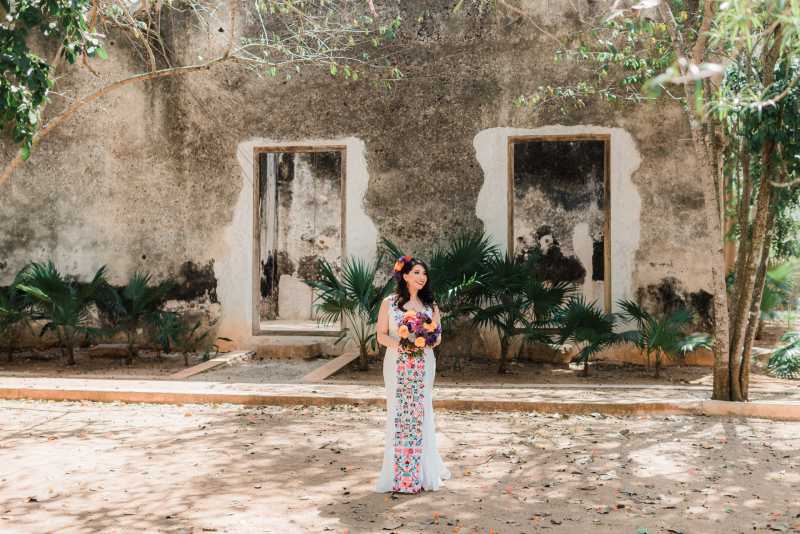 Felix's outfit was elegant, simple and fresh. She chose a long-sleeved, off-white shirt with lace trim. His trousers contrasted with his shirt, which was oxford in color combined with comfortable brown shoes. 
Alejandra & Felix looked spectacular and their outfits had the Mexican touch they wanted so badly.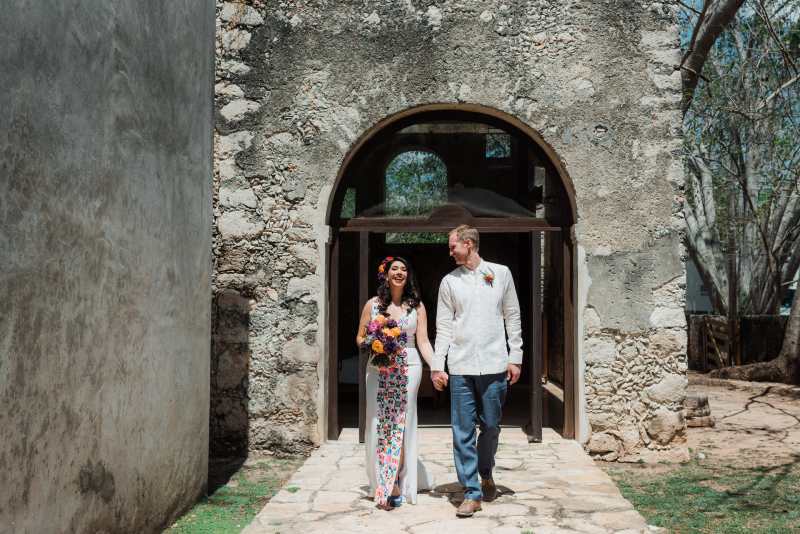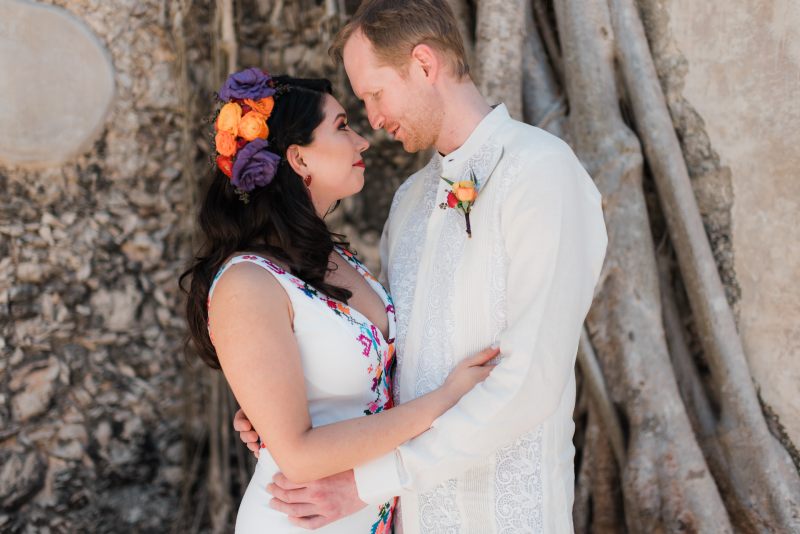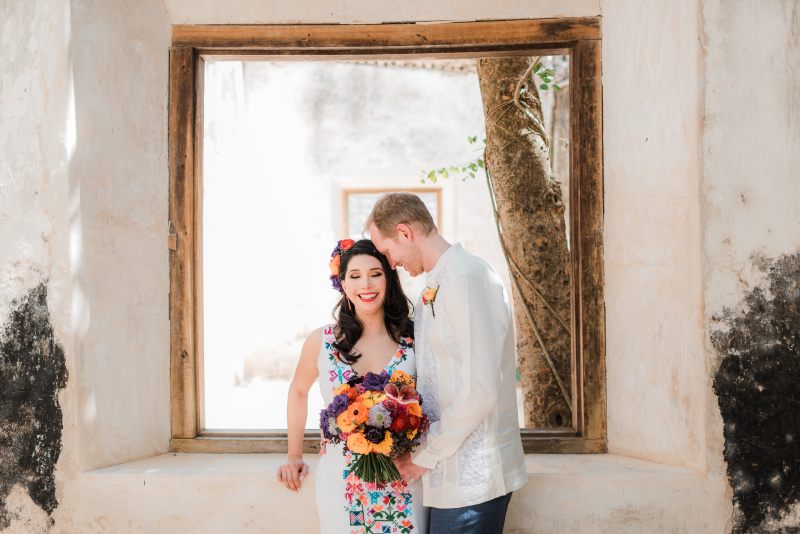 Mexican wedding ceremony legal script
There was no doubt Ale & Felix's civil wedding was spectacular and nostalgic. When Felix saw Alejandra arrive, her smile gave him away and the tears were not long in coming.
Everyone was very happy because Ale & Felix looked completely in love. The parents of both of them dedicated some words of excitement and encouragement, but above all, they wished them a lot of happiness and love on this road that they were going to walk together.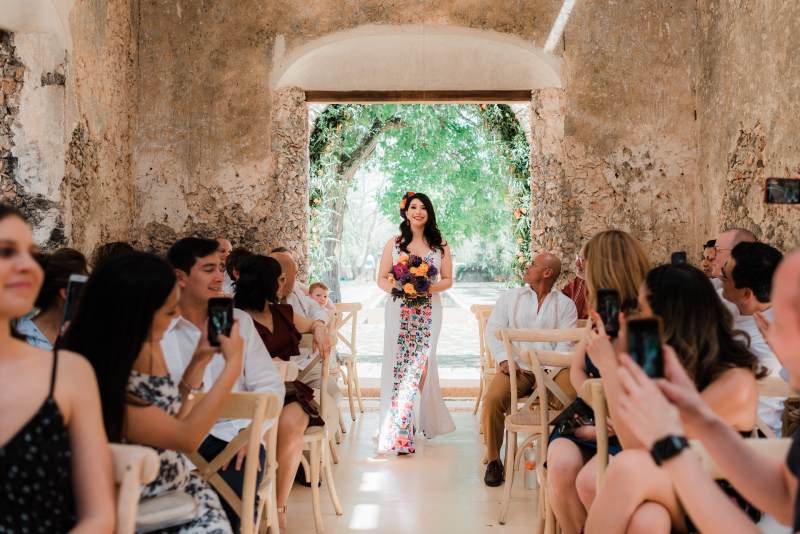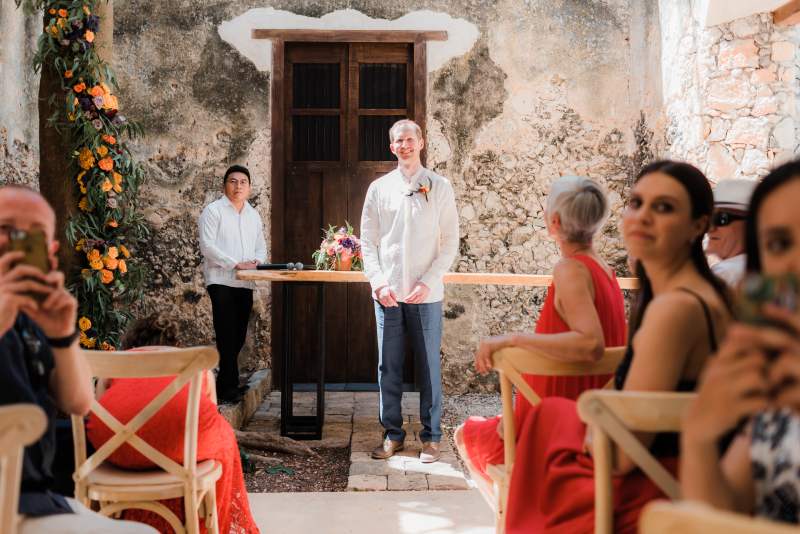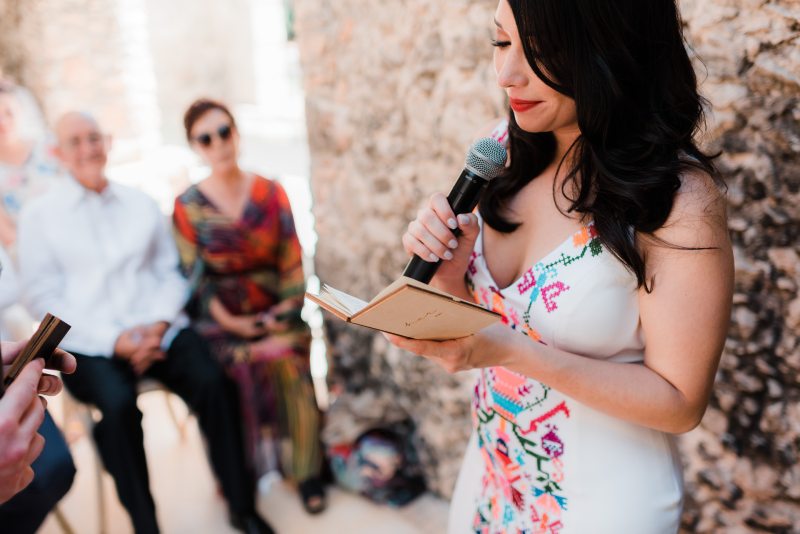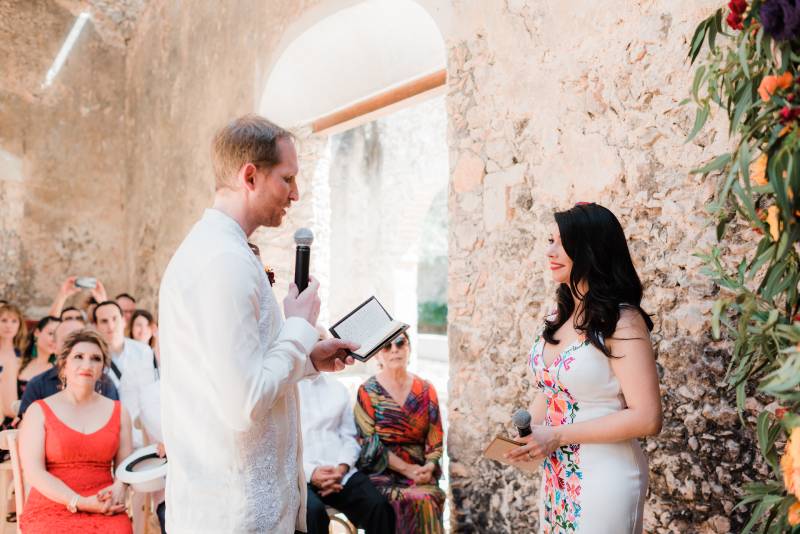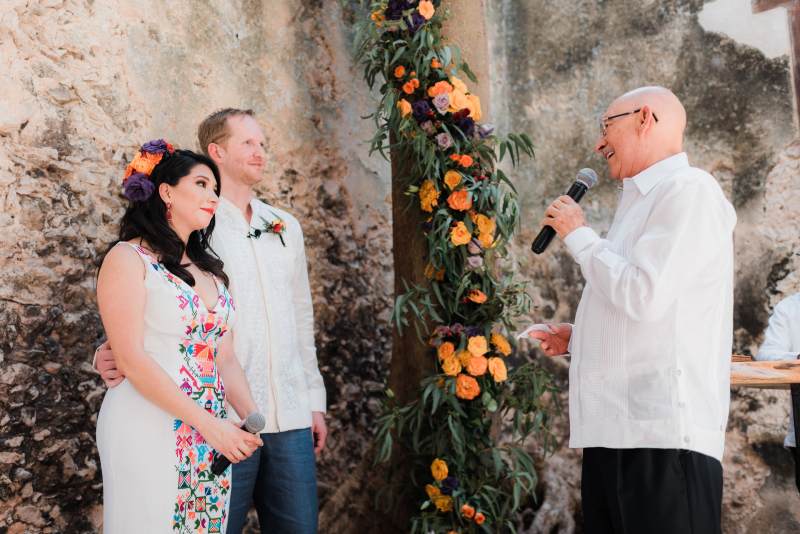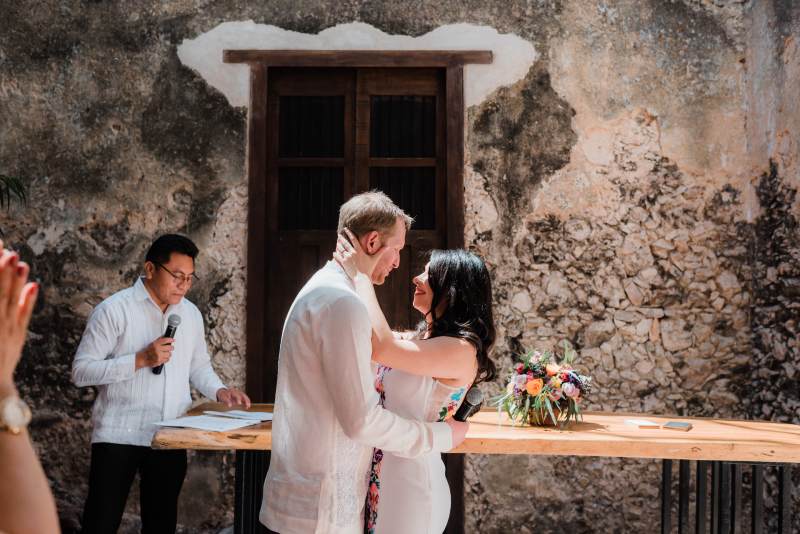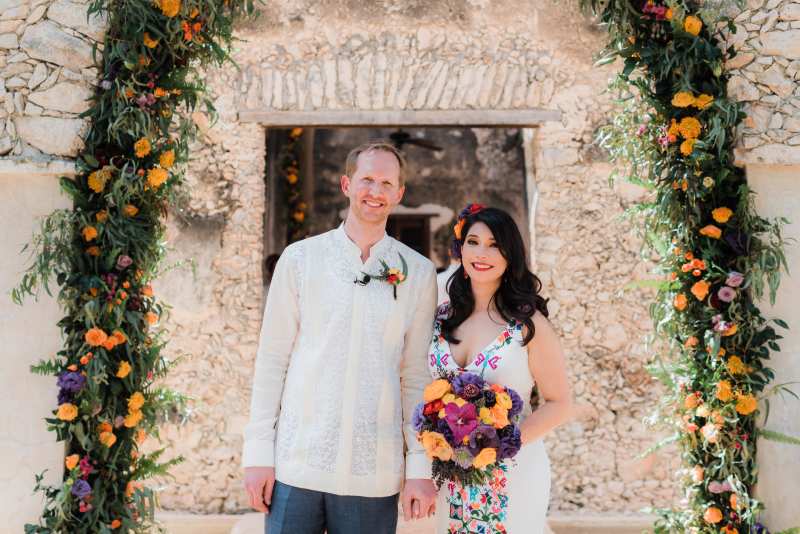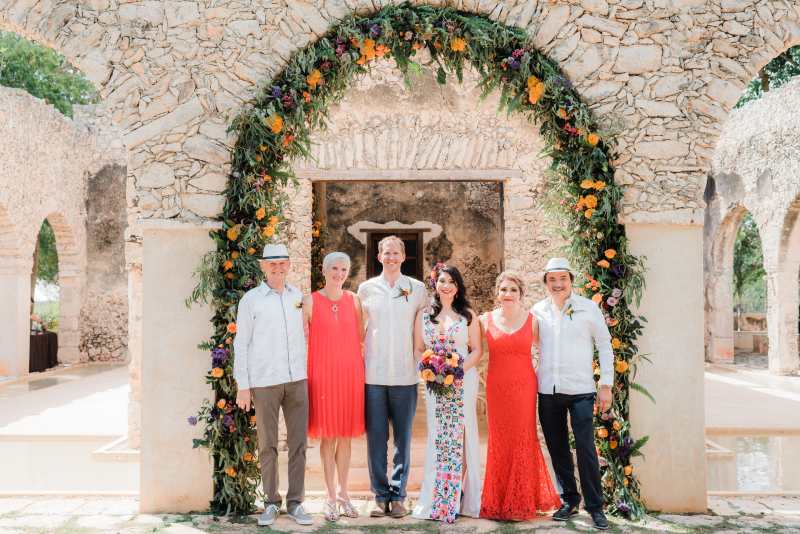 Mexican wedding food traditions
After the civil ceremony, guests were welcomed with a cocktail of traditional Yucatecan food: guacamole, kibis, panuchos, empanadas and lime soup.
The Mexican food delighted all the guests, and they also enjoyed a spectacular Cuban music show that had everyone dancing. Ale & Felix had the time of their lives and enjoyed this special moment.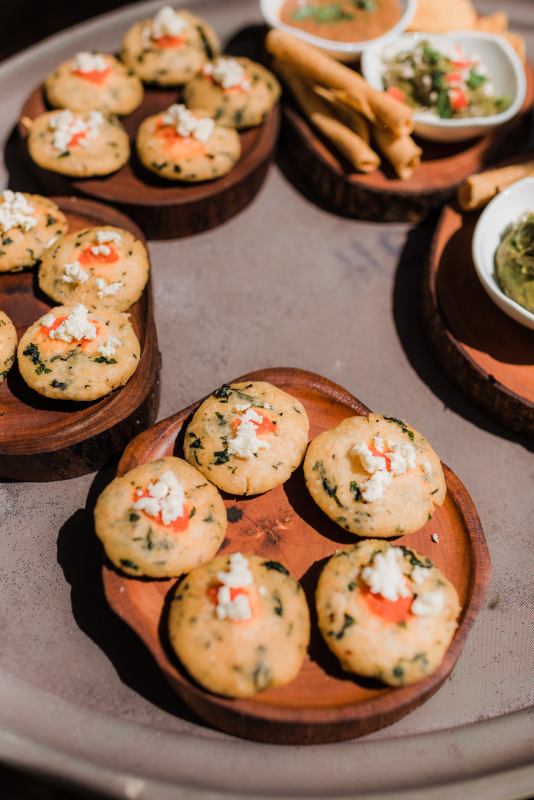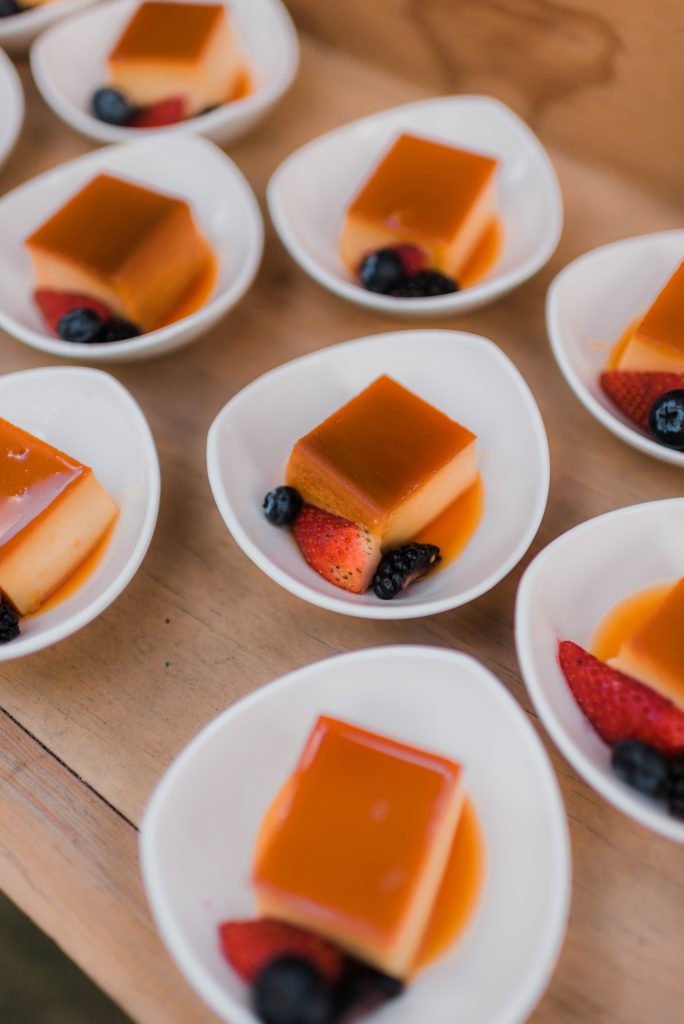 Ale & Felix had the right decision to incorporate colorful elements typical of the Mexican essence into their theme for wedding.
The imperial tables of the banquet were adorned with embroidered napkins that perfectly matched the design of her dress. In addition, all the guests had as a gift on each table some tequila glasses with Mexican flower decorations.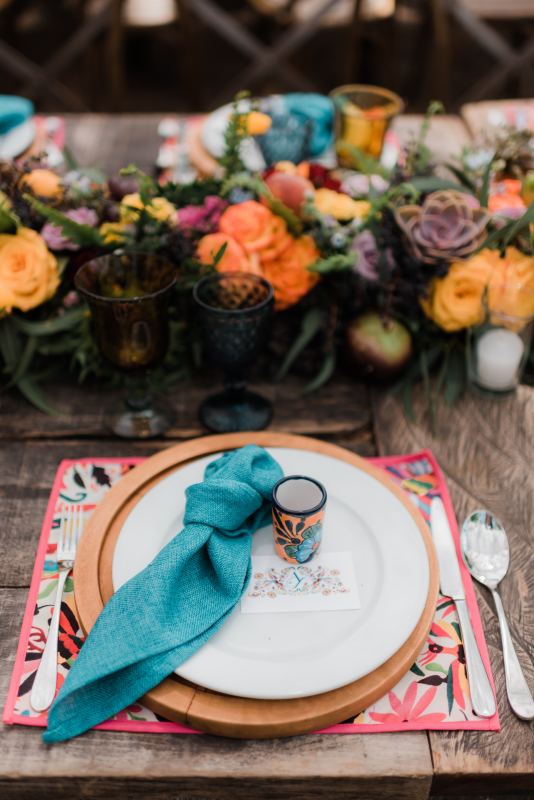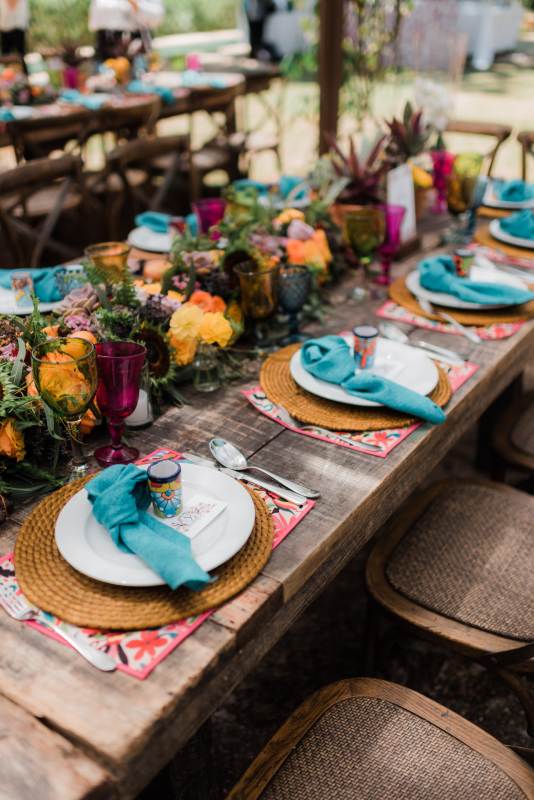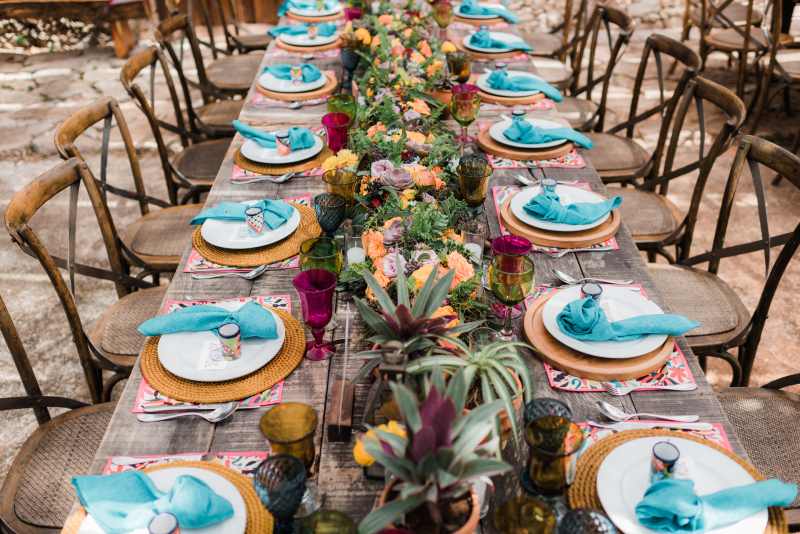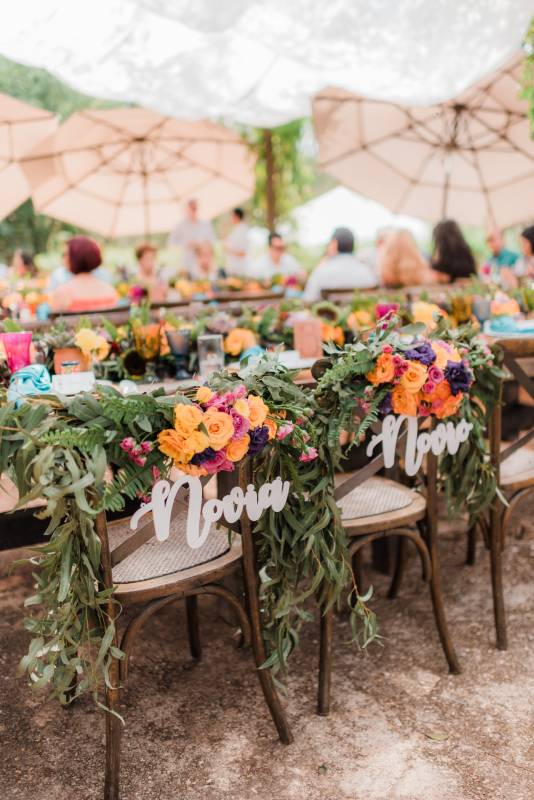 The entire civil wedding of Alejandra and Felix was spectacular and the elements with Mexican details gave the event an atmosphere of joy. 
Mexican wedding ceremony outline
Ale decided to have her getting ready at hacienda Tixnuc, where she enjoyed a pleasant morning accompanied by her friends eating Yucatecan snacks and having a champagne toast. She also prepared some gifts, a unique coral robe so that her friends could be comfortable while having their make up look for wedding.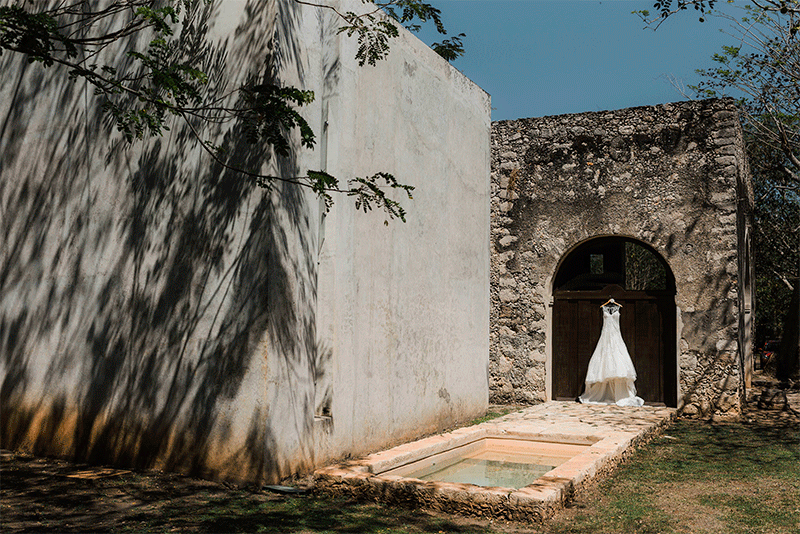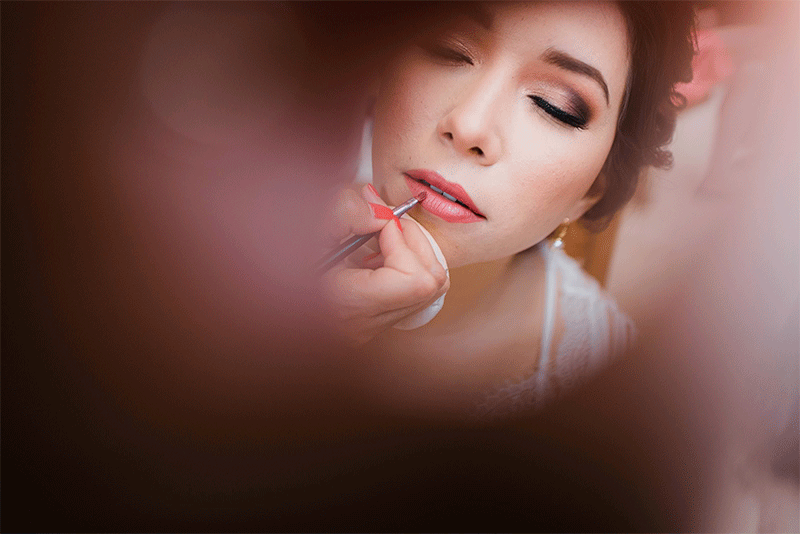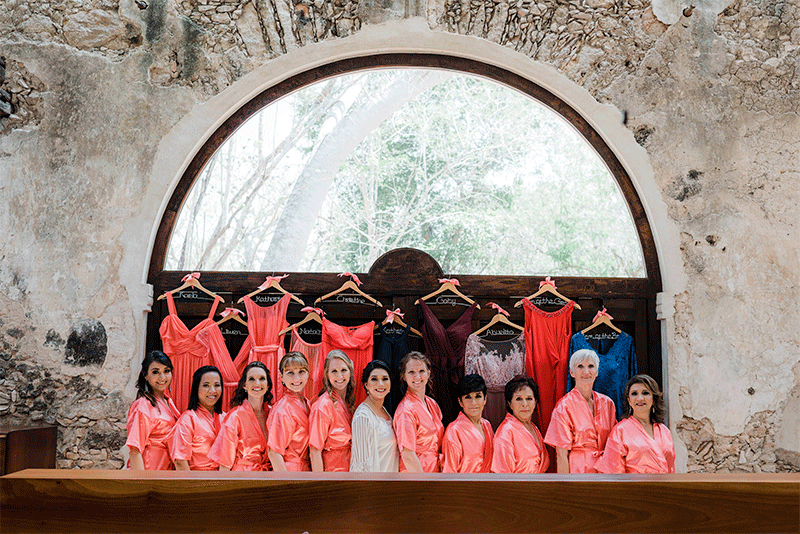 Felix did the same, but his headquarters were at hacienda Tamchen. When the time came, Felix went up to his suite and began to get ready. He chose to wear a black suit with a white shirt and a bow tie. As a complement, he chose some fun socks.
Before the getting ready was over, Ale gave Felix a very special gift, which she had delivered from one hacienda to the other.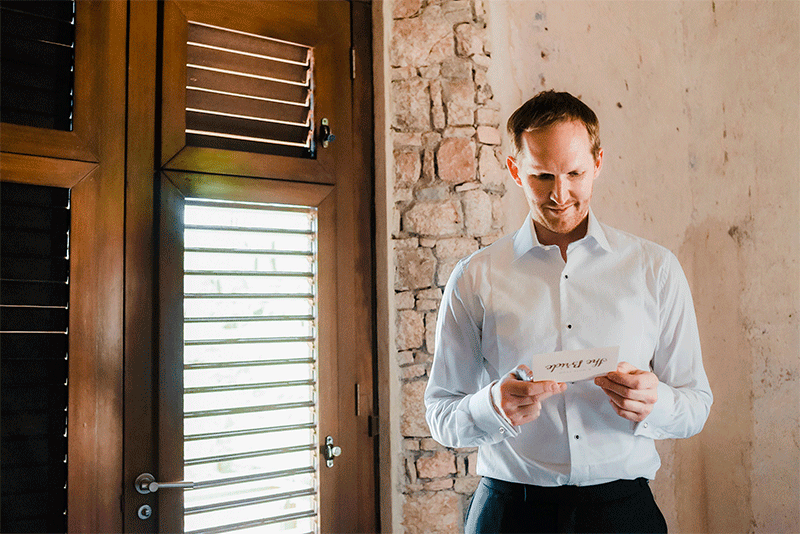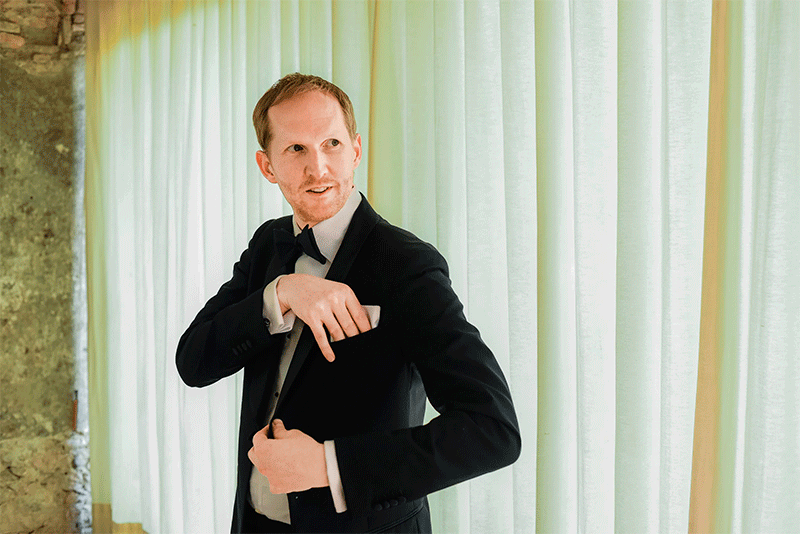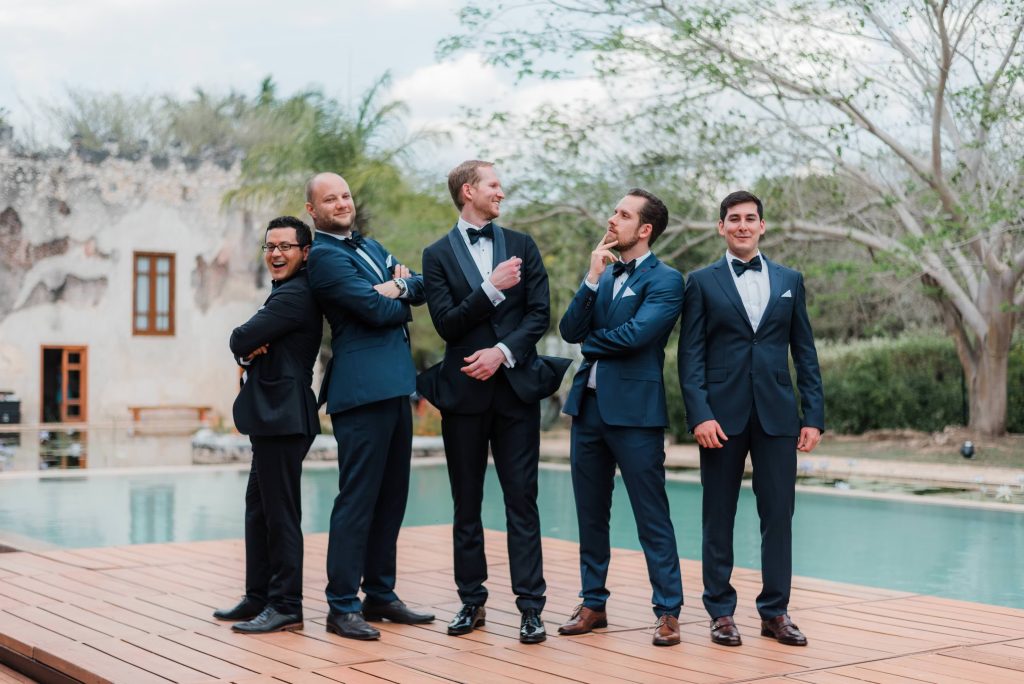 When they were both ready, Ale traveled from Tixnuc to the Tamchen Hacienda to have the first look before the ceremony.
Felix was waiting for Ale in front of the most iconic tree of the hacienda. When Ale arrived she walked towards Felix and asked him to turn around to look at her meters before reaching him. The first thing they did once they were close was to hug each other, showing how ready they were to spend their life together.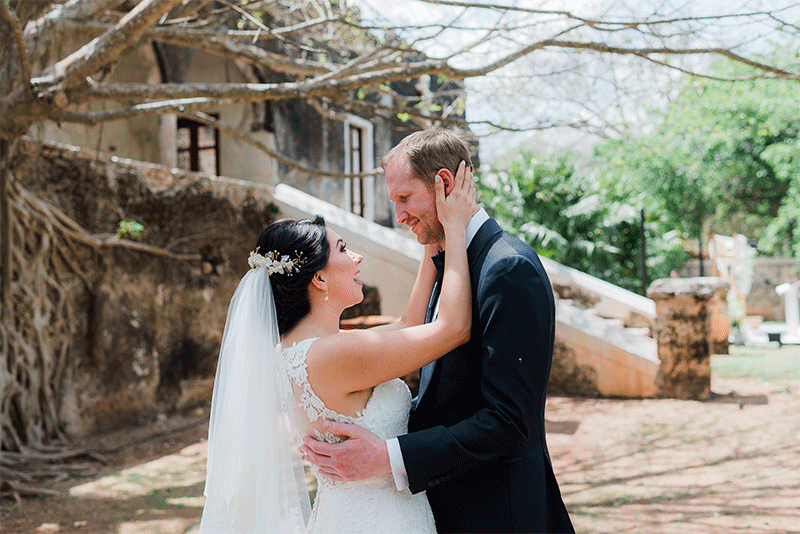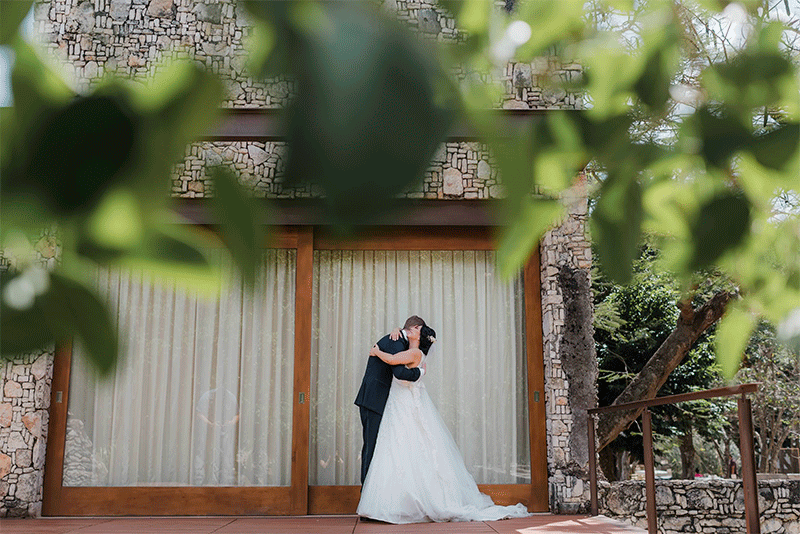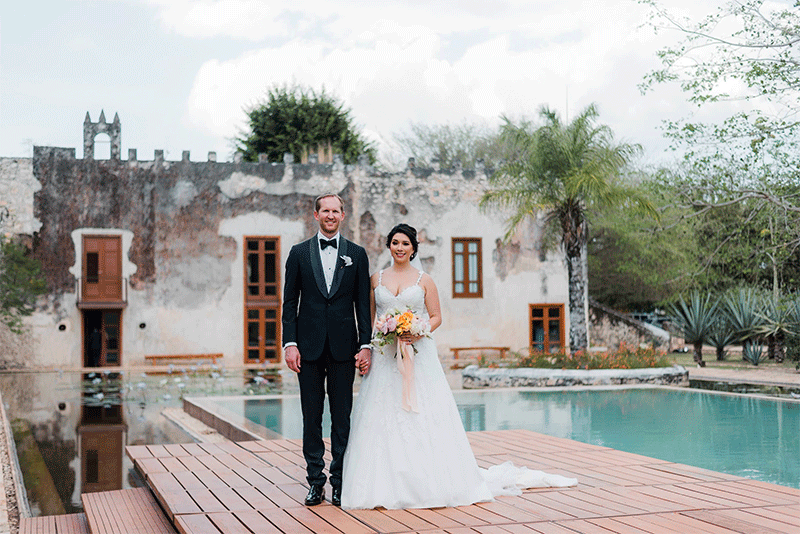 Traditional mexican wedding ceremony
The wedding ceremony took place in the front garden of Hacienda Tamchen. It was decorated with white flowers that gave the illusion of a white aisle. 
Felix and the cortege were received by the priest who gave them the blessing and asked them to start the procession.  As Felix waited at the altar the page boys announced that the bride was about to walk down the aisle that would take her to him.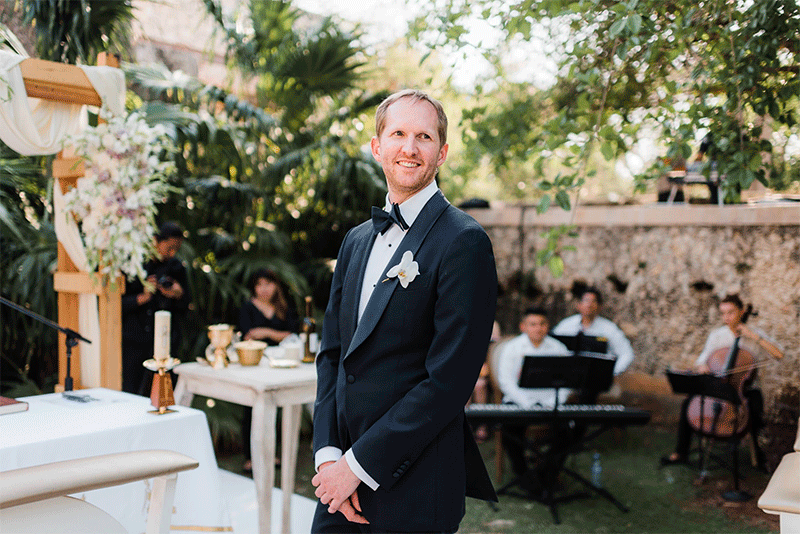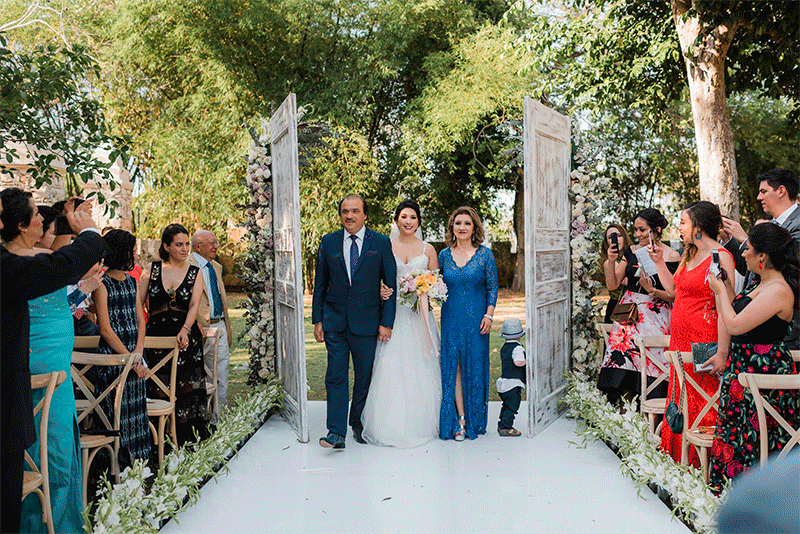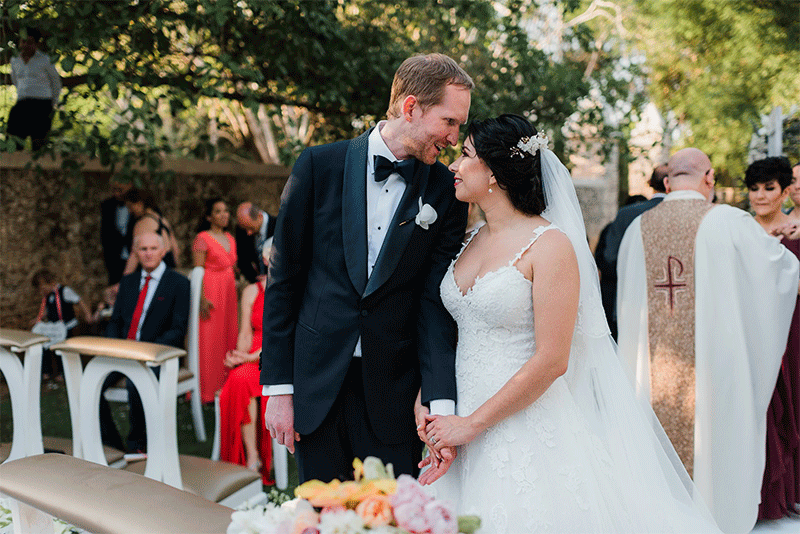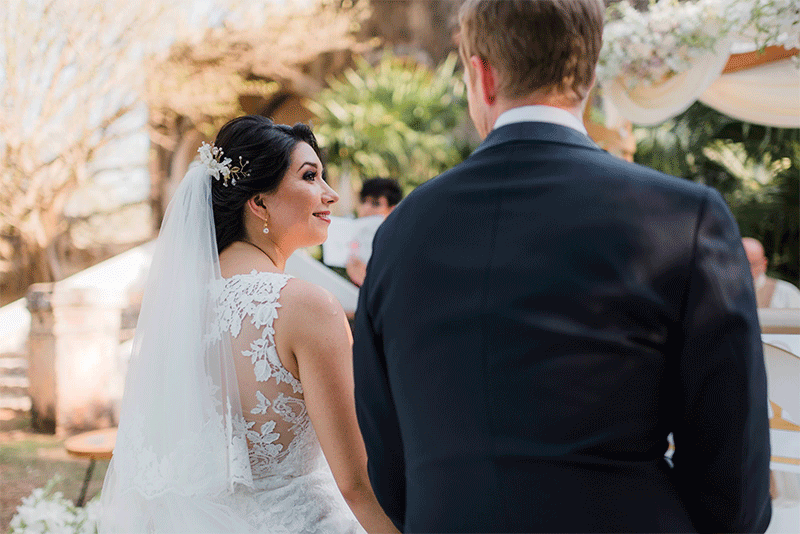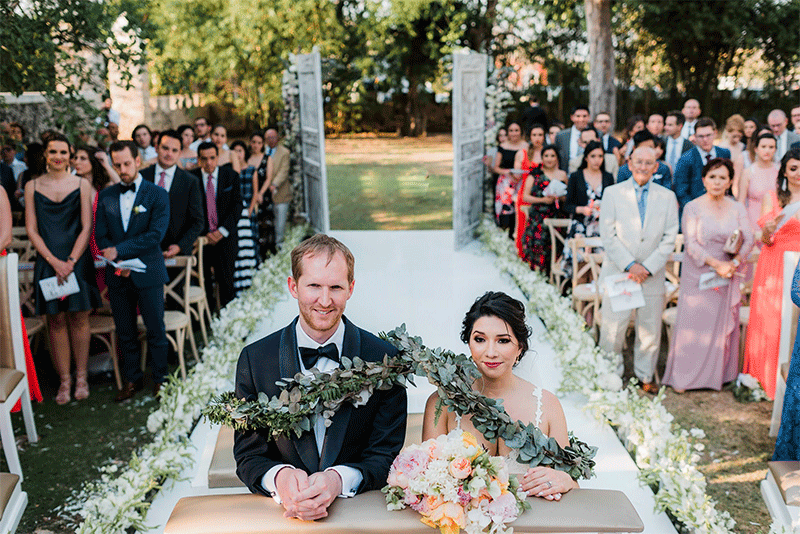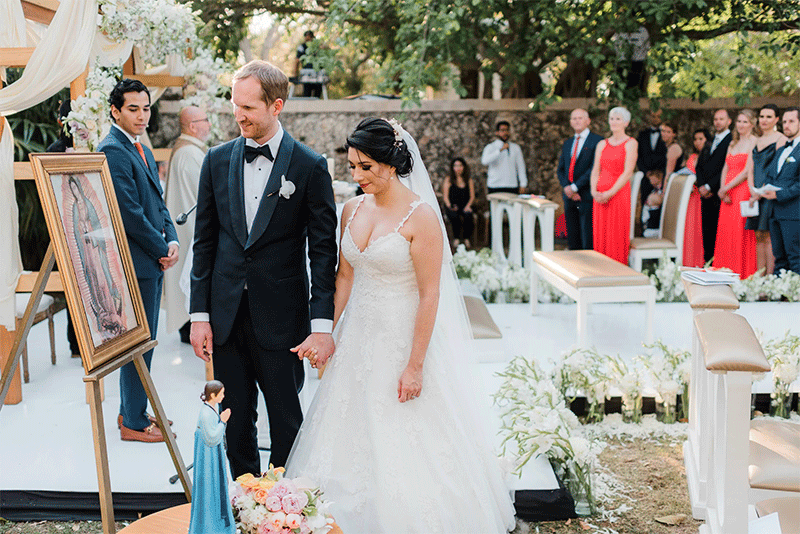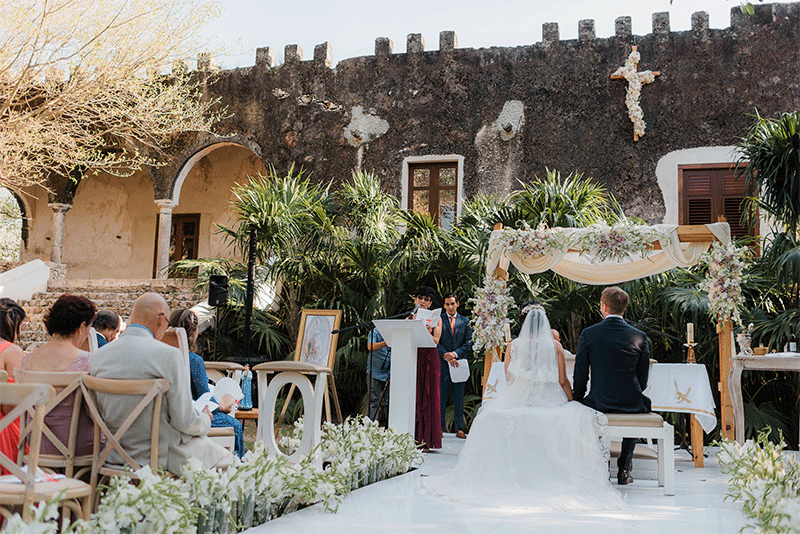 It was a beautiful ceremony framed by key moments, such as the exchange of rings and the union of the couple with the ribbon. 
At the end of the ceremony, the couple walked down the white aisle again but this time hand in hand, celebrating that they were now a married couple with God's blessing.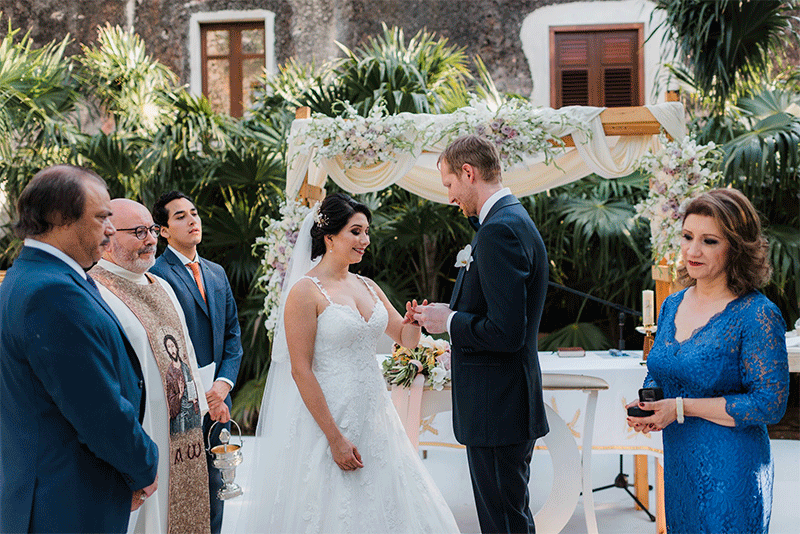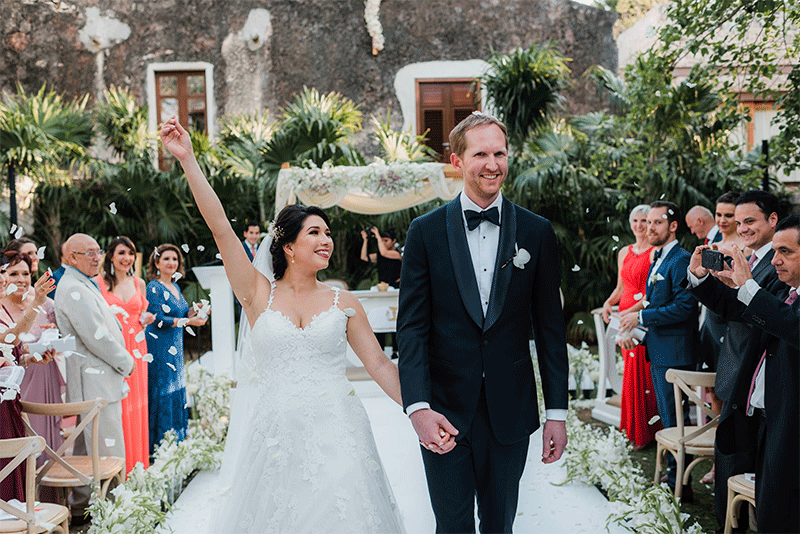 Once the ceremony was over, in another area of the hacienda there was a cocktail waiting with canapés, cheese table, and drinks for the guests.


Ale and Felix had a reception area full of details. Everything was so well thought that the garden in which the dinner was to take place didn't look like a regular garden, but rather a 5-star restaurant. Discover everything about it. 
The outdoor wedding reception awaited the guests in the garden with a double-height floor, tables with flowers and candles, and a chandelier hanging in the center of the dance floor that welcomed the guests to an unforgettable evening.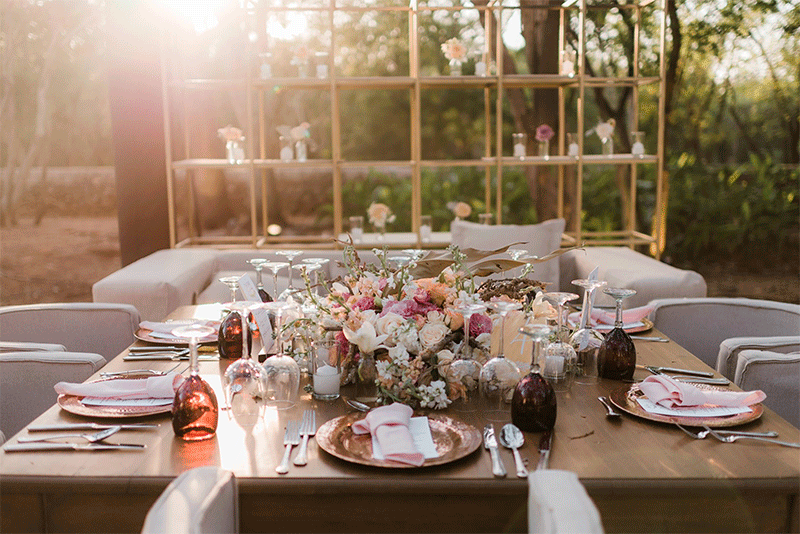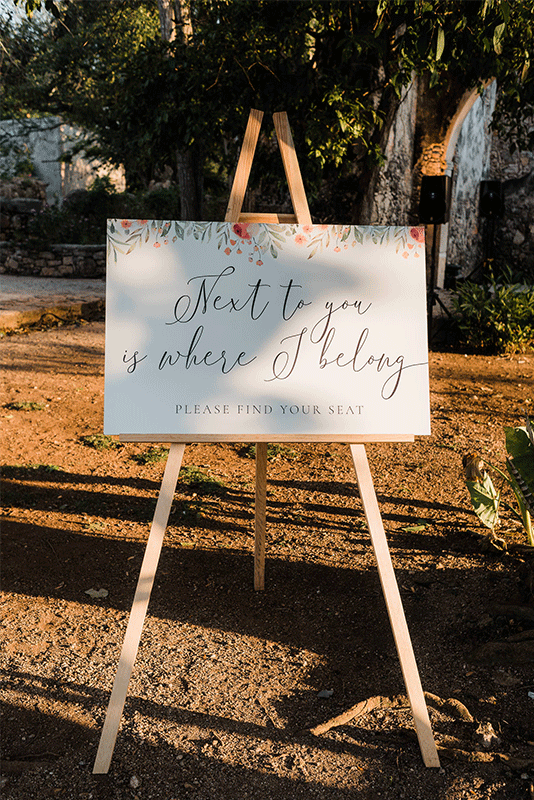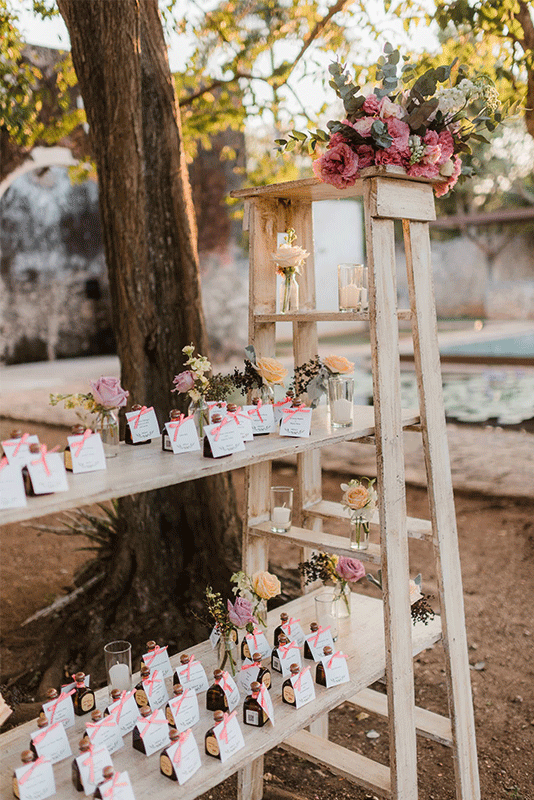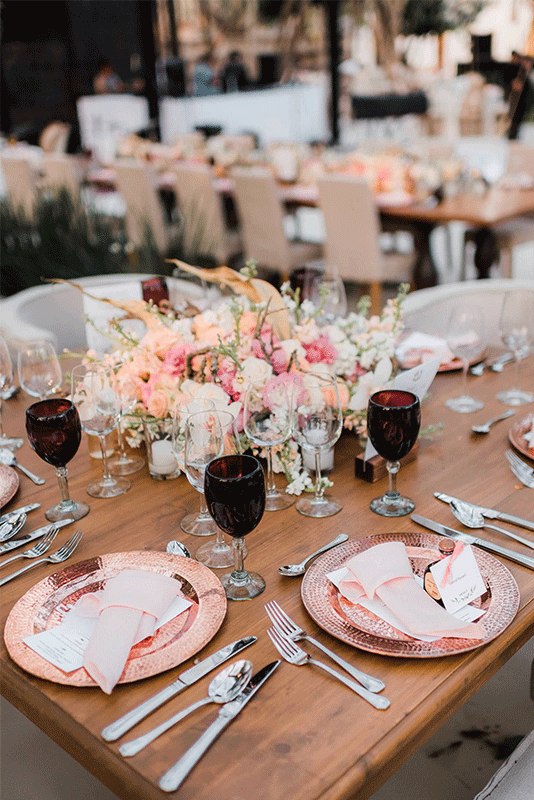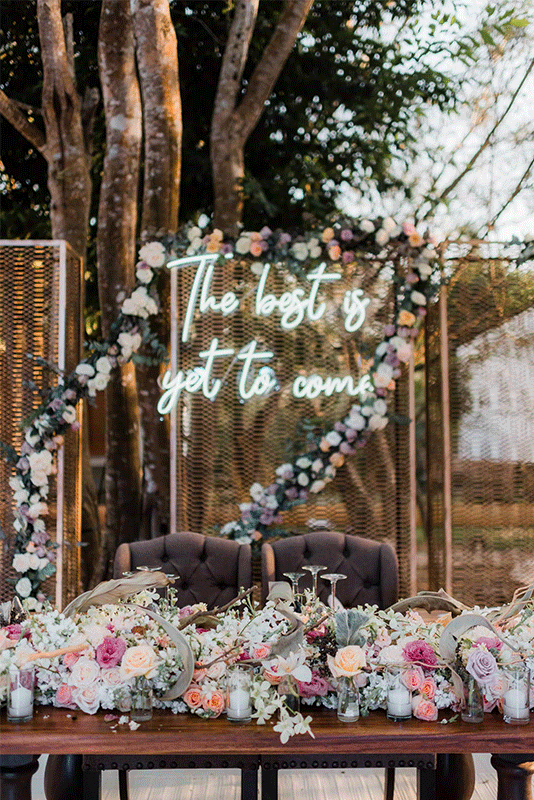 The couple's entrance was announced by the fireworks that were lit as they passed by, the couple thanked all their guests for being with them that day and then proceeded with the traditional toast. 
Everyone got to enjoy an international menu with Yucatecan touches and a live band to set the mood.
At the end of dinner, Ale's dad said a few words of love to the newlyweds and then invited Felix's dad to do the same but this time in the German language.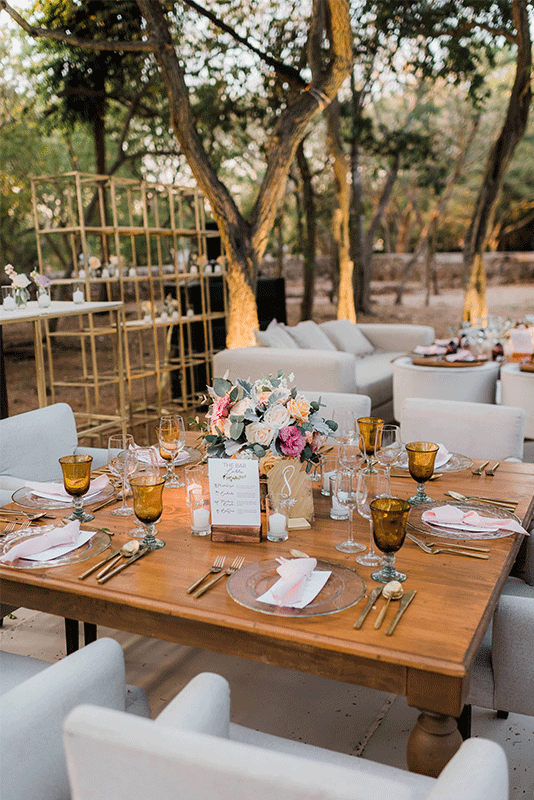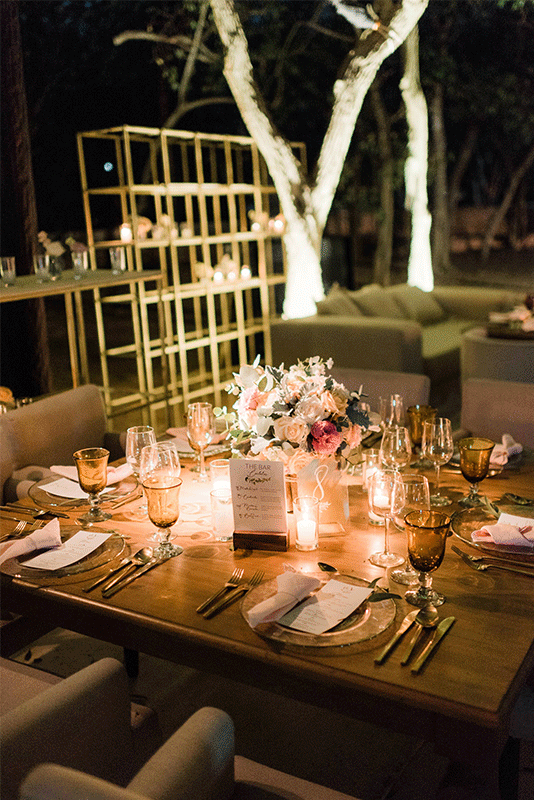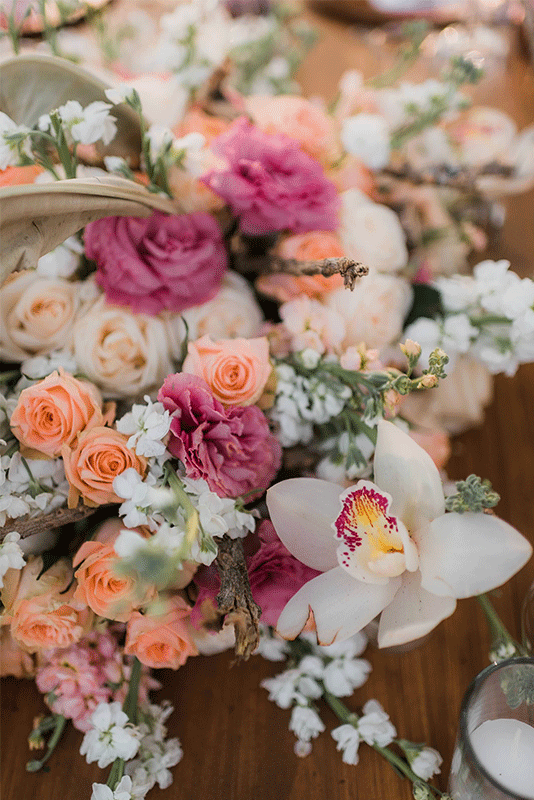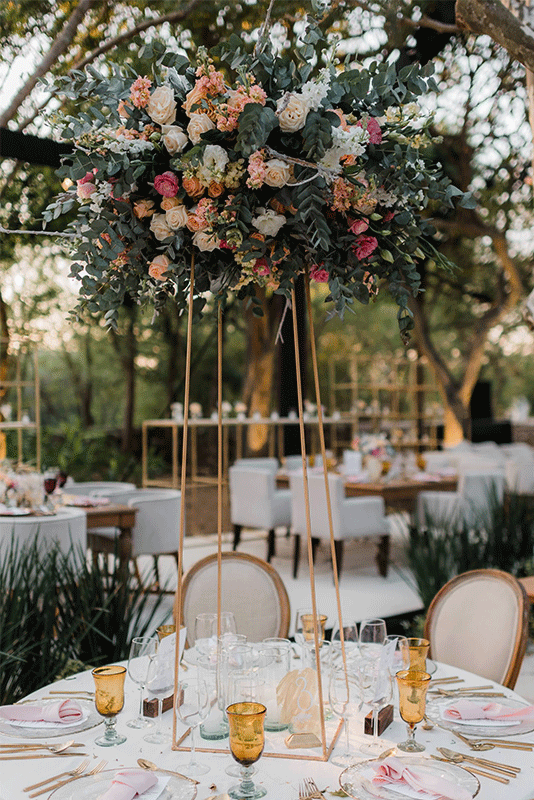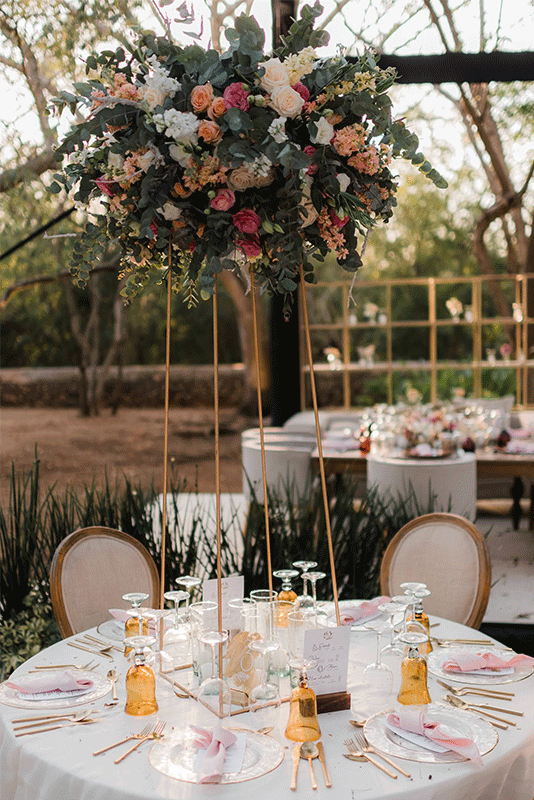 Afterward, Ale & Felix had their first dance as husband and wife, a moment that touched more than one. This dance was the beginning of an unforgettable party, where there was no distinction of nationalities at any time as everyone danced and celebrated the happiness of this couple.
Photo credits:  @cristinacivallero.photo
Do you want to know more about TIPS for your wedding in Yucatan? We are YUCATANLOVE, Wedding Planners in Mérida, ask us.