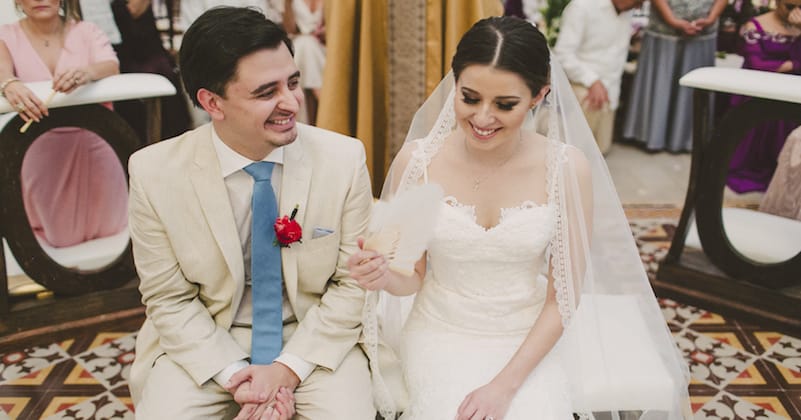 Incredible Wedding at Hacienda Tekik de Regil: 🐰 Paulina y Armando
The incredible wedding Paulina & Armando at Hacienda Tekik de Regil Yucatan reminds us that true love stories do exist, and the best of all is that they come as a surprise when you never thought you would find the same meaning, a heart with whom you would like to share your life with arrives in the right time. 
Sometimes you just need to see yourself reflected in the eyes of the love of your life, to understand that you are about to live the best adventure.
In just an instant, all the roads came together to show you a single direction: the one that led you to him.
These days invite us to let our emotions flow, to discover all that is hidden in a smile and what it means to start designing an eternity next to the soul that captivated you from the first second. We are sure that this celebration, with photos that will make you vibrate to the core.
Incredible wedding at Merida
Before celebrating their wedding, Paulina and Armando enjoyed an intimate civil ceremony with their closest family and friends in one of the most beautiful locations in Mérida to celebrate love at its best.
We loved Pau's look: an A-line wedding dress, with transparencies in the back and different colored appliqués in the shape of flowers, a plunging neckline, and a super cute slit in the skirt, to complement her look, nothing better than a bridal hairstyle with a ponytail, as well as makeup that emphasized her lips with an amazing cherry color!
All the details of this ceremony were elegant and very tasteful, in tune with the freshness of the place and the atmosphere of this beautiful and lively space.
Incredible wedding day moments
To start off the day, nothing as special as witnessing the bride's bridal getting ready. Paulina wore a mermaid cut dress with a beautiful back neckline, a pair of very delicate straps, and lace embroidery throughout the design. The bride accompanied her look with a beautiful up-do, which she adorned with a cathedral-style tulle veil to look very glamorous; the makeup was kept natural and perfect to highlight Pau's beauty.
On the other hand, the bridal bouquet was the ideal accent with a unique color combination: flowers in pastel tones, ecru, and a touch of carmine to evoke the most intense and spectacular vibe.
Armando wore an elegant ecru groom's suit, which he paired with a royal blue tie, as well as a vibrant red boutonniere (in perfect harmony with the bouquet).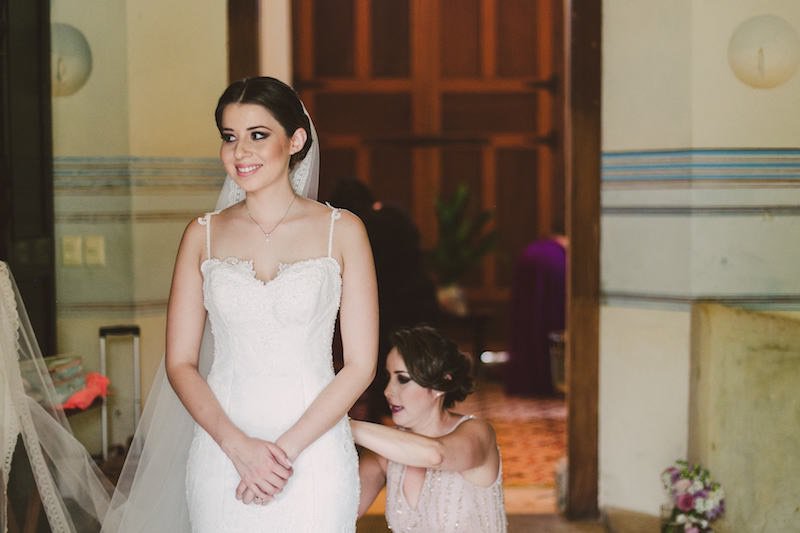 Incredible wedding photos at hacienda
Before the religious ceremony, Paulina and Armando saw each other for the first time as bride and groom. The nerves were hard to ignore in the eyes of the groom, who waited with excitement for that moment when he would see the love of his life dressed in white and ready to start one of the best days of his life.
And so it was, Pau walked to meet "Chano" to start one of the best experiences by his side: with laughter, subtle hugs, and a romance that made us sigh, this couple enjoyed every second to the fullest before giving each other the expected "I do".
Incredible wedding vows
Of course, a beautiful religious ceremony could not be missing to materialize the great illusion of Paulina and Armando.
The chapel of Hacienda Tekik de Regil, a beautiful white enclosure from head to toe, was where this beautiful union took place, decorated with simple white roses that only embellished this already beautiful place, and definitely what shone the most was the smile of this adorable couple.
The bride and groom and their closest relatives gathered to witness a love story that would become an eternal journey from that moment on.
With just a simple exchange of glances, this couple made us feel everything that provokes the emotion of finding true love, and what better than sealing that encounter with a kiss of love that would officially make them husband and wife.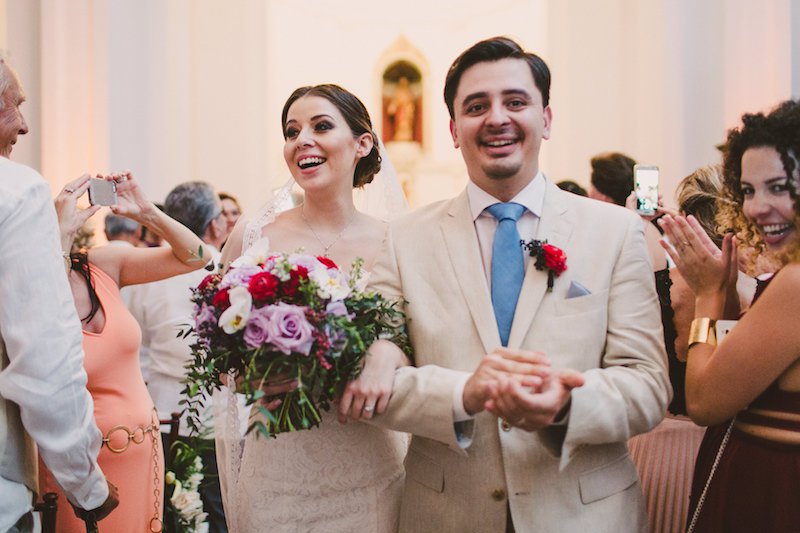 Incredible wedding ideas 
Once the ceremony was over, the bride, groom, and guests gathered at the magical facilities of the Hacienda, a space that was already waiting for the newlyweds to celebrate their union to the fullest.
With lighting in warm and natural tones and accents in cold colors, an incredible decoration, and a floral concept that made us sigh, Paulina and Armando enjoyed an extraordinary banquet; of course, the first dance as spouses could not be missed, which stole all the smiles of the attendees. Undoubtedly, a celebration worthy of admiring again and again!
Do you want to know more about TIPS for your wedding in Yucatan?

We are YUCATANLOVE, Wedding Planners in Mérida

, ask us.