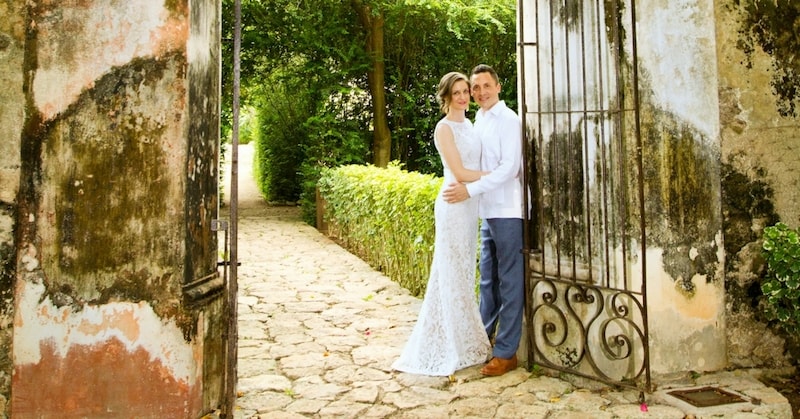 Mayan Destination Wedding at Hacienda Itzincáb Cámara in Yucatán: Toni & Damian 🌿
From Dubai, Toni and Damian traveled to Merida to celebrate with their family and friends their destination wedding in Yucatan; they decided to break all the traditional rules and got married with a Mayan wedding ceremony.
Everything took place near Merida, Yucatan; Toni and Damian chose one of the best places in Yucatan to have their destination wedding; a beautiful Hacienda.
This hacienda is a small and intimate private hotel surrounded by gardens in which there is a large sacred ceiba tree – the ideal place to hold a traditional Mayan wedding or even a natural/country wedding – where all the guests witnessed an emotional ceremony spoken in Mayan; with the music of native instruments, the translator dressed in typical Yucatan clothing and the offerings to the Mayan deities that together made that moment an experience that everyone should live.
As it was a destination wedding at a Hacienda; moments before the ceremony, Toni and Damian invited their friends to break the ice with some refreshing signature cocktails prepared by their banquet hostess; some delicious "mimosas de chaya" to start what would be an unforgettable day for everyone.
Late in the afternoon and after enjoying some regional canapés, the guests were guided through the beautiful hacienda along paths illuminated by hundreds of paper lanterns on the sides of each corridor, arriving where a rain of hundreds of incandescent lights had taken over the trees -an image that amazed everyone-.
As the first surprises of the day passed, guests tasted a fusion banquet of contemporary Yucatecan food; which blended traditional Yucatecan flavors such as Dzikilpak which is a sauce made from local pumpkin seed ground with roasted tomatoes and cilantro, Xcatic Chiles, Chaya leaves, and mucbipollos, with contemporary flavors and cooking techniques such as chayote slices with a salmon treat, pork cutlets bathed with habanero chutney and chaya bites with cream cheese and bacon; a completely extraordinary banquet.
The decoration of the tables was simple and full of creativity, the florist added color and joy. She made different designs of centerpieces with different types of flowers and sizes; a design for each table!
Toni and Damian could not have made a better choice for their Mayan wedding location; with its 14 fully restored rooms distributed among the different areas of the property, each with its style and all the amenities of a world-class hotel, they made it possible to have their entire family gathered in the same place for that weekend.
None of this could have been better preserved in our memories if it were not for the shots taken by the photographer who perfectly portrayed this magical event.
If you wish to live an experience out of the traditional and that rescues our origins, opting for a Mayan wedding for your ceremony is something we invite you to consider; in YUCATANLOVE we can help you with every detail to make it happen, approach our specialized Wedding Planners that will help you with all the planning and coordination you need for your destination wedding.
Do you want to know more about TIPS for your wedding in Yucatan?

We are YUCATANLOVE, Wedding Planners in Mérida

, ask us.
Fotografías: @jaimeglezphotography