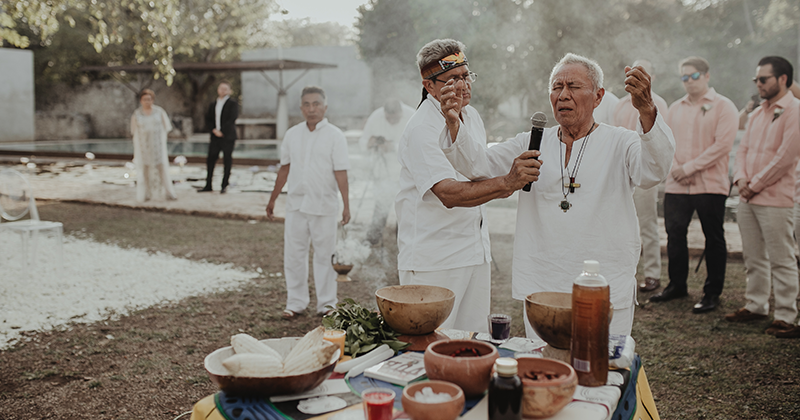 Why celebrate a Mayan wedding? ✨
In Yucatán, a Mayan Wedding is a ceremony in the Maya language to represent the spiritual union between two people, through a ritual officiated by a priest or shaman. It involves traditional music with native instruments such as drums, maracas and flutes, as well as a meaningful offering.
It is a unique experience, so we share with you some of the reasons to celebrate a Mayan Wedding.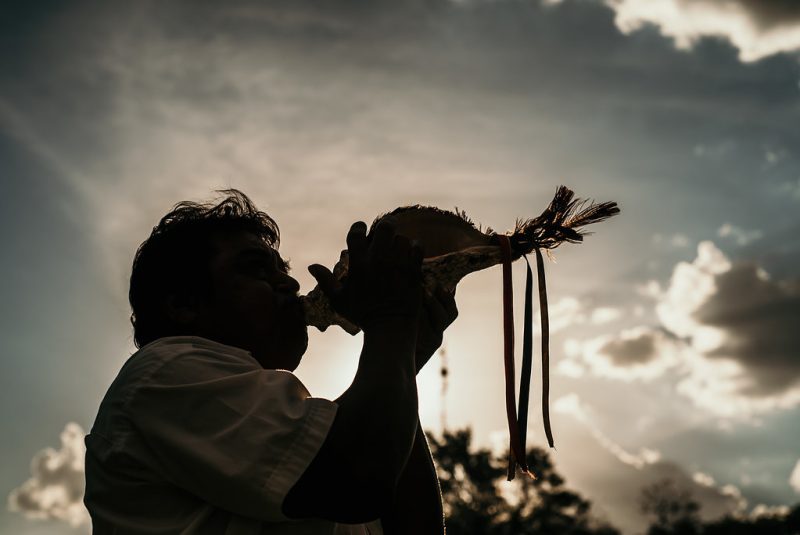 It has a deep spiritual meaning
The Mayan Ceremonies are part of the pre-Hispanic traditions with mysticism and spiritual sense that have been rescued. At the wedding, the Shaman is in charge of guiding the bride and groom during the Ceremony, to connect with the elements and the sacred.
First, the couple is introduced to the seven directions of the universe. The cosmic energy is above; Mother Earth is below; the four winds (north, south, east and west) are around; and the Higher Self is in the hearts of the bride and groom.
To reflect the four cardinal points, flowers, candles and jiccaras are placed at each corner of the altar. Around the table a circle is drawn with sugar and inside it the bride and groom are placed.
The four natural elements are evoked with the purpose of strengthening the couple's bond for years to come. Then the spouses exchange vows and rings.
Flowers, seeds, fruits and copal incense are offered to the four elements. Corn, which symbolizes the beginning of life as a couple, and cocoa, which symbolizes wealth, union and prosperity.
To end the ceremony, all couples keep the sacred Mayan bible, "Popol-Vuh".
Yucatán has ideal venues for Mayan ceremonies
The Yucatecan territory offers different venues to hold your Mayan Wedding, all full of history and local beauty that will impress you.
You can opt for a paradisiacal beach as the venue for your union, such as Puerto Progreso, Sisal, San Crisanto, Chicxulub, Telchac, Chelem, Celestún or Las Coloradas.
An emblematic Hacienda is also a good option, because in addition to its architectural beauty and surrounding vegetation, many offer luxury accommodations for you and your guests, making it ideal for a destination wedding.
We are sure that in Yucatán you will find the perfect venue to celebrate your Mayan Wedding.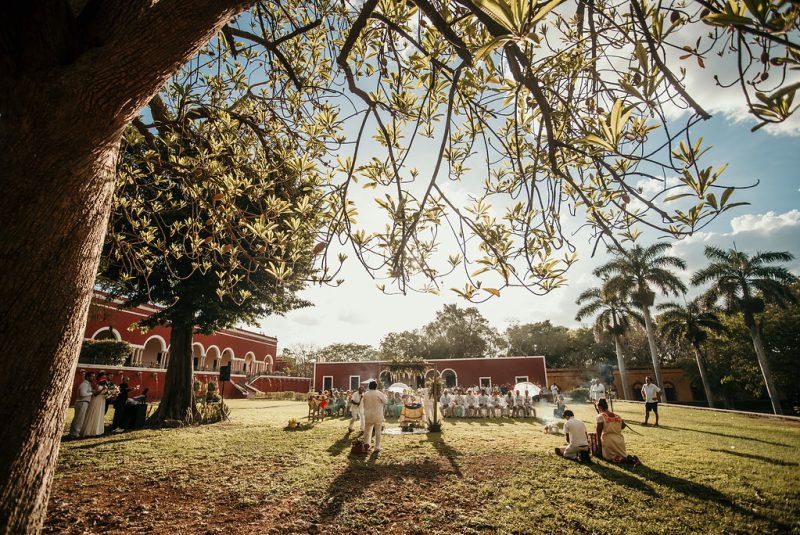 It is an authentic experience
Marrying the person you love is already an important moment in your life, now imagine joining in marriage through a Mayan Ceremony, mysticism, tradition and spirituality will accompany the atmosphere of love and build a unique and unforgettable experience.
Nothing like the bond with your partner to be so strong that it lasts forever and wealth, union and prosperity will never be lacking.
Being a special moment requires proper planning so that everything is perfect and both guests and you and your partner can enjoy this great day. Trust in professional Wedding Planners that will help you in the process.
Do you want to know more about TIPS for your wedding in Yucatan? 
We are YUCATANLOVE, Wedding Planners in Mérida, ask us.