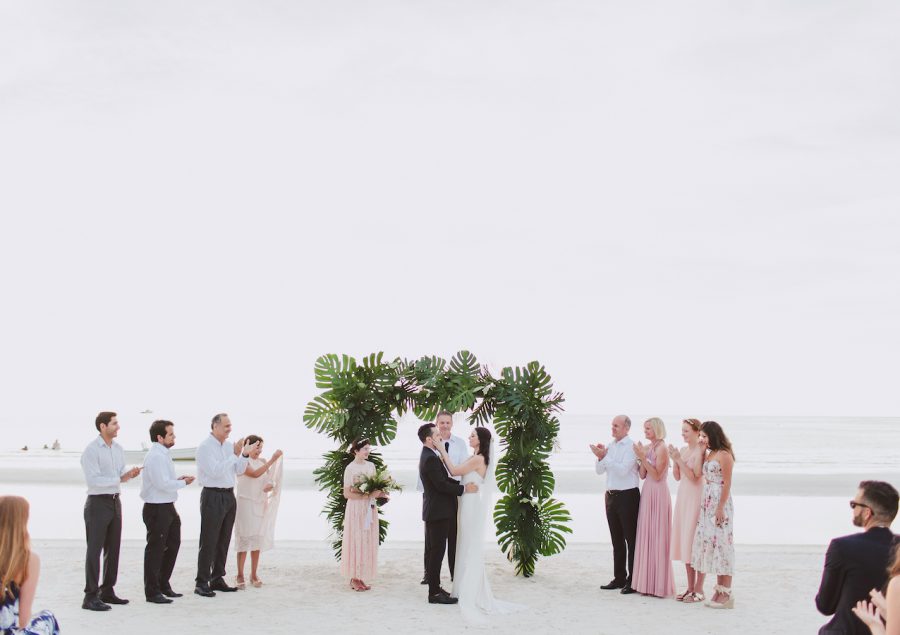 TAKE NOTE ✍ Wedding dress ideas for your wedding in Yucatan
Many brides buy their wedding dress before deciding where to have their wedding, but is this dress the right one for their type of wedding? We are frequently asked for our recommendations on the best types of wedding dresses for weddings in Yucatan. So based on climate, location, and a couple of other factors, we put together a list of wedding dress ideas and what to consider when choosing the ideal dress for YOUR WEDDING in Yucatan. Don't forget: Getting married at a hacienda is an adventure unlike any other.
What are the best types of wedding dresses for weddings in Yucatan?
Bridal gown design, what elements should I consider when choosing my dress for my wedding in Yucatan? 
As we said before buying your wedding dress we highly recommend you to be 100% sure of the place where your event will take place, it is not the same to have an event in a big hall, to have your reception in a hacienda in Yucatan or a garden, in YUCATANLOVE we have a lot of experience and we can help you to become the best bride in Merida.
Will your wedding be in one of the many haciendas in Yucatan? Don't miss out on what to consider when choosing your wedding dress: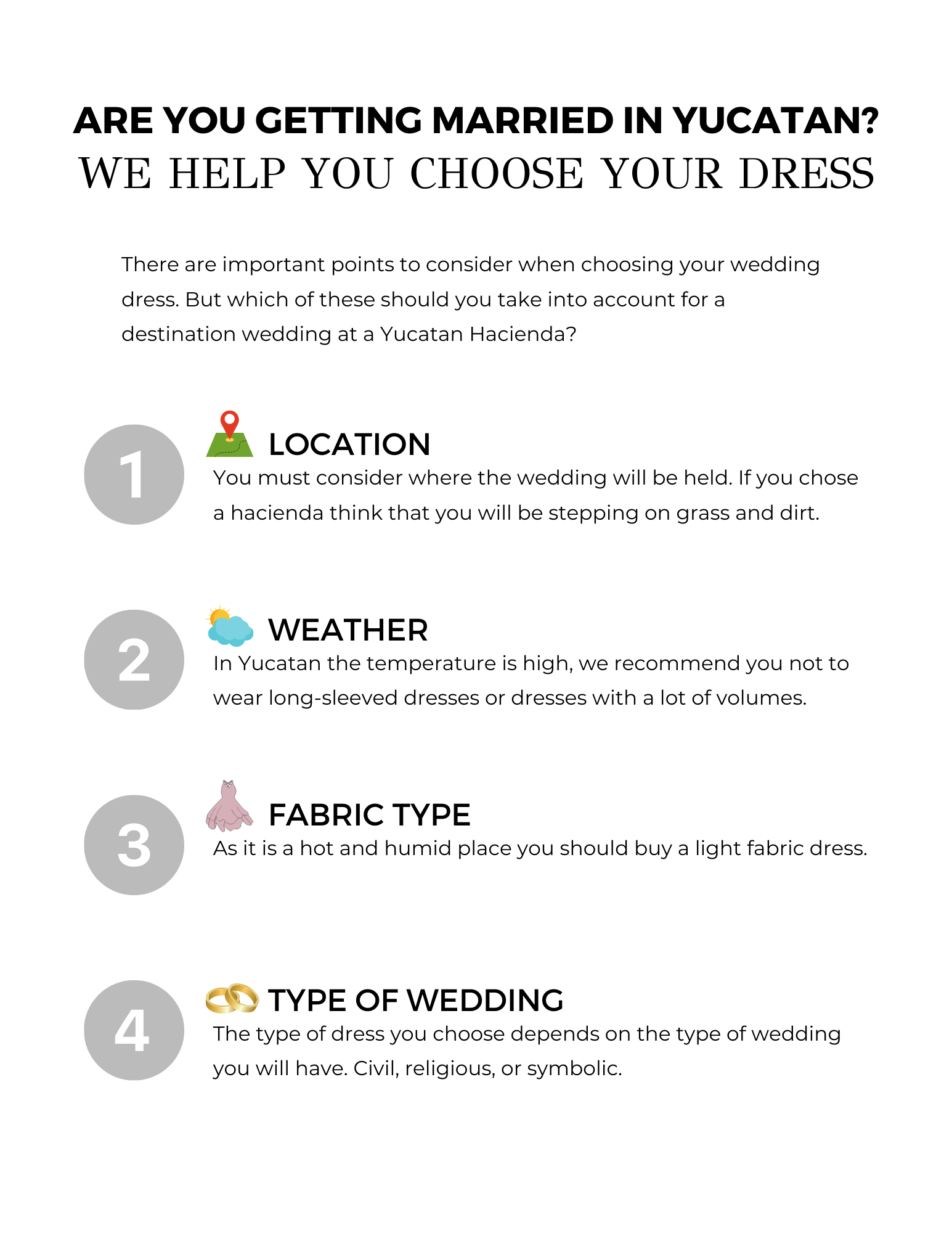 Location
If your wedding is in Yucatan, in one of the beautiful haciendas that are in the state; you have to keep in mind that if this space does not have a stage, you will be walking in areas of dirt, grass, and even cobblestones.
Although many haciendas require you to deck the area where your event will take place, there are others that allow you not to do so; so you have to keep in mind that since it is an outdoor location your dress will have to be useful for this type of location.
In the same way, there has been a tendency to have the wedding in more rural or natural places, such as cenotes or even the beach, the style of the wedding dress varies for these spaces as well.
Weather:
The weather in Yucatan is very warm and with high levels of humidity; most of the year temperatures are above 35º at midday and there are months of the year when temperatures can rise.
Being a state with such high temperatures, we recommend that you opt for a dress that does not have long sleeves; and that does not have excess fabric as it will be impractical for an event at a hacienda. Even the groom can wear a Guayabera, which is cool and perfect for the Yucatecan weather.
Type of fabric:
You should think that the two previous points are basic to choosing your wedding dress; that's why the type of fabric you choose, should be light, comfortable and, fresh.
Some of the fabrics we recommend are satin, chiffon, gauze, tulle, and lace such as guipure or chantilly. These are some of the fabrics that you could consider to know what dress to wear for your wedding in Yucatan. If your dress will be made by a designer he should give you these fabric options or offer you other options such as trends and new fashions.
Type of ceremony
At this point we refer to the type of wedding ceremony you will have; remember that if your ceremony is religious inside a church your dress must have an appropriate design for this event, many catholic churches ask that brides do not have bare shoulders, very pronounced necklines and even that the dresses are not very short.
If your dress is a little more uncovered we suggest wearing either a removable sleeve or a "toreador" to cover you during the ceremony; then you can show off your spectacular dress.
If you are a bride who only wants a civil wedding, you should have the dress you have always wanted!
Having a destination wedding in Yucatan is an event that none of your guests will forget; for this and more, take into account our recommendations so that just like everyone else, you too can enjoy the moment without worrying that your dress is not the right one for YOUR BIG DAY.
The groom has the same task of choosing the perfect suit for the wedding, we can help you with some ideas on what to wear that day, whether it is an elegant wedding suit or a Yucatecan guayabera.
We can also help you select the type of hairstyle that will go hand in hand with the dress you select for this special day. In the end, many brides opt for the famous "Trash the Dress" act and this goes perfect for cenote weddings where you can perform this spectacular photoshoot.
Do you want to know more about TIPS for your wedding in Yucatan?

We are YUCATANLOVE, Wedding Planners in Mérida

, ask us.