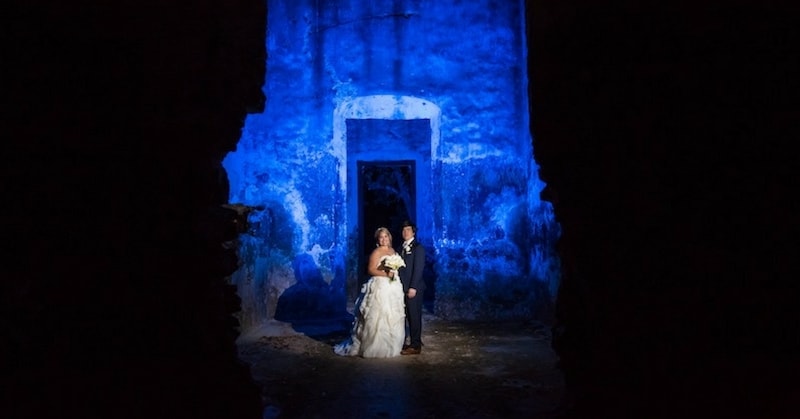 Real Wedding at Hacienda Uayamón 🦋 Vicky & Jeremy
"A beautiful 20+ meter ceiba tree featured in the main garden of Hacienda Uayamón. Never before, a witness of love was so large, so firm and imposing." 
Our heart went out to Texas; there Vicky was waiting for us, a dreamy woman who contacted us to help her with one of the most important projects of her life: her wedding.
Vicky had captivated us from the first moment with her great charisma and personality. At YucatánLove we were very fortunate to celebrate their union on March 12, 2017, together with Jeremy at Hacienda Uayamón.
The elegance and majesty of Hacienda Uayamón.
Two smiles, one love
It was a Saturday, a beautiful morning and early in the morning the caterers arrived at the hacienda located 30 min. from the capital of the state of Campeche.
Vicky was staying at the hacienda days before the wedding with Nancy; her best friend, with whom she shared her happiness from beginning to end.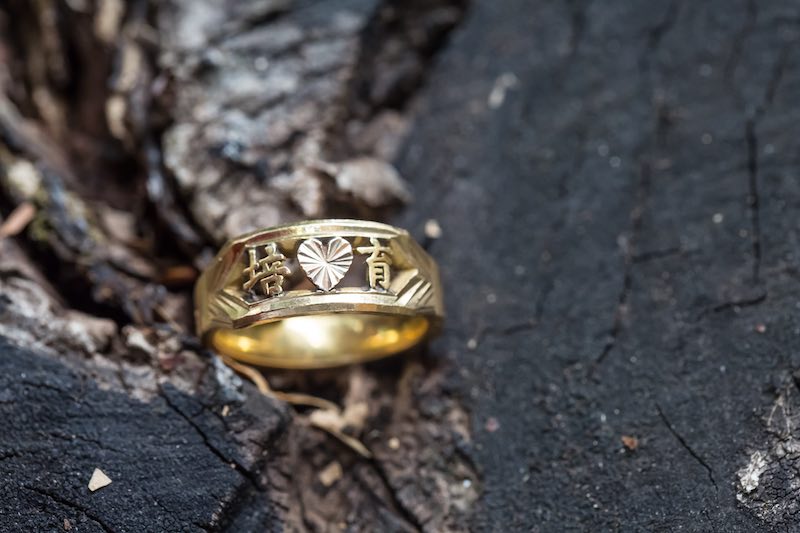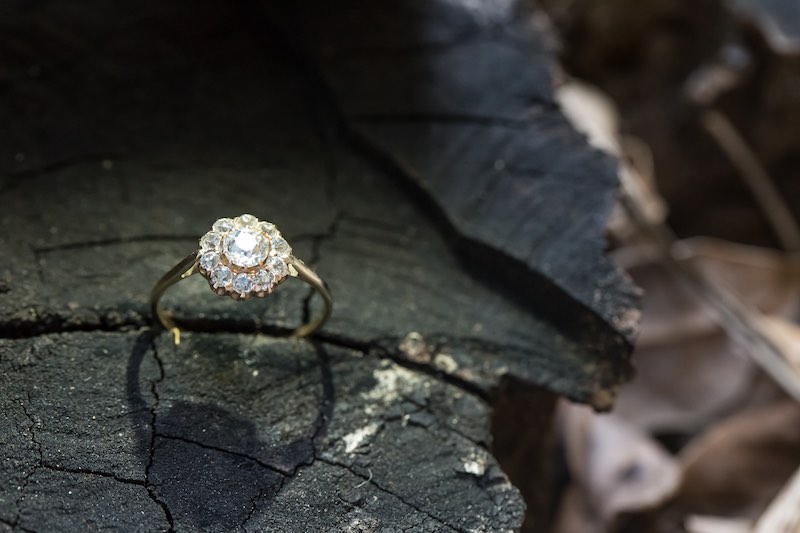 Glow & Magic Make Up
Vicky started the day with a very authentic "Getting Ready". Who does make up better than oneself? Isn't this the best way to express happiness and feel fulfilled?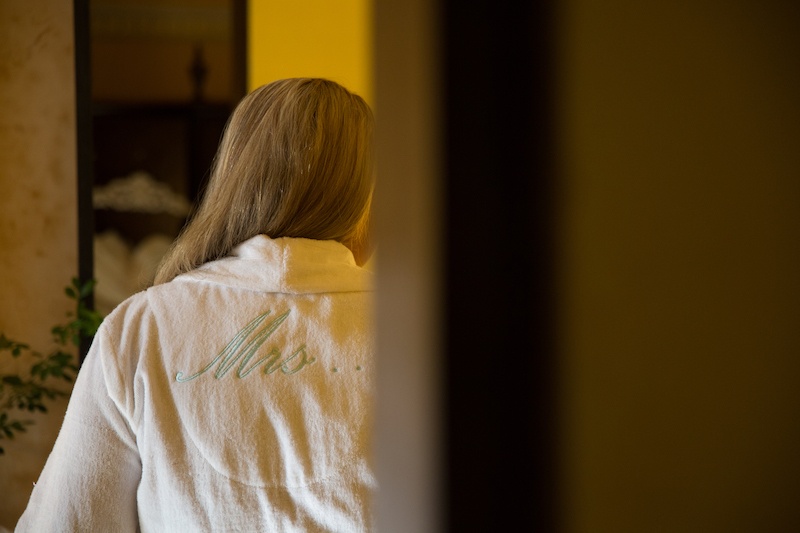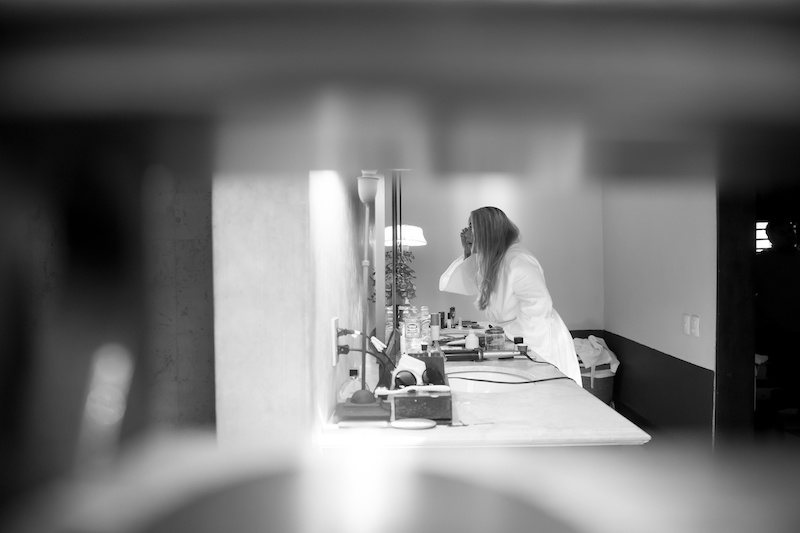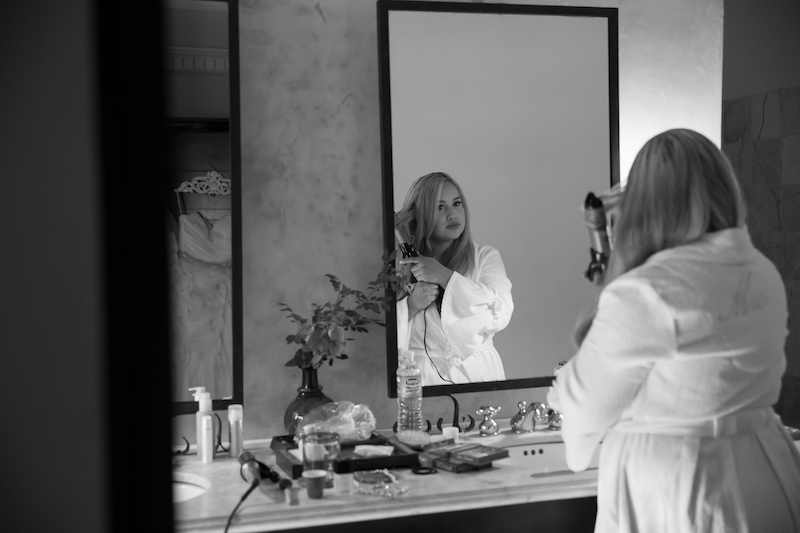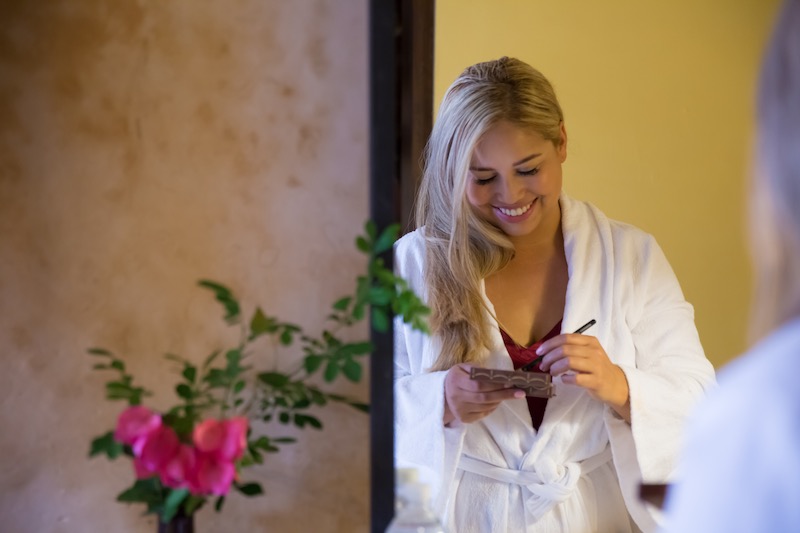 Destination Perfect: Wedding at Hacienda Uayamón
As the minutes passed it was time to put on her dress, Vicky caught our eyes wearing a "bridal dress" in a mermaid cut with ivory ruffles.
A pair of Jimmy Choo shoes and a bouquet of white flowers completed the outfit worthy of a bride in love.
Prior to the ceremony, Vicky took advantage of the hacienda's scenery for a photo session. Vicky looked very full, in love and radiant. Is there anything the pictures can't say?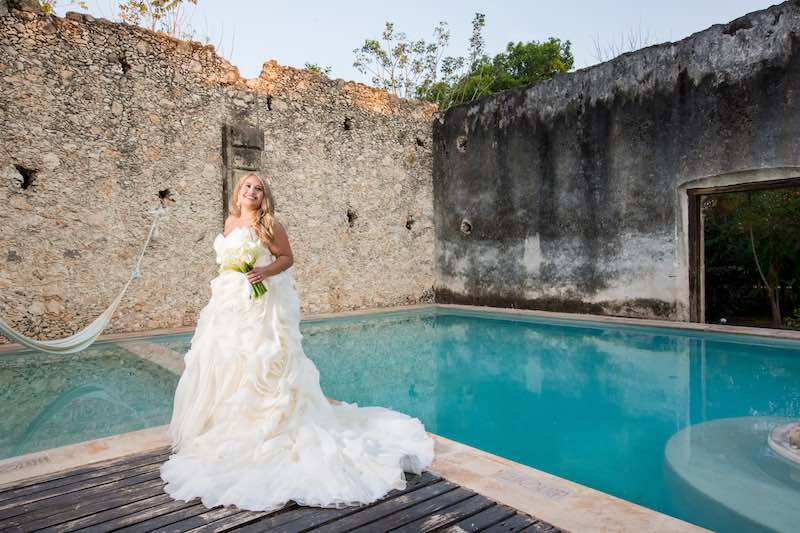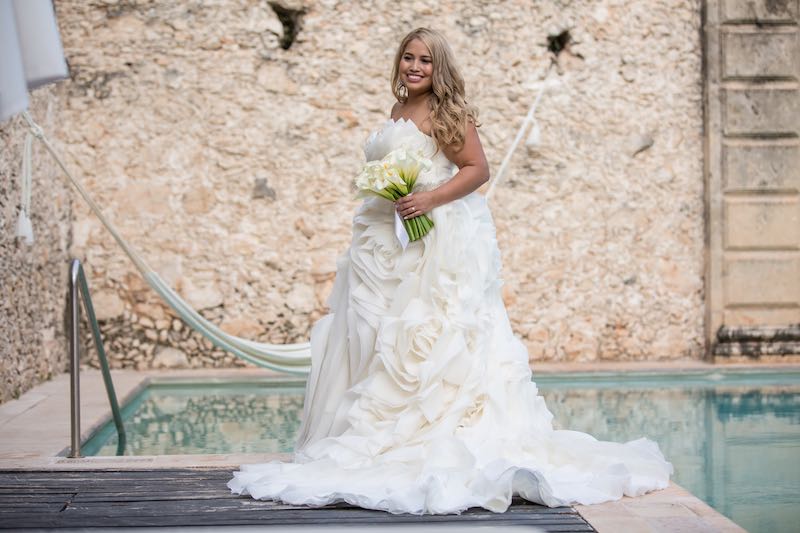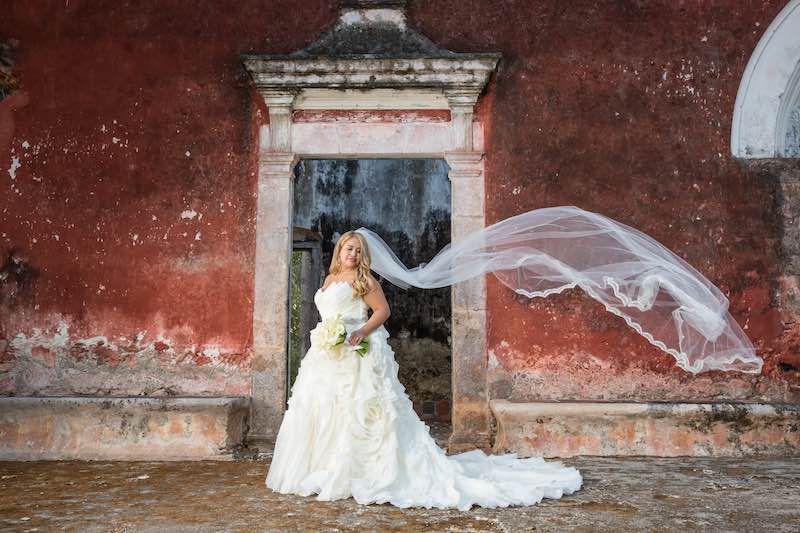 Here among us, we must confess that we love the photos of the locations and scenery of the Haciendas Yucatecas! Without a doubt, the Hacienda's spaces are incredible.
Yes, I do
A candlelit chapel and a total of 40 guests who traveled from the United States, Hong Kong and Colombia were waiting to witness another chapter of the "love story".
Jeremy was waiting there, wearing a deep navy blue suit, combined with a silver tie. A complete outfit, for someone with a classic style.
The clock struck 6:30 and Vicky arrived on her father's arm to the appointment. The ceremony was officiated by Vicky's cousins who translated the ceremony in two languages.
For us every wedding is different, and when it comes time for the vows of love we get to hear unique words and stories, and this couple's vows of love were no exception, V & J promised each other eternal love in a special and fun way.
The atmosphere was lovely and the night was perfect, these photos describe the moment perfectly.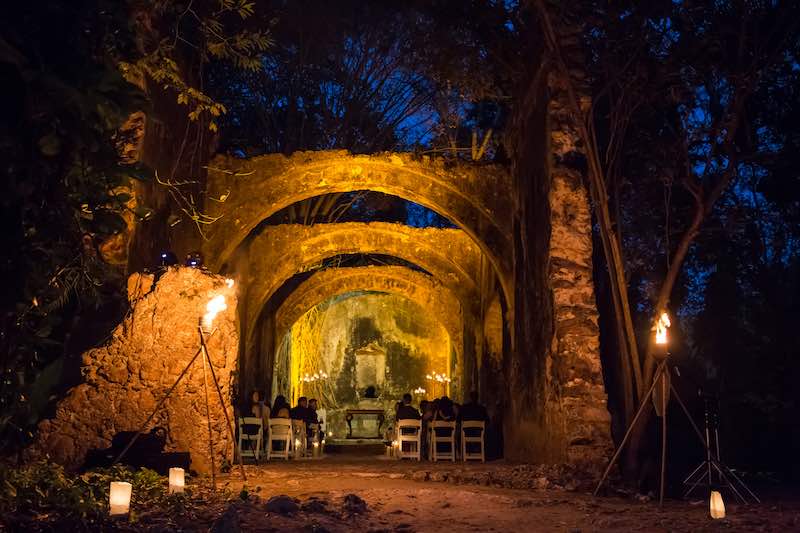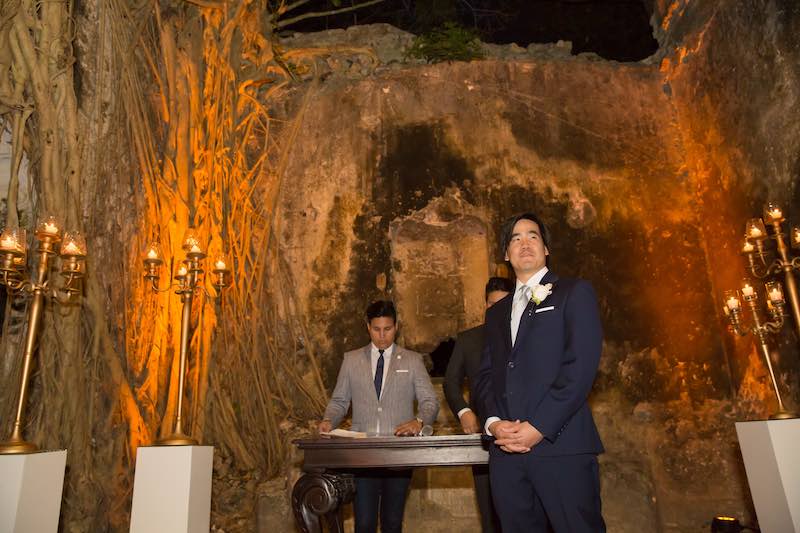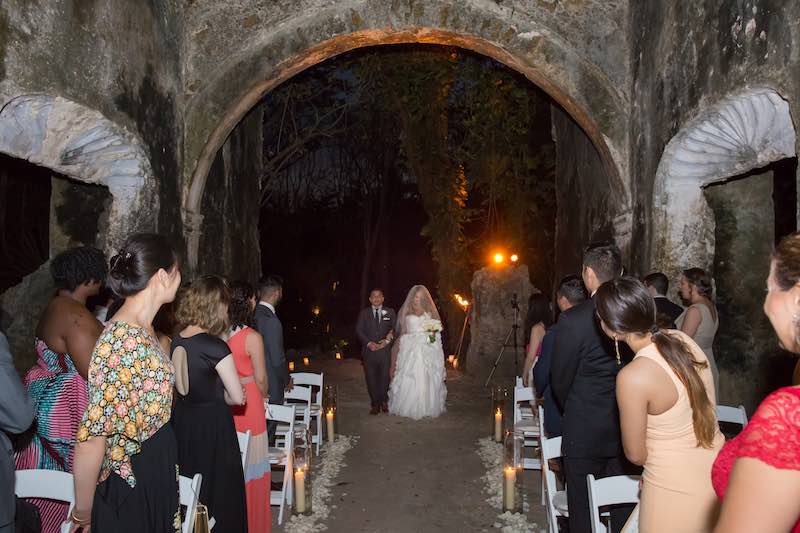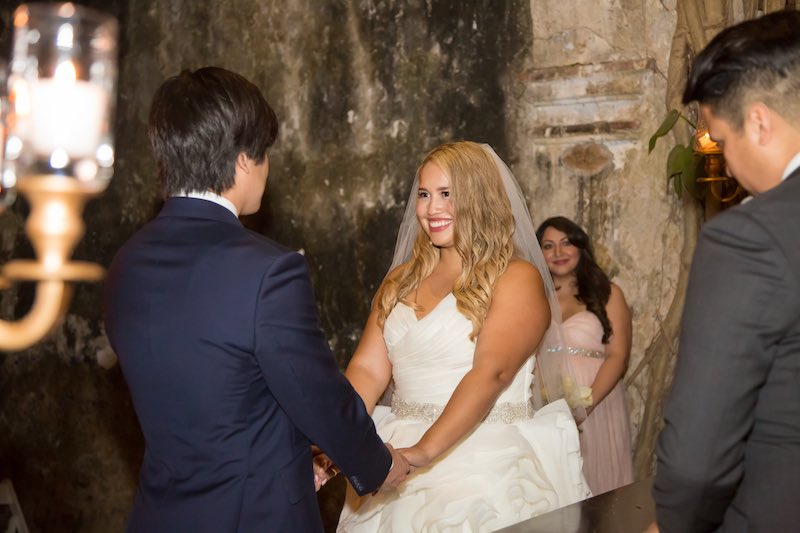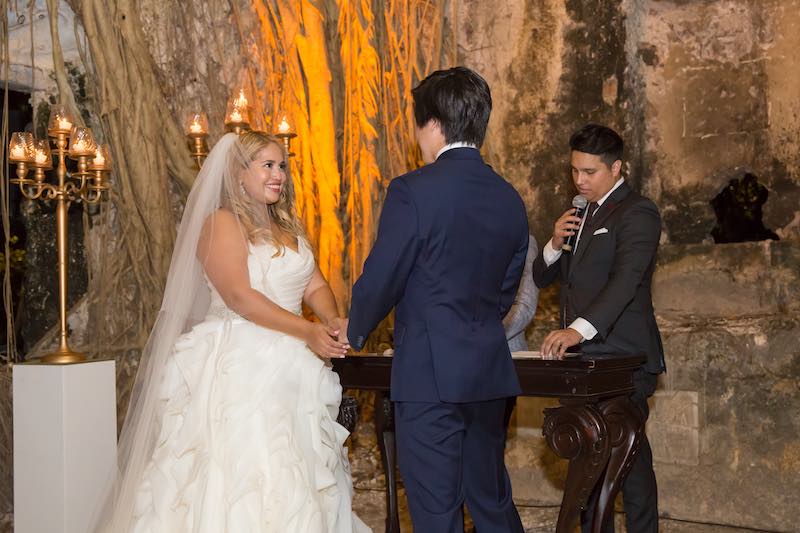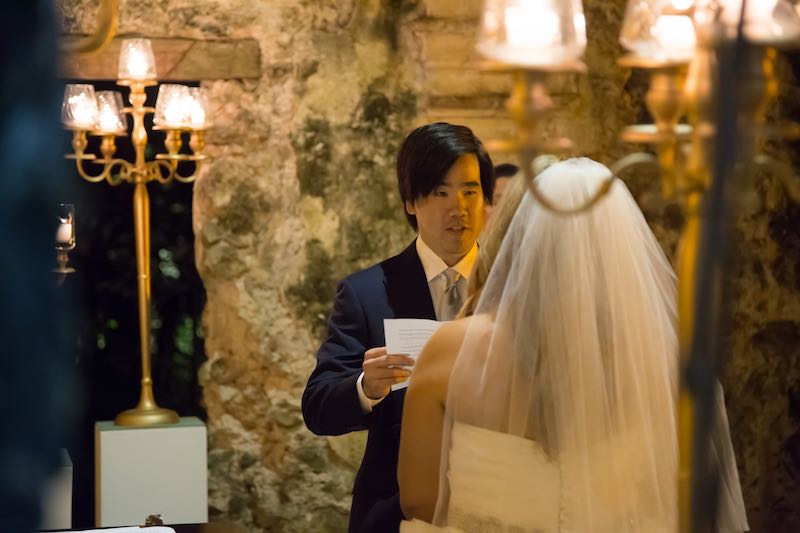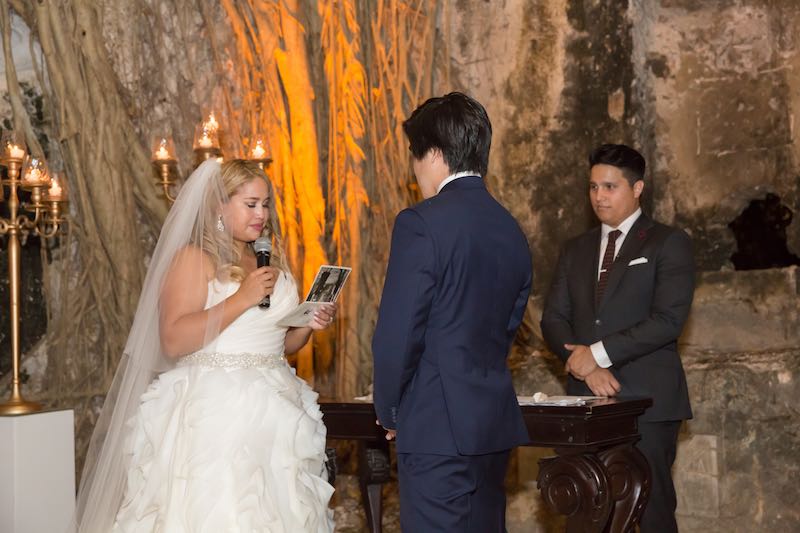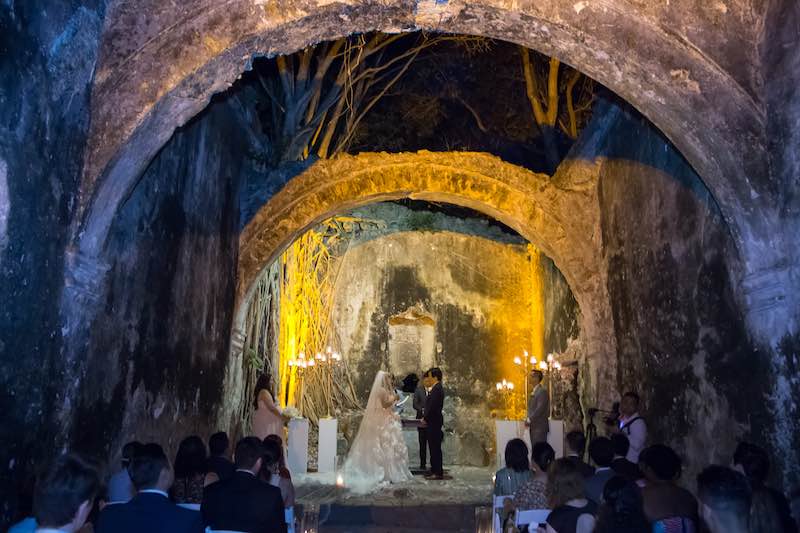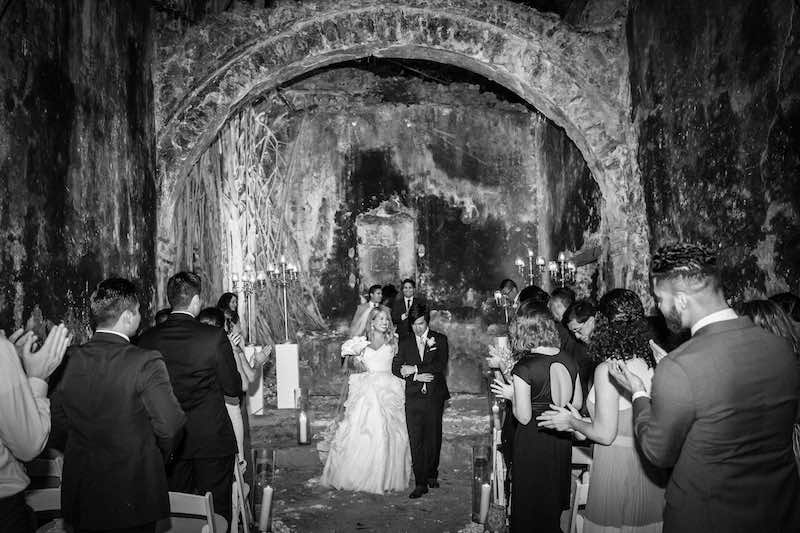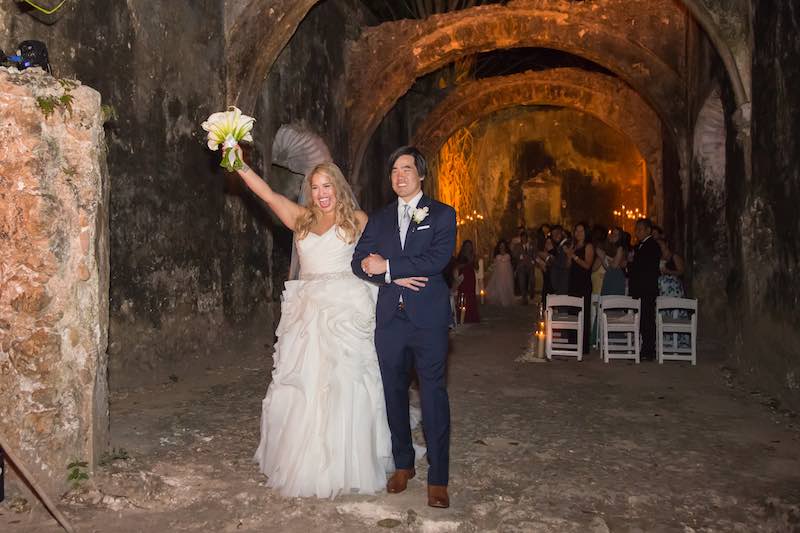 Love Dinner
After the ceremony, the guests strolled to the pool area, where a variety of delicious cocktails awaited them, while the night was enveloped in a warm atmosphere.
In a first time celebration Vicky & Jeremy, along with their families took a series of pictures taking advantage of the warm lighting that hit the buildings.
At 9:00 p.m. the banquet opened. A small bottle of tequila was waiting for each guest at their place.
Dinner was offered by the hacienda, an exquisite 3-course menu was enjoyed by each guest, delighting in the flavor and aromas of our gastronomy. A menu of gods for very demanding palates.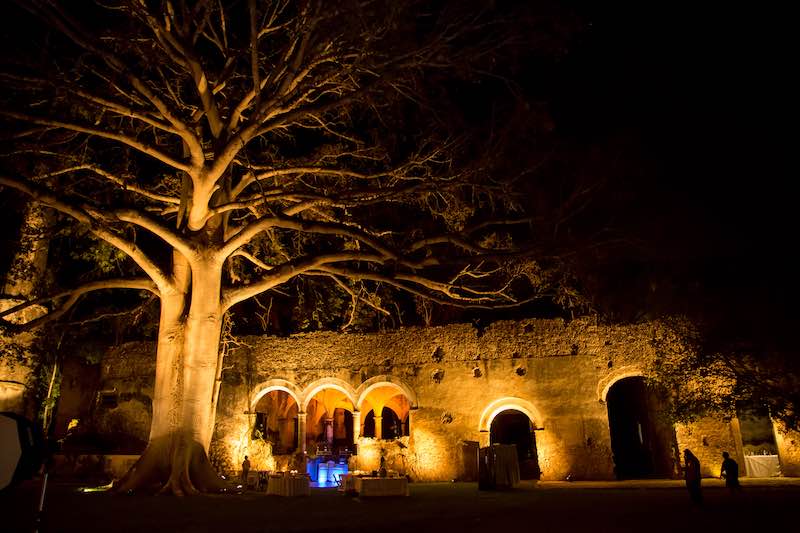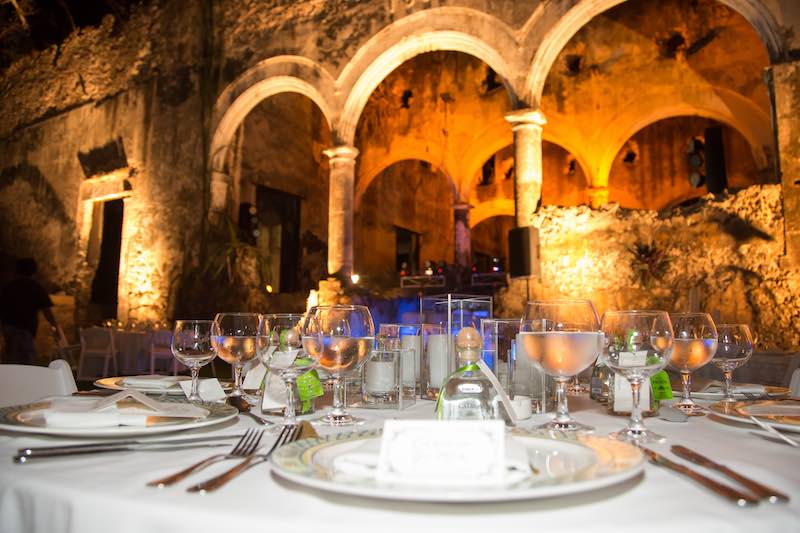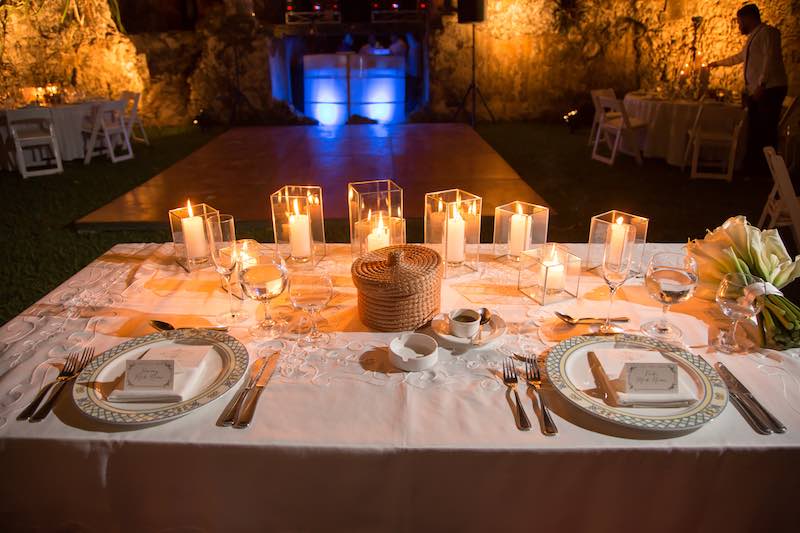 Summer of Travels
Traveling is one of the most beautiful pleasures of this life. Loving is the first one (we don't need to repeat it).  Vicky & Jeremy know this very well, as they share the same passions.
On their wedding day, we got creative and combined their dessert table with a number of photos of the couple and the countries they had known together. A globe stood out on the table, this confirmed what we say.
That night they were with us, celebrating their wedding in Merida, Yucatan and we were thrilled.
Each guest had the opportunity to leave phrases, wishes and thoughts to the couple during the night.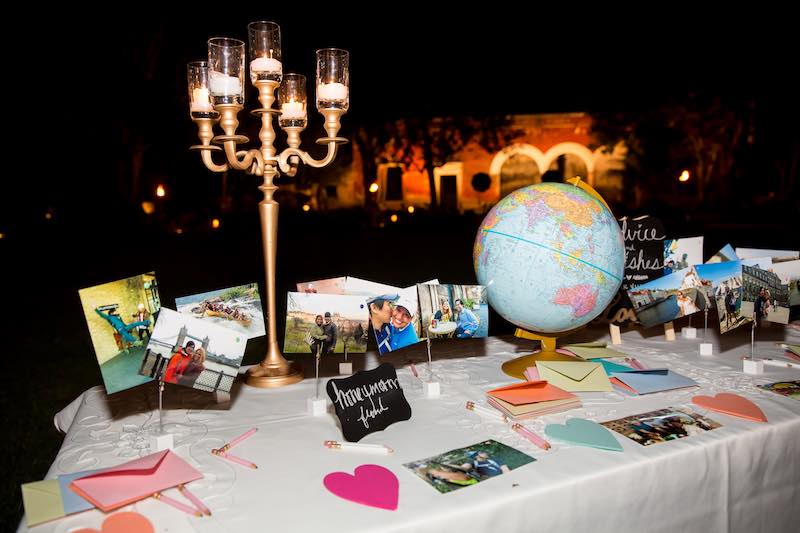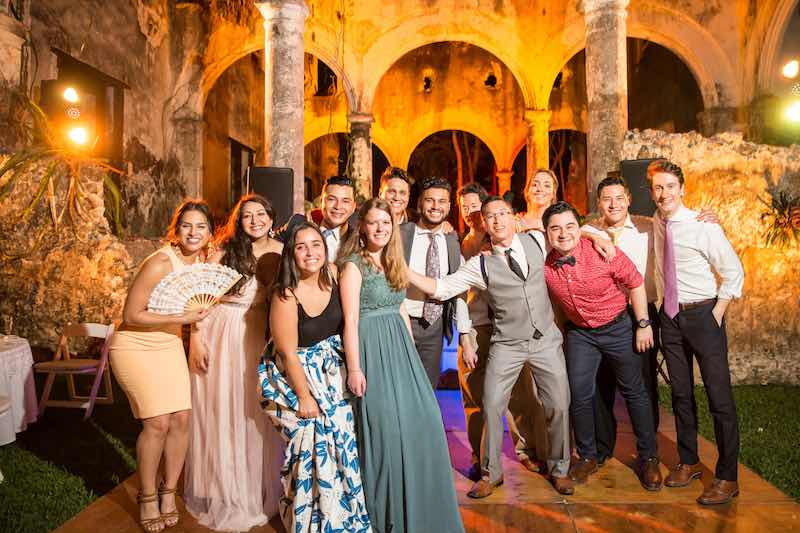 Between Dancing and Champagne
Time went by in the blink of an eye, the maid of honor and best man started the moment of love messages and declarations of affection. Then it was time for the first dance.
Nobody expected what was about to begin… months in advance V+J had prepared a dance that mixed different rhythms: from a classic Disney song, a jarabe tapatío, through genres such as salsa and even hip hop. Another unique moment!
With the dance, it was time to dance with their respective parents. Vicky in her father's arms and Jeremy accompanied by his mother.  A moment with many wonderful scenes.
The dance floor was open for everyone, "lots of dancing, lots of rhythm and lots of partying".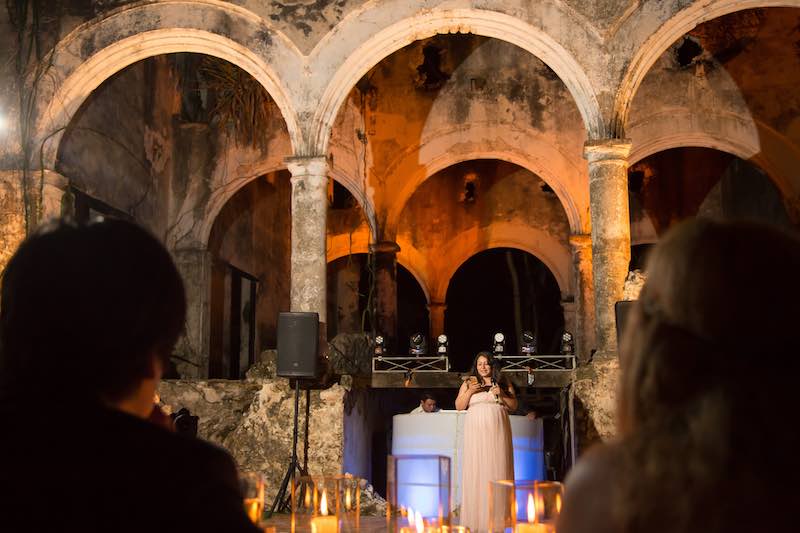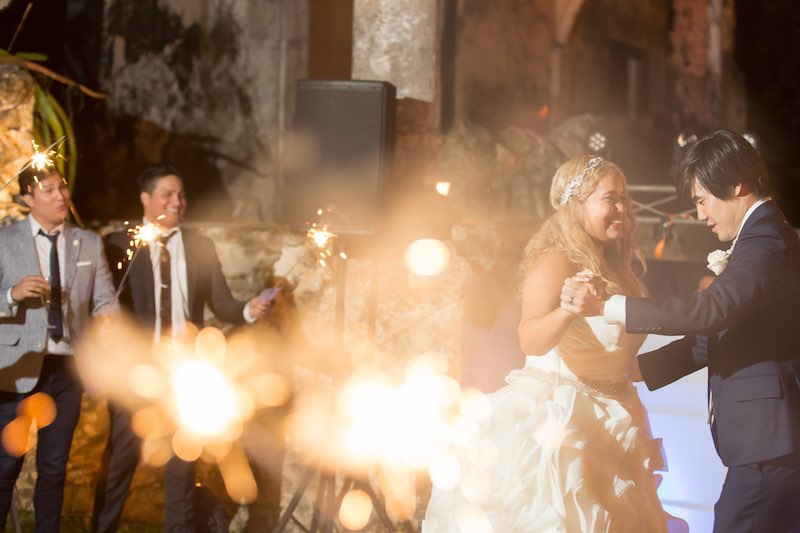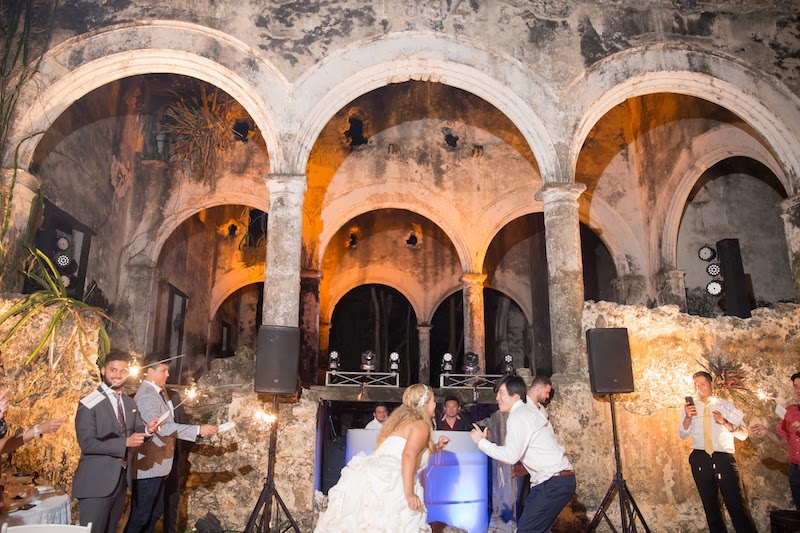 Night and Love Story
Between songs and good music the night's celebration came to an end. The wedding closed with a tasting of cochinita tacos and the sound of mariachi.
We were able to shout Vicky and Jeremy's love to the four winds. An authentic love, a love that simply is, a love that we are sure will last until the afterlife.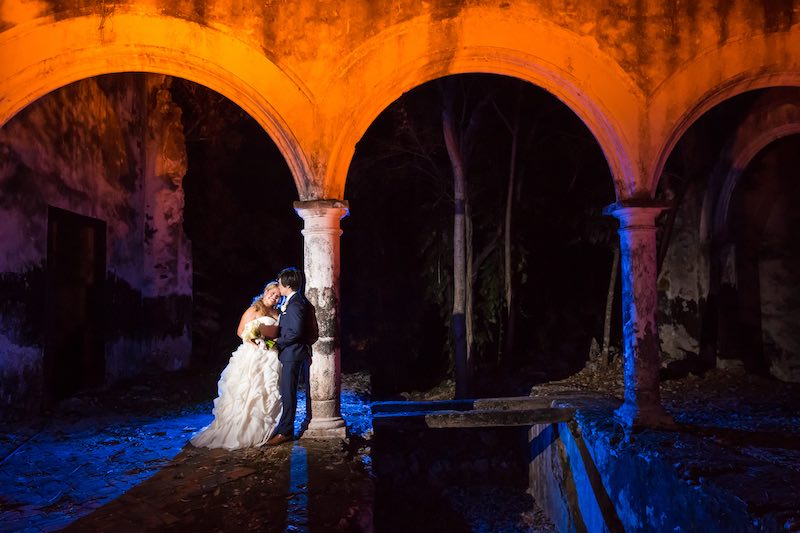 Do you want to know more about TIPS for your wedding in Yucatan?

We are YUCATANLOVE, Wedding Planners in Mérida

, ask us.