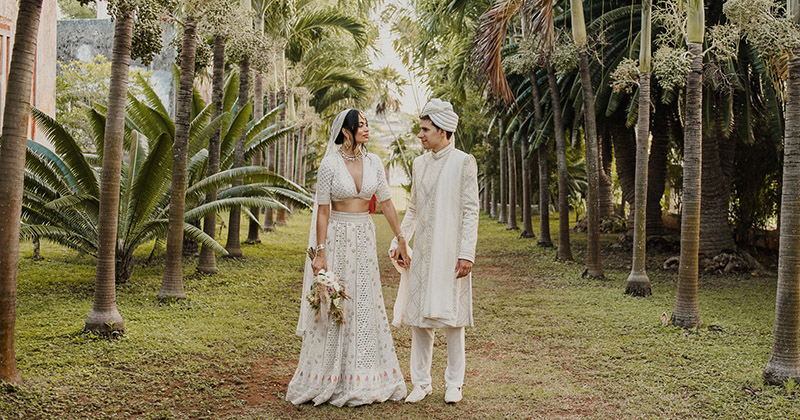 Destination Wedding at Hacienda Yaxcopoil: Tania & Andrés
After their Getting Ready, the bride and groom were ready for their romantic First Look. Tania looked beautiful in her traditional Indian dress, as did Andres, who looked handsome and elegant. The spacious gardens and majestic architecture were the perfect setting for their photo session.
The beginning of Our forever
The Catholic religious ceremony took place in the main garden of the hacienda, in front of the stone facade. Andres entered holding his mother's hand, then the entire cortege entered, and then welcomed the bride who walked hand in hand with her father. The bride and groom promised each other eternal love and left triumphantly, surrounded by sparklers held by their guests.
The reception and party were carried out in the General Hallway of Hacienda Yaxcopoil. The wedding details were Common Ground style, which means that the design was elegant, simple and cozy.
The furniture was a combination of wooden chairs and tables and decorative details in pastel colors, which created a warm and cozy atmosphere. The lighting was perfect, with small pendant lights that created a romantic ambiance.
The food was a banquet with a variety of delicious and authentic dishes. Drinks flowed throughout the evening, and guests enjoyed music from a live DJ who played a mix of Mexican, American and Indian music.
Tania & Andres' destination wedding at Hacienda Yaxcopoil was a beautiful and intimate celebration of their love and union. The venue was the perfect backdrop for the ceremony and reception, and Common Ground's design details created a warm atmosphere for the guests. It was an evening filled with laughter, delicious food and dancing, which made the wedding unforgettable for everyone in attendance.
Photo credits: @rusellarkoo
Do you want to know more about TIPS for your wedding in Yucatan? 
We are YUCATANLOVE, Wedding Planners in Mérida, ask us.