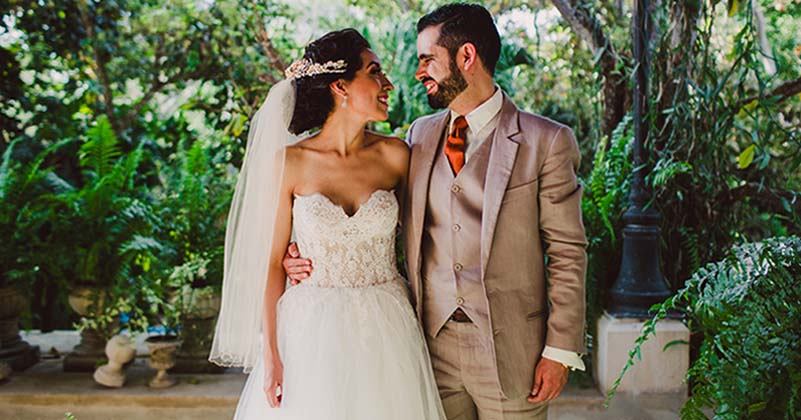 Destination Wedding at Hacienda Selva Maya 👩‍❤‍💋‍👨 Chris & Cris
Chris & Cris are a couple from Mexico City who chose our beautiful state of Yucatan to marry in holy matrimony. After a very happy and stable relationship, they decided to take the next step to spend the rest of their lives together. Here we will tell you the story of how their wedding went. 
The most beautiful bride
Early in the morning, Cristina & Christian arrived at Coqui Coqui La Perfumería Valladolid Residence & Spa to start the long-awaited Getting Ready. Accompanied by their family and friends, they began to do Cristina's hair and makeup. The atmosphere was of pure calm and happiness, everyone was excited to see Cristina looking even most beautiful than she already was. She chose a very natural but elegant look that lasted her the entire evening.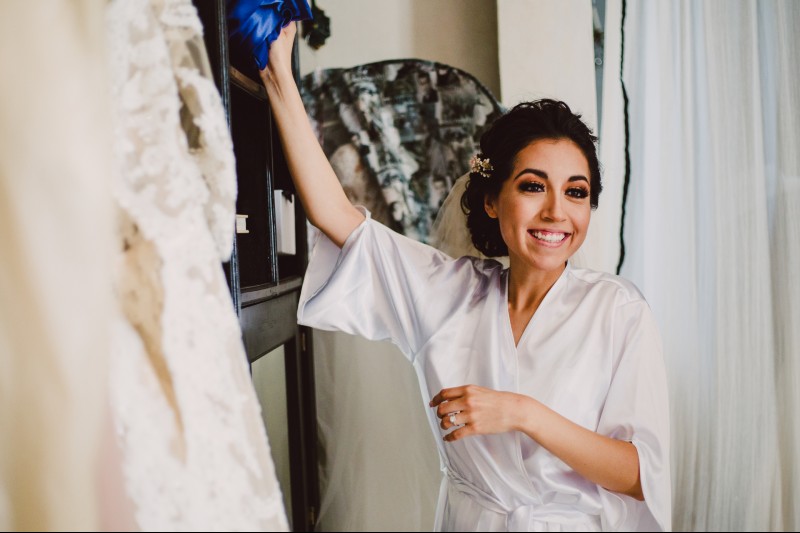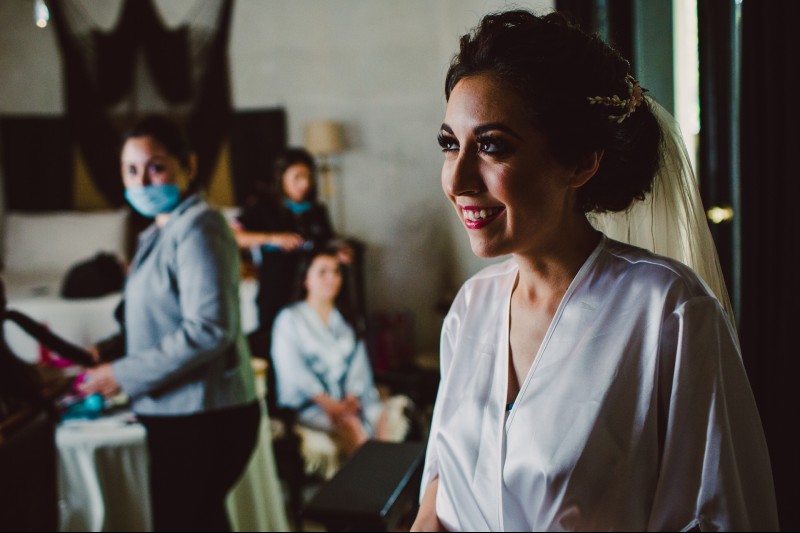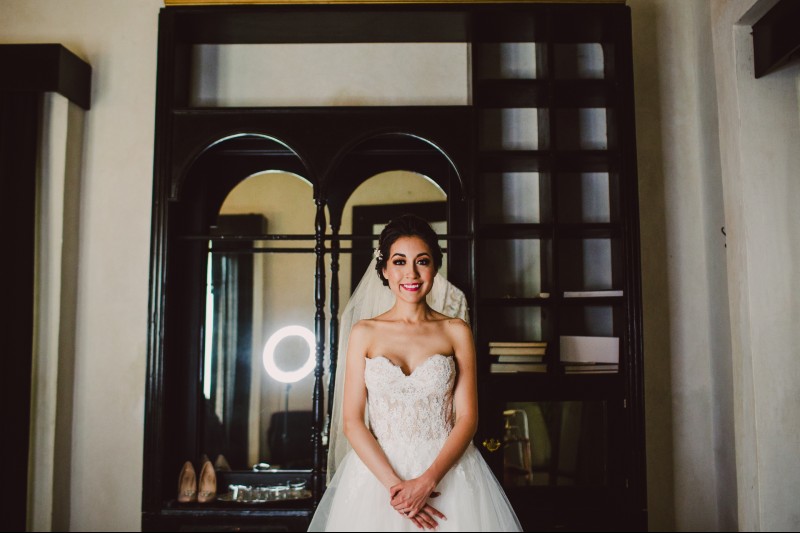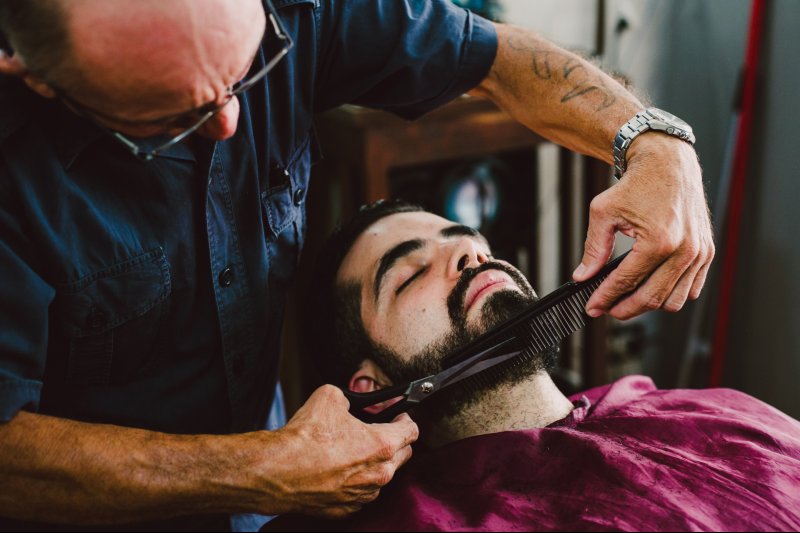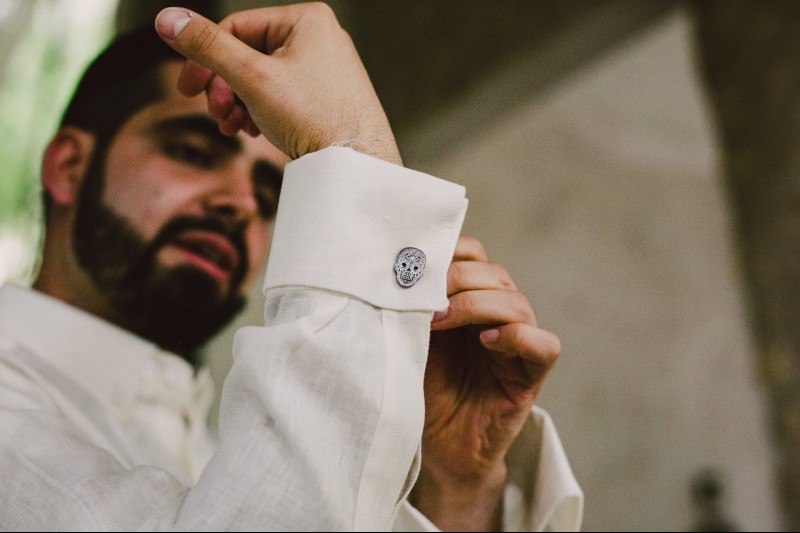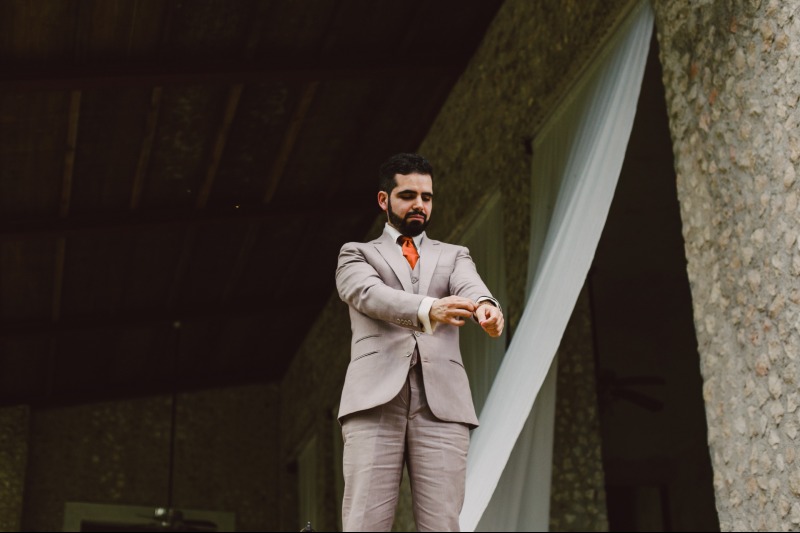 Cristina couldn't hide her happiness, her smile gave her away. She looked absolutely stunning in her white dress decorated with subtle lace details. On this occasion, she decided to wear two beautiful dresses, one for her religious ceremony and the other for the party. 
Meanwhile, Cristian was enjoying some time relaxing with his loved ones in the barbershop at the same spa. To perfectly combine with Chris' dress, Christian chose a gray suit with a copper-colored tie. Once they were both ready, it was time for the most special moment, the first look.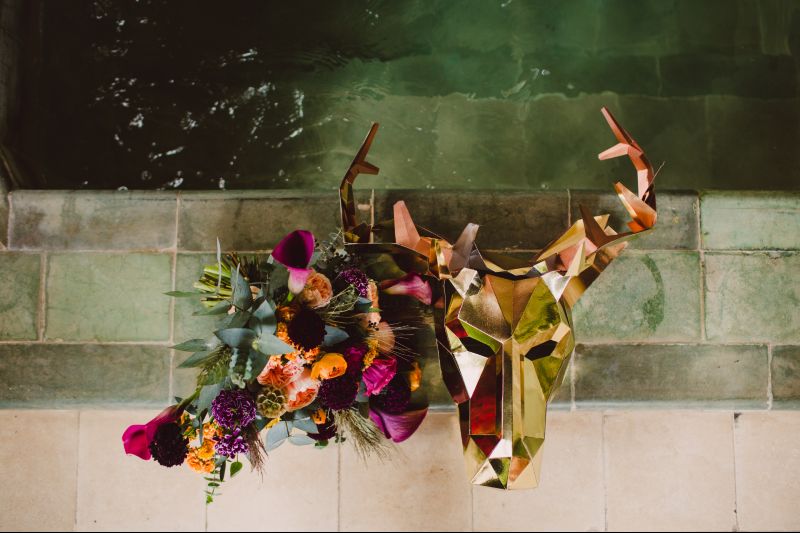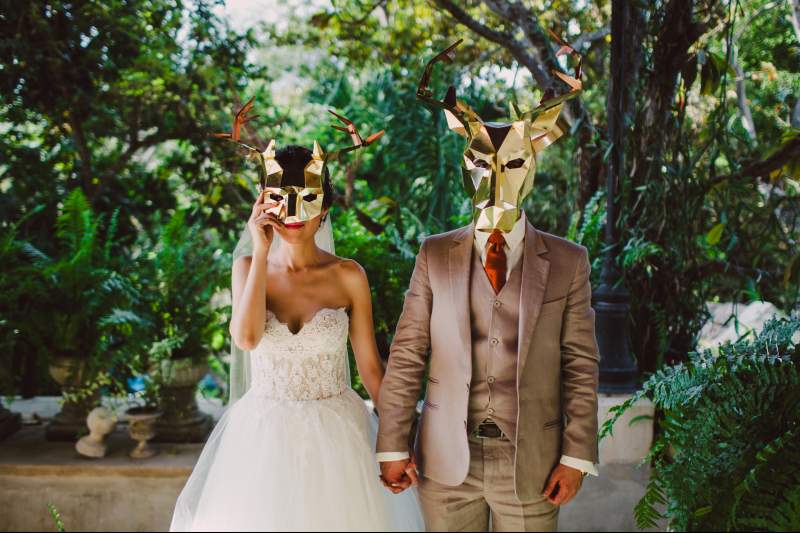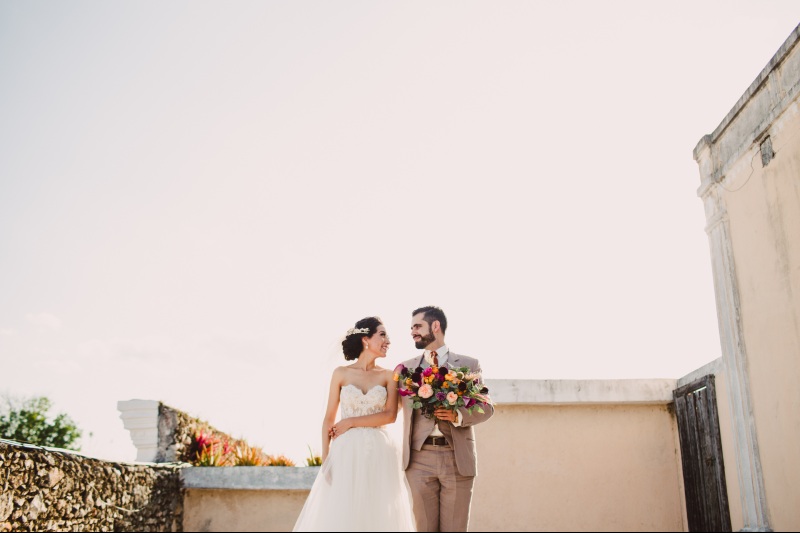 Love and happiness in Valladolid
The time had come and it was time to say "Yes, I do". Cris & Chris got married in the Convent of San Bernandino de Siena in Valladolid, in a wedding full of love and happiness. The religious ceremony began with Chris entering the church, in the company of her parents. Inside, Cristian was waiting for her, and when he saw her he cried with emotion.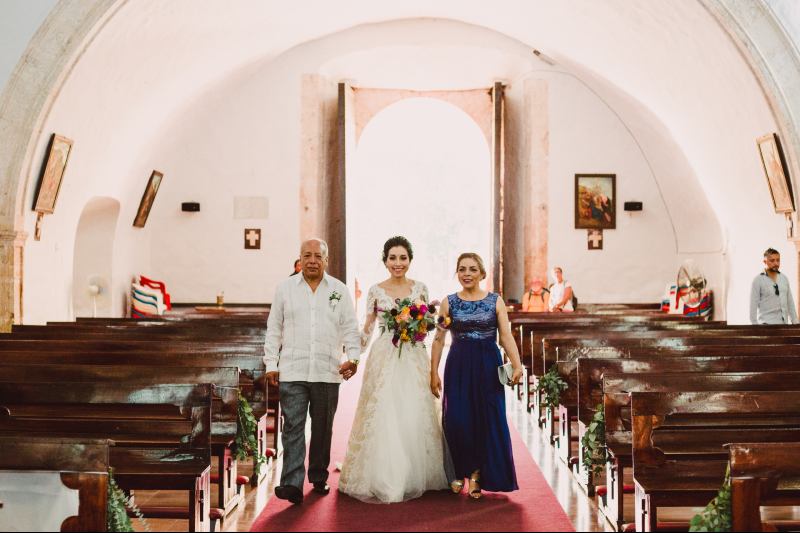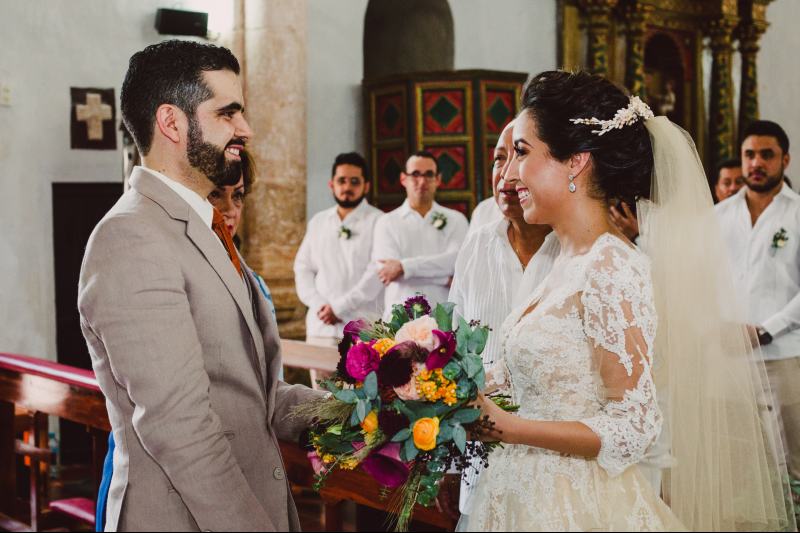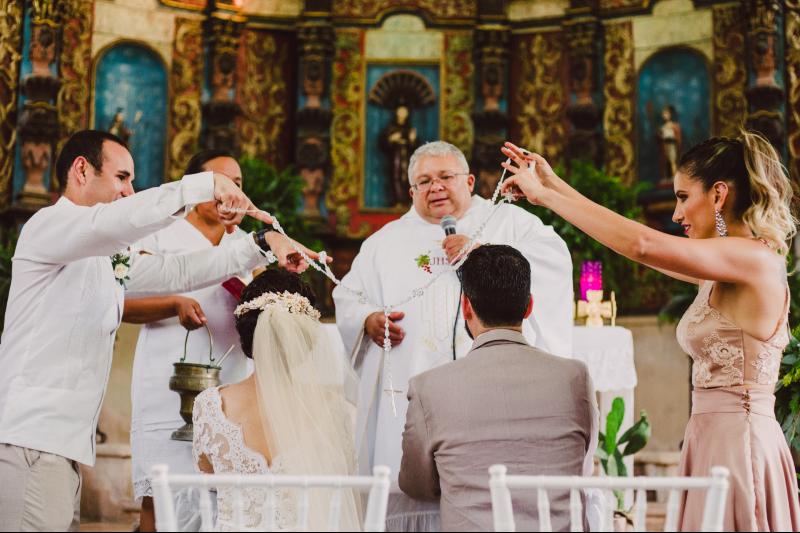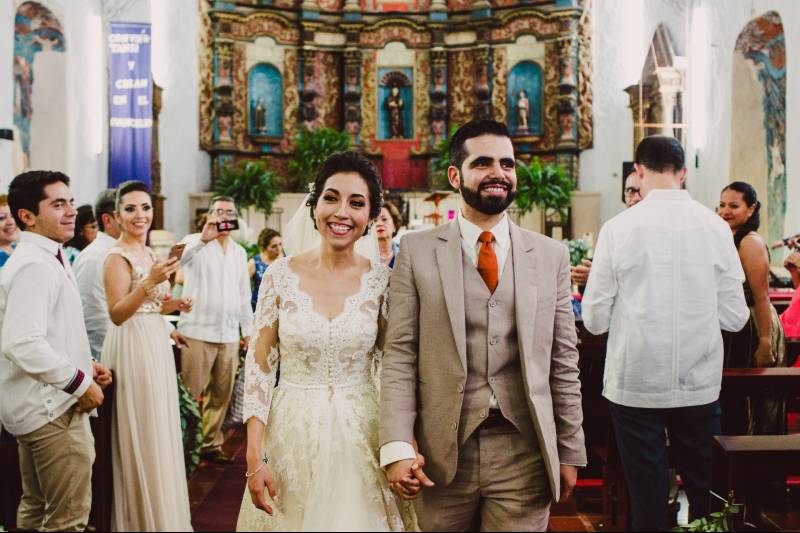 The ceremony was very beautiful. The priest dedicated some words to them about the love and mutual respect that should exist in a marriage. Cris & Chris promised each other eternal love and to always be together in good and bad times, their vows of love were very beautiful. 
All the guests were very happy to witness the great love of the bride and groom and when the ceremony was over they welcomed the newlyweds with a shower of bubbles. Long live the bride and groom! 
Details for a Boho Wedding
One of the most important steps during the organization of a wedding is the choice of style and the details that will complement the entire wedding event. Cris & Chris chose a boho/wood style to give their wedding a touch of freshness and naturalness.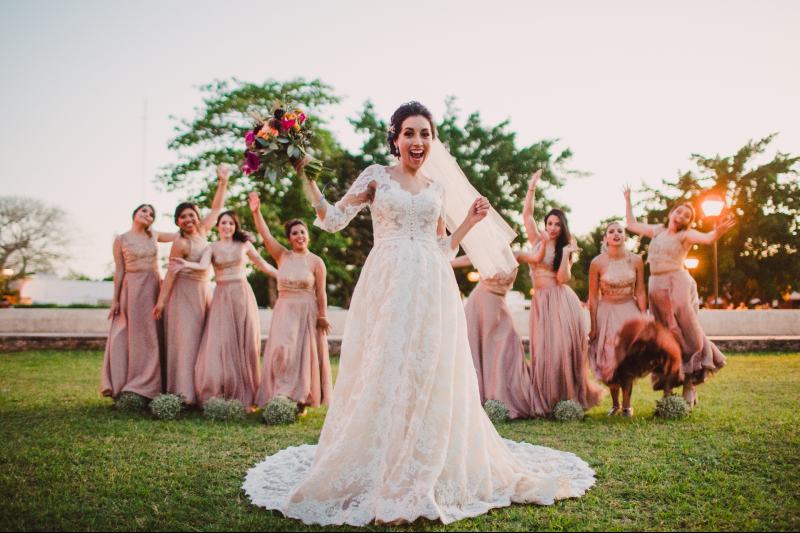 Gold was the predominant color in this magnificent wedding, and as a surprise element, Chris & Cris decided to give it a fun touch with gold masks so that the photographs of that special day would be unforgettable. 
The wooden tables were rectangular to have a more intimate space. Led lights adorned the lush trees of Hacienda Selva, giving the atmosphere a touch of mysticism.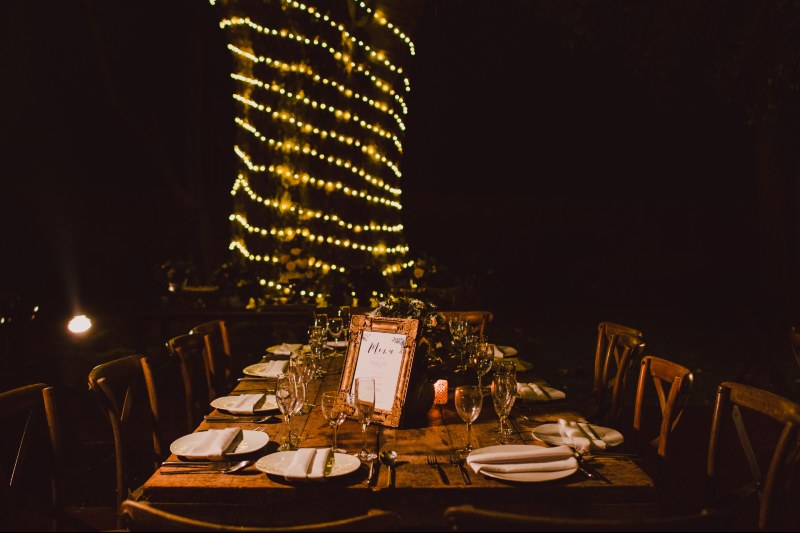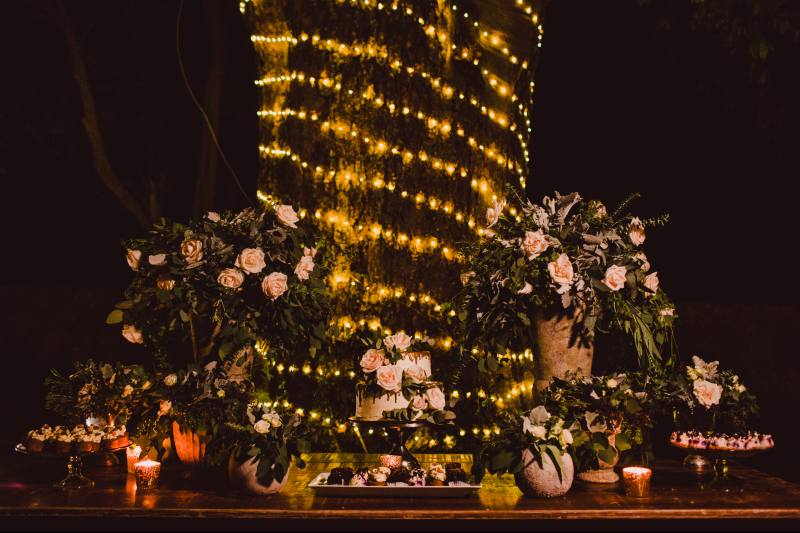 Flowers were a must, so the candy table was adorned with beautiful arrangements of natural roses in pastel pink; Alongside the candles, it gave their wedding that extra touch of romance. 
It was a spectacular wedding, and the bride and groom were delighted with every element present at their wedding. We love you, Chris & Cris. 
Photo credits: @anielafotografia
Do you want to know more about TIPS for your wedding in Yucatan? We are YUCATANLOVE, Wedding Planners in Mérida, ask us.