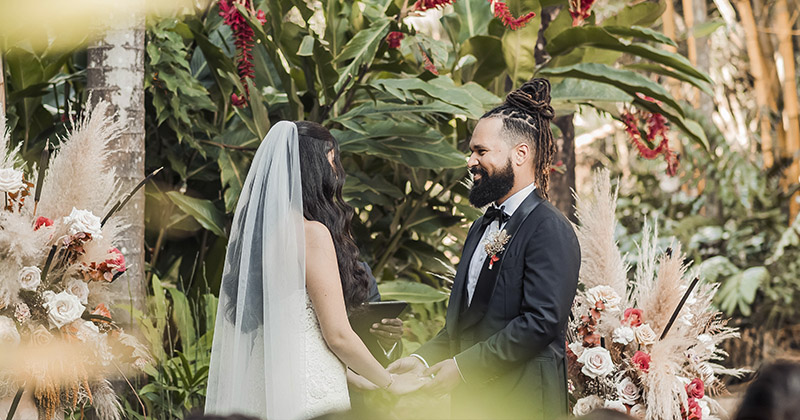 Destination Wedding at Hacienda Sac Chich: Dana & Ethan
Dana & Ethan celebrated their love at the beautiful Hacienda Sac Chich, surrounded by 100 friends and family who traveled from far and wide to share their special day. With a Common Ground wedding style, the couple managed to create an atmosphere of harmony and connection that was reflected in every detail of the celebration.
Dana started getting ready at Casa Vieja for the big moment, accompanied by her bridesmaids. The bride looked beautiful in a beautiful white lace dress with a plain veil.
Ethan, on the other hand, got ready at Casa Sisal, he looked very handsome in a black suit with a bow tie.
When they were ready, they both headed to one of the Hacienda's gardens for their First Look. The groom waited for the bride with his back turned and when she arrived, excitement filled the spot, they looked lovingly at each other and confirmed that they were ready to start a new life together.
Symbolic ceremony at the pool garden
Dana & Ethan's ceremony took place in the pool garden of Hacienda Sac Chich, a unique place surrounded by lush vegetation and impressive architecture, which served as the perfect setting for this emotional moment. With an elegant and warm decoration, the couple committed to love and respect each other in the journey of life.
A welcome cocktail full of delicacies
After the ceremony, guests were welcomed to The Loggia area to enjoy a welcome cocktail reception. The Coffee Bar, Coconut Bar, Fresh Water and Churros were some of the favorites among the attendees, who enjoyed delicious snacks while socializing and celebrating with the newlyweds.
Reception in the main garden
The dinner reception was held in the large main garden, which was beautifully decorated with soft lights and warm colored flowers. The dinner was a feast of local flavors that delighted the guests, who were seated along imperial tables to enjoy an evening of laughter, conversation and good food.
After dinner and their first dance as husband and wife, the dance floor opened up, and the party began in front of Casa Sisal, where the DJ brought the dance floor to life and the guests danced until the wee hours of the night. The energy of the party was contagious, and everyone in attendance joined in celebrating Dana & Ethan's love.
All in all, Dana & Ethan's wedding was an amazing and love-filled celebration at Hacienda Sac Chich. From the ceremony to the party, everything was perfectly organized and planned to create an unforgettable experience for the couple and their guests. Without a doubt, it was a wedding that no one will soon forget.
Do you want to know more about TIPS for your wedding in Yucatan? 
We are YUCATANLOVE, Wedding Planners in Mérida, ask us.