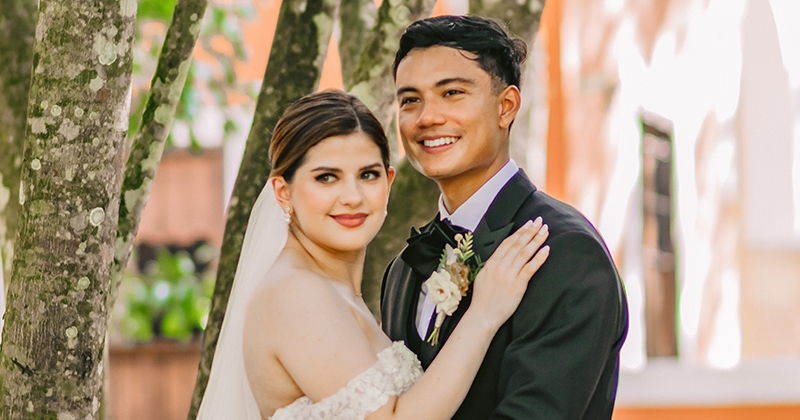 Destination Wedding at Hacienda Itzincab Cámara: Diana & Christopher 💐
Getting ready for the great moment
The day began and the couple prepared to say "Yes, I do". In the bedroom of the main house, Diana was with her bridesmaids and her mother as she got ready. She wore a beautiful white floral lace gown with a sweetheart neckline, her hair tied back and pearl earrings, and an impeccable white veil.
Meanwhile, Christopher joined his groomsmen in another comfortable room and looked very handsome in his black suit with a black tie.
The moment of the First Look had arrived, the groom waited with his back to the bride on the stairs of the main house of the Hacienda, when Diana came down and Christopher turned around, their love and joy was more than evident, creating a unique romantic atmosphere. It was a very emotional and memorable time. Afterwards, the couple had their photo session at the Hacienda's facilities.
The couple had a symbolic ceremony in the lovely tunnel of the venue. After the procession entered, Diana entered hand in hand with her father. All the guests witnessed the couple's true love. The bride and groom exchanged their vows, and rings, and said "I do" to their greatest adventure together. 
After the ceremony, the guests went to the large garden next to the pool area to enjoy an excellent cocktail and socialize with everyone. 
The reception was held in the garden next to the main tree. The details on the tables and all the furnishings were splendid. Soft green and sycamore mixed with golden brown and ginger. Light pinks accompanied the neutral grays, beige and oranges perfectly.
When all the guests were seated, regional Yucatecan music began, followed by a folkloric dance. Everyone enjoyed an excellent Yucatecan meal. Then came the speeches of loved ones, which moved everyone present.
It was time for the dances, Christopher was the first to dance with his mother, then Diana and his father, then it was the first dance of the bride and groom as husband and wife, the atmosphere became even more special when the fireworks were raised, and the dance floor was opened for everyone. It was a night full of surprises and unforgettable moments. 
We are grateful to Diana & Christopher for making us part of their story. We wish them all the love and prosperity.
Do you want to know more about TIPS for your wedding in Yucatan? 
We are YUCATANLOVE, Wedding Planners in Mérida, ask us.